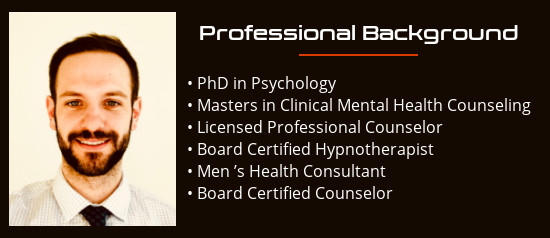 Dr. A.J. Sturges brings extensive experience and skill to Guy Counseling through his background in clinical mental health counseling as well as sport performance consulting.
Training and Experience:
Sturges holds a Ph.D. in Sport & Exercise Psychology as well as a Master's in Clinical Mental Health Counseling, both from West Virginia University. In addition, A.J. holds a Master's in Kinesiology: Psychosocial Aspects of Sport & Physical Activity from Michigan State University, where he also completed his undergraduate in psychology while competing as a varsity student athlete.
He is a Licensed Professional Counselor in Illinois and and a Board Certified Clinical Hypnotherapist.
As counseling professional, A.J. has provided mental health services, career counseling, and academic mentoring through Waynesburg University's college counseling center. He has also served as a counselor and coordinator of addiction recovery services in Morgantown, West Virginia.
Specialties include:
Helping clients learn and apply new and adaptive coping tools for stress and anxiety
Discovering internal barriers that may be liming a person's full potential
Goal setting with a focus on changing unhealthy behaviors to more productive ones
Teaching new skills that promote career success and healthy personal relationships
Cognitive behavioral approaches used to help change negative thinking
Relationship challenges, including working through breakups and processing grief/ loss
Mindfulness based solutions to wellness, including relaxation hypnosis and guided imagery
Career discovery and transitions at the workplace
Guiding you to reduce anxiety through mindfulness based approaches, including tapping therapy.
Sport Performance Consulting:
Dr. Sturges holds extensive experience working with athletes to enhance performance and improve the overall athletic experience. With youth, collegiate, and professional athletes, A.J. provides performance planning, mental skills training, and critical reflection/ accountability programming for elite athletes working towards their competitive goals.
In addition, A.J. has experience providing mental performance workshops, coach development support, and youth sport program evaluation. A former ice hockey player, A.J. competed for the U.S. National Team Development Program for two seasons, earning a scholarship to play for Michigan State University from 2007-2012.
Teaching and Research:
Outside of counseling experience, Sturges has a rich background in higher education and conducting empirical research in the field of sport psychology.
As a doctoral student at West Virginia University, Sturges served as lead instructor for sixteen courses on topics ranging from developmental psychology to sociology of sport. Sturges also served as an adjunct professor at California University of Pennsylvania teaching through the school's sport management department.
Sturges is also a published researcher on topics of passion realization in collegiate athletes, leadership development in high school student athletes, and psychosocial development of adolescent hockey players.
Professional Memberships:
American Counseling Association
National Board for Certified Counselors
Association for Applied Sport Psychology
Contact Information: