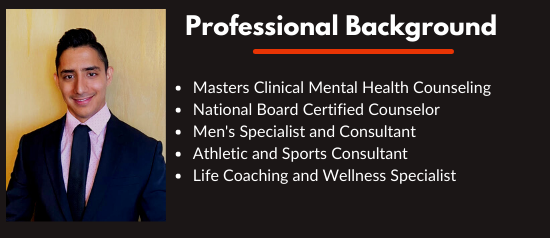 Manny Perez brings extensive experience and skill to Guy Counseling through his background in mental health counseling, business and life coaching.
Training and Experience:
Manny holds a Master's in Clinical Mental Health Counseling from Concordia University Chicago. In addition, he earned a bachelors in in psychology from the University of Illinois while competing as an athlete.
His corporate experience includes working as a marketing and sales consultant for The Kroger Company and contributing his talents to Panera Bread as a client experience specialist. Additionally, Manny served as a special liaison to business talent for UIC's Trio program.
He is a National Board-Certified Counselor and trained in Mindfulness Based Cognitive Behavior Therapy.
With a specialty in Men's issues, Manny has provided counseling and coaching services to business professionals, executives, entrepreneurs, and athletes. He also holds special skills assisting people who work in creative spaces, such as music, art and dance.
Specialties include:
Helping clients learn and apply new and adaptive coping tools for stress and anxiety

Discovering internal barriers that may be liming a person's full potential

Goal setting with a focus on changing unhealthy behaviors to more productive ones

Teaching new skills that promote career success and healthy personal relationships

Cognitive behavioral approaches used to help change negative thinking

Relationship challenges, including working through breakups and processing grief/ loss

Mindfulness based solutions to wellness challenges, including guided imagery

Career discovery and transitions at the workplace

Guiding you to reduce anxiety through mindfulness-based approaches, including tapping therapy.
Sport Performance Consulting:
Manny holds extensive experience working with athletes to enhance performance and improve the overall athletic experience.  With youth, collegiate, and professional athletes, Manny provides sports counseling, performance planning, mental skills training, and critical reflection/ accountability programming for elite athletes working towards their competitive goals.
He is a certified referee for youth soccer and football.
Professional Memberships:
American Counseling Association

National Board for Certified Counselors

Association for Applied Sport Psychology
Contact Information: