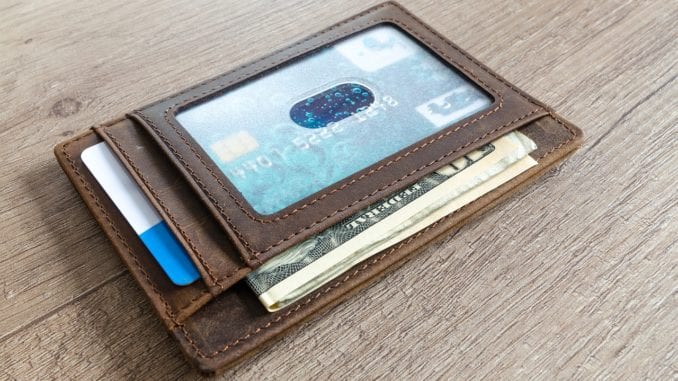 Top Wallet Choices for Men
Searching for men's leather wallets? Hoping to find something that is both practical and stylish? If so, you wouldn't be alone. Just like colognes, wallets are a dime a dozen.
When chosen correctly, the right one feels comfortable and molds to your behind. But when the wrong one is picked, they can look awkward and feel lumpy.
Speaking for myself, I've always been a fan of wallets. There's just something about their square, masculine shape that I dig. Some are brown. Others are black. And every so often, you'll even see a few that look red.
As I write this piece, I'm reminded of a something that recently happened to me involving a wallet. Allow to briefly share with you.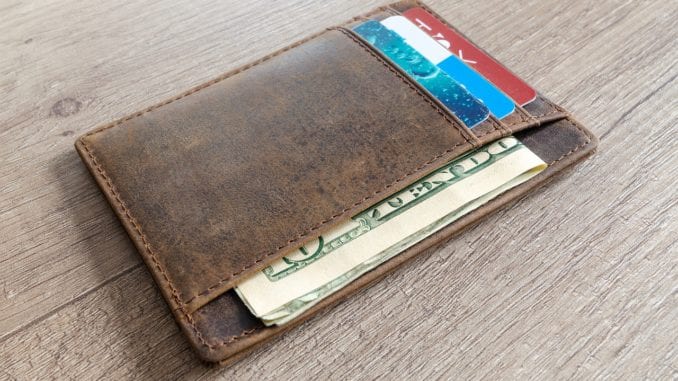 Quick Wallet Story
Not long ago, I was at Washington's Reagan National Airport on a trip back to Chicago.
As I stood in line and waited for my turn to be called up to the podium, I noticed the guy in front of me was having a hell of a time pulling his wallet from his jeans.
When he finally dislodged it, all of the contents flew into the air. I'm talking about his credit cards, frequent flyer info, and personal identification.
Instinctively, I began helping him pick up everything that had fallen out. "Thanks, man. I really appreciate you giving me a hand. I think it's time I get a new wallet," he said.
I told him it was no big deal. As he quickly stuffed cards back into his trifold, I could see his wallet was in serious disrepair. "Who knows, maybe I'll get a new one for Christmas," he mused.
Moments later, he was in front of the ticket agent. No harm no foul but the incident inspired me to look at my wallet – and pen this piece.
The easiest way to have written this article would have been to mention brands with pictures. But honestly, what do you really learn from this – other than what a wallet looks like? As a reader of this blog, my sense is you want something more.
That's why I created this page using science. With the help of analytical software, I went about the business of identifying the best men's wallets based on consumer reviews and product sales.
Not too shabby, huh? I used this same approach for identifying the best smelling colognes for men.
In what follows, we'll be covering a lot of information. I encourage you to read everything on this page so that you can make the best decision for your wallet buying needs.
After all, wallets are more than just an accessory. They become molded to your body and in many ways are a kind of defacto appendage.
In this article, you will learn:
Why leather wallets are smart choices for men.
The importance of buying a genuine leather wallet vs. a fake.
Types of wallets.
The best way to pick a men's leather wallet
Common mistakes guys make when buying
25 best wallet options for guys
How to care for your leather wallet
Deciding when to replace
Myths about men and wallets
At the end of this page, I've also included a poll. It's just for laughs and shouldn't be taken too seriously. Okay, are you ready to learn all about leather wallets?
Let's jump right in.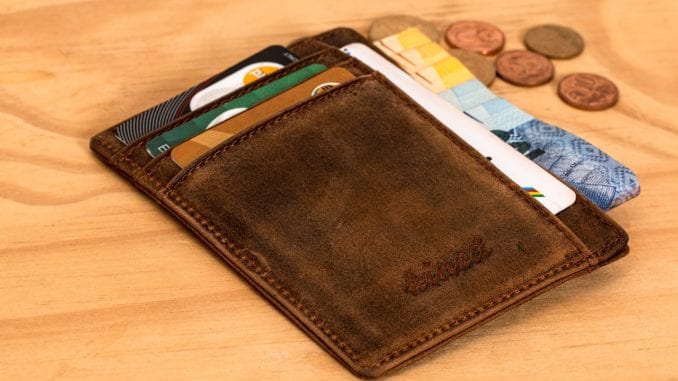 Why Leather Wallets?
You are going to read all sorts of information on the Internet about different kinds of wallets. Some folks will tell you that synthetic (faux) types are just as good as the real thing. Others will say you should skip leather entirely and opt for something made of nylon.
Here's my take. Leather wallets are the best choice for guys because they:
1) Last longer.
2) Mold to your behind better.
3) Vibe out rugged.
4) Save money over the long-term.
The problem with faux leather is the material is often made from cheap knockoffs that have the propensity to break down quickly. Depending on where it's made, they also contains dyes that come off quickly and bleed onto clothing.
Genuine leather wallets typically don't have these types of issues. Moreover, they offer more flexibility and can shape themselves to the curvature of your butt.
Not only does leather look more rugged, the money you will spend up front on costs is worth its weight in gold because the wallet itself (when given proper TLC) will last for many, many years.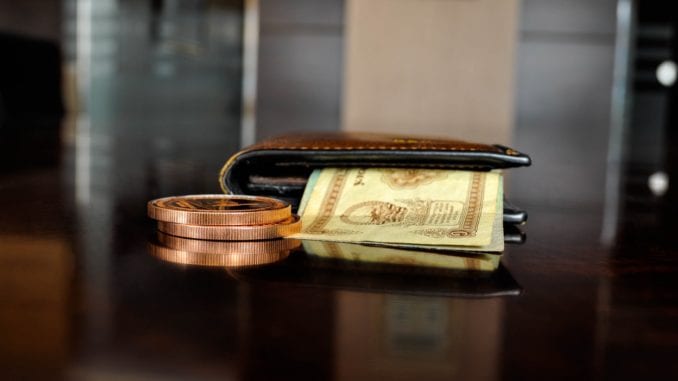 Types of Leather Wallets
There are basically five types of leather wallets. Some may have different compartments and storage areas but at the end of the day, there are still only five basic types.
1. Standard bifold [billfold] wallet
This is the standard type of wallet that you will find in most department stores and online. Its purpose is self-explanatory: to hold your folded money. The billfold sometimes has a compartment for cash, such as a divider. Others have a money clip built into the center. Almost always, they are made from soft leather.
2. Sports wallet
Designed for athletes and outdoorsman, this type of wallet is usually made from thick leather or even nylon. You'll often see a Velcro or a zipper on some. Best for guys who active. But don't let the name "sports" fool you – these wallets usually aren't waterproof.
3. Travel wallet
The name gives away the purpose of this type – travel. Larger than the standard size billfold, this accessory is designed to hold passports, credit cards, and important documents for men on the go. Many international travelers use these for quick access to important materials.
4. Slim wallet
For men who want something small to hold just a few items, like personal identification, a credit card, and cash, slim wallets are designed for easy access.
5. Trifold wallet
This type of wallet is like the standard billfold except it contains three panels. They are usually bulkier because they are designed to carry more, like cash, I.D., credit cards, pass-keys and so forth. Their popularity used was on the decline but seems to be making a comeback.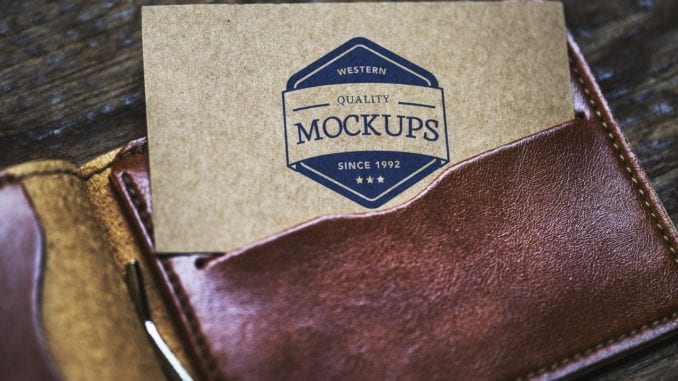 How to Pick a Leather Wallet
The very first thing you want to determine before picking a wallet is what you will be using it for. While style is certainly important, function needs to be the central focus of your decision-making process.
Some websites will recommend that you buy several types to fit your needs. But let's be real – we're guys – we want something simple, easy, and uncomplicated.
Based on my conversations with other men, your best bet is to choose something that generally fits your lifestyle. So, for example, if you are an executive or office worker, you probably would do just fine with a standard billfold.
That said, if you work outdoors or are the athletic type, a sports wallet might be your best choice.
If possible, try to get your hands on the wallet before making a purchase. Here is what you'll want to keep an eye out for:
The wallet's material. Is it genuine leather or is it a fake? If it's not real, keep looking at other products.
Does the dye wear off on your hands? If so, don't buy it.
Can you see fraying or other signs that signal it's cheap? If the answer is yes, move on to the next item.
Don't Make These Mistakes
Before moving on to the different choices, I want to touch upon three big mistakes some men make when purchasing a wallet. Any of these sound familiar?
Thinking name brand wallets mean higher quality
Believing higher price means higher quality
Buying a wallet based on the look
All the above are self-explanatory but I'll touch on each briefly.
First, just because a designer company slaps their name on a wallet doesn't mean the product itself is quality (Bone & France, 2001). Many companies farm out production of these accessories contract for the cheapest material possible.
While it may be cool to see a brand name logo when you whip out your billfold, it doesn't mean the product itself will last long.
Second, don't be fooled into thinking that a high-priced wallet equals high quality. It doesn't. Some of the longest lasting, durable wallets I've ever seen had a price point of less than $25.00.
Finally, most wallets are created to look attractive. There's nothing wrong with this per se, however, as the old saying goes, appearances can be deceiving.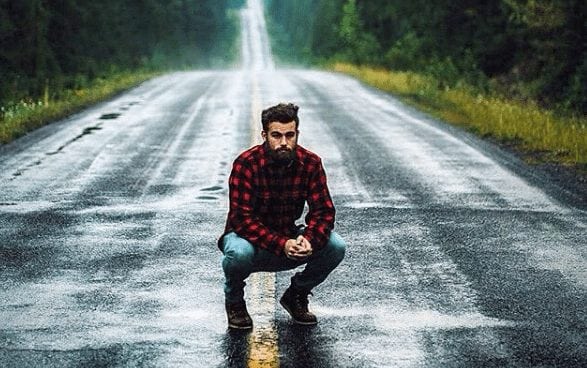 25 Best Leather Wallet Options for Men
What follows are the 25 best wallet options based on science. Remember, I conducted a meta-analysis using sales and customer reviews as part of my analysis.
Obviously, rankings are going to change over time so what you see below isn't etched in stone. When possible, I've included a narrative under the wallet for additional insight.
The wallets are categorized according to the five types I've mentioned above. As a matter of full disclosure, the link you see goes to Amazon; a website that I am an affiliate.
MEN'S BIFOLD WALLETS

1. Alpine Swiss Leather Billfold
If you are looking for a traditional leather wallet with a classic look, this billfold is an amazing choice. I use this one and have it on me most of the time. Clean lines with masculine vibe. Carries most things men require, like ID's, credit cards, and money.

2. Tommy Hilfiger Men's Ranger
Looking for something that's slick but classic? Do you like wallets that have room to carry your stuff but aren't bulky? Then you may want to consider Tommy Hilfiger's Men's Ranger. Clean corners, genuine leather, and way cool.

3. Levi's Slimfold with Extra Capacity
If you are a fan of brown leather wallets, you may want to check out this fella from Levi's. Rugged and masculine, this one has plenty of space to tuck in required items. Also has a see-through visor for your driver's license.

4. Polare Men's Italian Wallet [RFID]
Excellent choice for the man looking to get something traditional. Made from genuine cowhide leather, the wallet will eventually form to your bum. This fella also protects your identify through RFID technology – meaning items inside can't be wirelessly scanned. Black or brown.

5. House of Jack Classic Men's Bifold
Terrific choice for guys who like the look of aged leather. Super masculine look with lots of compartments for your personal items. Handcrafted from grain leather. Most guys will find this to be useful for everyday use, including business or leisure.
SPORTS WALLETS

6. Nike Basic
Looking for something durable that does the job? Need something that will hold your things and won't come out? Spend time outdoors or just an active guy? This little dude might be just what you need. Trifold design. Not made from leather.

7. Realtree Trifold Camo
If you are fond of the outdoors, identify as a hunter or just want something that looks unique, you might want to look at the camo wallet from Realtree. It's leather inside and out. Lots of room for your valuables.

8. Timberland Men's Trifold
This is also an excellent choice for active men or guys who spend time outdoors. Made from nylon, the trifold canvas fabric vibes out a manly look. Velcro helps to keep the wallet shut and belongings tightly secured.
9. Itslife Men's RFID Blocking Leather Zipper
This wallet couples as a sports wallet and a travel wallet. Made from tanned leather, it has a massive amount of room for all of your belongings. Plus, he zips up to keep everything nice and secure. Might be worth exploring.
10. Big Skinny Leather Bifold
The unique shape of this wallet is worth looking at just for fun. What I like about it is how the thing can hold up to 20 cards and still be so compact. And yep, it is made from leather. Great for active guys or any man looking for something with a high degree of utility.
TRAVEL WALLETS

11. Leather Passport Holder
This is the type of leather product you would use when traveling overseas. It will hold your passport, credit cards, ID's, and other credentials with ease. No, it's not a wallet but it essentially acts as one for men going out of the country that require something substantial to hold documentation.

12 Slim ID Holder Pocket Wallet
I like this one because it is designed for the guy who frequently travels – domestic or international. Made from top grain leather, it has clean lines and strong stitching. RFID blocking as well to keep your personal information safe.

13. Leather Travel Wallet for Passport
This guy won't exactly slip into your back pocket but it will slide into your front one, depending upon the type of pants you are wearing. I've used this one and I like it a lot because it holds my passport, ID's, credit cards, plus other items. Moreover, it just looks really cool! Need a passport wallet? This might be a smart choice.

14. Leather Money Clip Credit Card Wallet
Yep, this one can be used as a travel wallet and for just about any other purpose. Sleek in design, the genuine crazy horse leather offers plenty of space to hold everything you need. I like the money clip that's built inside because it vibes out rugged man.

15. Mt. Everest RFID Trifold
This is another great choice for the guy looking for a wallet that can be used for travel and for everyday use. RFID blocking features makes sure your information is safe. Made from pebble grain soft leather. More than enough slots to hold credit cards and ID's.
SLIM WALLETS

16. Axess Minimalist Leather
Want something stylish and sleek that will grab on to essential ID's and credit cards? Looking for top quality leather? Then you'll want to check out the minimalist wallet from Axess. Made from Tuscan Italian leather, it's a real looker!
17. Calvin Klien Leather Bookfold
Extra slim and compact, this wallet is perfect for slipping into your blazer, back pocket or front pocket. Perfect for the guy who likes going minimal. Made from 100% genuine leather. Can be hard to get your hands on this one because it is popular.

18. SimpacX Mini Leather
A buddy of mine got this as a gift from his girlfriend because she thought it was cute. But the truth is, the wallet itself is very well-made and masculine. Compact, it holds the basics for being out and about. RFID blocking too.

19. Woogwin's Men's Vintage Leather Slim
Want something that is old school traditional but sleek at the same time. This very nice wallet from the folks at Woogin's could be exactly what you are looking for. Durable and lightweight, it is made from genuine leather. Handmade. Great choice for going basic.

20. Armani Exchange Men's Saffiano
A very nice choice for the man looking for traditional, sleek, and elegant – all wrapped up into one. You will be able to hold the basics in this guy and feel confident knowing it is in style when you pull it out.
TRIFOLD WALLET

21. Stealth Trifold
This is a very good choice for any man looking for a slim, brown leather wallet. I like it because it looks really nice and because it has the RFID technology to keep private information secure. Made from genuine crazy horse lather.

22. Lethnic Slim Leather Money Clip
I'll admit, this wallet may not be for everyone. Not because of the way it looks – the thing is super stylish. But it doesn't hold much more than a few cards. That said, it does include a clip that keeps your money secure. High grade leather is used.
23. Docker's Brown Trifold
This is a well-made wallet that is classic in design. The three panels will hold all that you need, like ID's, credit cards, and good old cash. Coated leather and soft to touch, you may want to consider this guy for basic, everyday needs. Oh, it's RFID too!

24. Kenneth Cole Reaction
You may find this one to be exactly to your liking. It's made from real leather, black in color, and had the classic trifold design. It's also embossed with the company's name on it – which some may find attractive. Great for use anywhere and at any time because it will never go out of style.

25. Carhartt Brown Leather Trifold
Want a rugged, manly wallet that will last for years? Need something to hold all of your important items in a stylish way? If so, this could be a smart, traditional pick. Personally, I think it's one of the best on the market. Looks great when you pull it out or leave it sitting on a nightstand.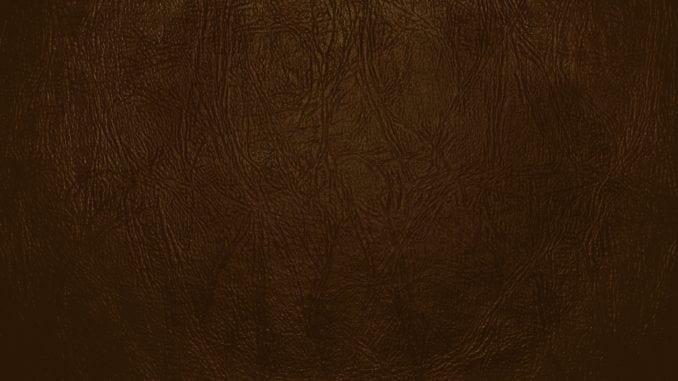 Fake Leather vs. Synthetic
Many guys wonder if choosing a wallet made from synthetic material is OK. You will hear many different things around the web but in my experience, faux leather doesn't last nearly as long as real leather.
Moreover, synthetic materials tend to give away the fact they aren't the real deal over the course of time. As mentioned earlier, the dye has a way of coming off the fake ones – rather quickly.
Obviously, the decision is yours.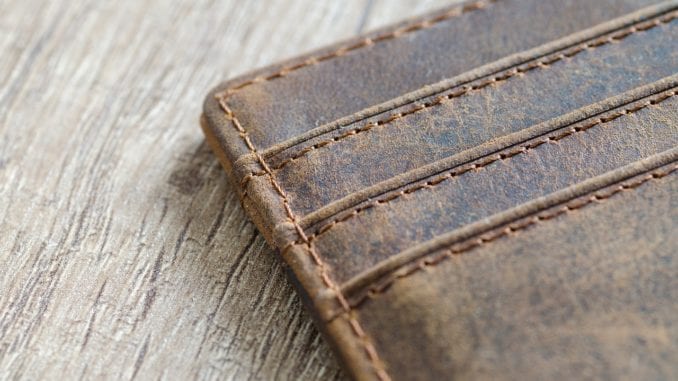 Caring for Your Leather Wallet
When you purchase leather products, particularly ones made from high-grade material, you'll want to occasionally clean them for the purpose of preservation.
The reality is over time, the leather itself will dry out and crack. Some even take on an unpleasant odor as they age.
OK – let's take do a quick walkthrough
What You Will Need
Four cotton cloths (3-4)
Moisturizing hand soap
Leather conditioner
First Step: Quick Hand Wipe
This point may seem obvious but I am mentioning all the same. Remove all contents from your wallet. The reason is simple. You don't want any cleaning materials coming into contact with important items, like ID's or credit cards.
Take one of the cloths and gently wipe the leather to remove debris and dust. Doing so helps dislodge tiny granules that can scratch the material.
To simplify this step, you may want to consider buying a specially designed leather cleaning kit that comes with the cleaner and cloth. Personally, I like the product from Weiman (see Amazon).
Second Step: Moisturizing Soap
Part two of the cleaning process involves moisturizing the leather. Take a clean cloth and get it wet with a little lukewarm water. Put a tiny amount of moisturizing soap on both sides of the cloth and rub together. Your goal is to make tiny suds.
Using circular motions, work your way from the center of the wallet outwards. Be sure to do both sides. If you are cleaning the inside of your wallet, take care. That's because the innards may not have treated leather.
When you are done, take a new cloth and dampen it with warm water. Then, use the cloth to wipe up excess soap. Be sure to do a decent job because left over soap can cause cracking.
After this part is completed, place your wallet on a dry surface, away from the sun. Personally, I use a workbench and place mine on a paper towel. Whatever you choose, leave the wallet sit for around 15-minutes.
Step Three: Apply a Leather Conditioner
Once your wallet is completely dry, you'll want to apply a high-quality leather conditioner. You will find many on the market. Personally, I use one made by the folks at Trinova. See my page on Leather wristbands to learn more.
Most all conditioners work the same. You place a few drops on the material and gently rub in, taking care not to apply too much pressure.
When you are done, let the wallet dry for another fifteen minutes so that the product has a chance to fully absorb.
Bonus Tip
Once or twice a month, it doesn't hurt to take a dry cloth and wipe down your wallet to remove debris.
When To Replace Your Wallet
Most men become attached to their wallets. As mentioned earlier in this piece, they become a kind of appendage. But at some point, all wallets go to heaven.
Some signs that that it is time to replace your little friend include:
Excessive scratching
Badly frayed material
Rips and tears
Thinning of the material
Inside of wallet no longer "grasps" your id's or cards
Myths About Leather
Believe it or not, there are myths concerning leather. Most of them are the stuff of urban legend. Let's take a look at a few of the biggies.
Leather is difficult to clean
You can't expose leather to sunlight
The more expensive the material, the longer it lasts
Cowhide and lamb are the same
Leather wallets cause back problems
I thought it might be kind of fun to see what types of wallets guys prefer most. Above you will find a poll. This is not a scientific tool so consider the results for their entertainment value only. if you can't see the poll, click on this
secure link
.
Wrap Up
The decision to buy a new wallet to hold your man-stuff is deeply personal. Most guys take their time with the selection process and consider their lifestyle as part of the dynamic.
Hopefully, you found the information shared on this page useful. Thanks for stopping by.
—
References:
Bone, P., & France, K. (2001, March). Package Graphics and Consumer Product Beliefs. Retrieved from Journal of Business Psychology: https://link.springer.com/article/10.1023/A:1007826818206