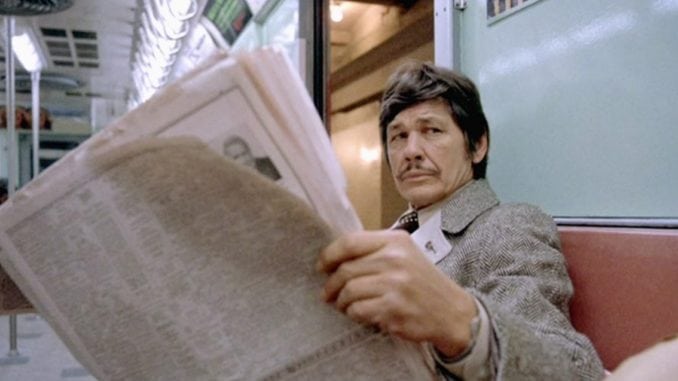 Facts about Charles Bronson
I have a confession – Charles Bronson is one of my favorite actors. Some may find that odd. After all, he's an entertainer from yesteryear. Moreover, he's also dead. Still, whenever I see a movie with his name on it, I can't help but watch.
He was married to Jill Ireland; the British born model and actress who appeared in an impressive 15 films. Bronson himself was featured in nearly 60.
What I admired most about him was his gritty style and confident demeanor. Sure, much of what we saw of him in movies like Death Wish was hyper-masculine bravado. That said, I've always wondered how many of his roles were informed by echoes of the man himself?
What follows are 10 facts about Charles Bronson you might not know. Along the way, I've included imagery just for fun.
Let's jump right in!
Guy File: Charles Bronson
Birthday: November 3, 1921, Ehrenfeld, PA.
Died: August 30, 2003
Height: 5'9
Eye Color: Crystal blue
1. McCarthyism (and Steve McQueen) Caused Name Change
Charles Bronson wasn't always "Bronson". He changed his last name from Buchinsky after taking a drive with his buddy, Steve McQueen.
You may be wondering why?
Simply put – it was (indirectly) because of McCarthyism. When he first started acting, there was a witch hunt for communists in Hollywood.
Worried about being blackballed from roles because of his Lithuanian sounding last name, he decided to change it.
According to lore, he and his pal (Steve McQueen) were driving one day when McQueen spotted a street sign named "Bronson". Upon seeing it, he turned to his friend and suggested it was perfect.
The rest is history.
2. Started Smoking at Age 9
Like many actors in the 1950's, Bronson smoked. What's unusual about his case was that he started at age nine. While we'll never know the exact reasons he first lit up, some point to family pressure.
He came from a large family of 15 (he was child number 11). Growing up very poor, they struggled to make ends meet. So poor in fact that Bronson sometimes had to wear his sister's dresses to school.
To help out, he began working with his dad in a coal mine at age 10. The early stress he endured may have played a role in his picking up the smokes. One of the items listed as a cause of death on his death certificate was metastatic lung cancer.
3. Wasn't First Pick for Death Wish
It's hard to imagine any of the Death Wish films without Charles Bronson. That said, he almost didn't get the role. The movie itself was based on the 1972 novel and directed by Michael Winner.
The part of Paul Kersey, the main character in the film series, was originally slated for Henry Fonda. Apparently, Fonda looked at the script and found the plot to be "repulsive".
Winner then approached Bronson. His response was positive. When asked if he wanted the part, he reportedly said, "I'd like to do it."
"The movie?" Winner asked.
"No, shoot muggers!" responded Bronson.
via GIPHY
4. Deathly Afraid of Germs and Fire
In movies, Bronson played a tough guy. But in real life, he was far more human. For example, it was well known that he was terribly afraid of fire.
During filming of Death Wish in 1974, he refused to book any hotel room above the second floor. The reason? He worried that he and his family couldn't escape.
Bronson also was known to avoid shaking hands with fans. Some people thought this was due to arrogance. In truth, he held deep fears of being exposed to germs (a potential sign of OCD).
5. Roommates with Jack Klugman
Known for his role as Oscar in the iconic Odd Couple, Jack Klugman used to split an apartment with Bronson in the late 1940's.
Klugman once remarked that Bronson was neat and a "damn good ironer."
6. He Spent a Lot of Time Away from Hollywood
Most people think major Hollywood celebs live exclusively in the Golden State. While that's true for many, it wasn't a full-time endeavor for Bronson.
While he did have a Bel Air mansion near L.A., much of his time was spent in Vermont with his wife Jill and large family of seven children.
He also wintered in Snowmass, Colorado in throughout the 1980's and part of the 1990's.
7. Earned a Purple Heart
In 1943, Bronson enlisted in the United States Army Air Forces. He served with distinction in the 760th Flexible Gunnery Training Squadron.
Then, in 1945, he served as an aerial gunner on the Boeing B-29 Superfortress with the Guam-based 61st Bombardment Squadron. It was during this time that he conducted dangerous combat missions against the Japanese home islands.
Bronson flew a total of 25 missions and received a Purple Heart for wounds received in battle (Military.com, 2015).
8. Wasn't fond of chit-chat
One of the defining traits of Bronson was his monosyllabic tone. It was kind of hard to miss, be it in The Mechanic or any of the Death Wish movies.
When film critic Roger Ebert was sent to interview Bronson in 1974, he found a man who wasn't fond of talking. "I don't ever talk … about the philosophy of a picture," he said. "It has never come up. And I wouldn't talk about it to you. I don't expound. I don't like to overtalk a thing … Because I'm entertained more by my own thoughts than by the thoughts of others." (Ebert, 1974).
In this way, he really wasn't all that much different than what fans saw on the silver screen.
9. Huge in Europe
In the United States, Bronson was big. However, he was even bigger in Europe. In fact, it's fair to say he was huge.
That's because the actor made a serious name for himself in European films. In 1968, he starred as Harmonica in the flick, Once Upon a Time in the West. The director, Sergio Leone, once called him "the greatest actor I ever worked with", and reportedly wanted to cast him as the lead in 1964's A Fistful of Dollars.
Bronson turned down the role; a part that would help later launch Clint Eastwood to mega-watt celebrity status.
In 1970, Bronson starred in the French movie, Rider on the Rain; a film which later won a Hollywood Golden Globe Award.
10. First to Graduate High School
Charles Bronson was the first person in his family to graduate high school.
That's kind of a big deal when you consider his humble beginnings. His first language was Lithuanian because of his parent's Baltic roots. During his teen years, he taught himself the basics of English through sheer grit.
If you listen closely in some of his movie roles, you'll hear a slight accent.
Summing Things Up
In every way that matters, Charles Bronson channeled an "old school" vibe. Moreover, he was very direct in the way that alpha males types tend to be.
Ebert captured his persona well in his famous 74'interview.  Recalling a moment he spotted the iconic actor sitting alone, he wrote: "I don't know whether to approach him; he seems absorbed by his own thoughts, but after a time he yields."
Upon seeing Ebert, Bronson motioned him over and said, "You can talk to me now. I wouldn't be sitting here if I didn't want to talk. I'd be somewhere else."
References
Ebert, R. (1974). Charles Bronson: It's just that I don't like to talk very much. Retrieved from Roger Ebert Interviews: http://www.rogerebert.com/interviews/charles-bronson-its-just-that-i-dont-like-to-talk-very-much
Military.com. (2015). Famous Veterans: Charles Bronson. Retrieved from Military.com : http://www.military.com/veteran-jobs/career-advice/military-transition/famous-veterans-charles-bronson.html