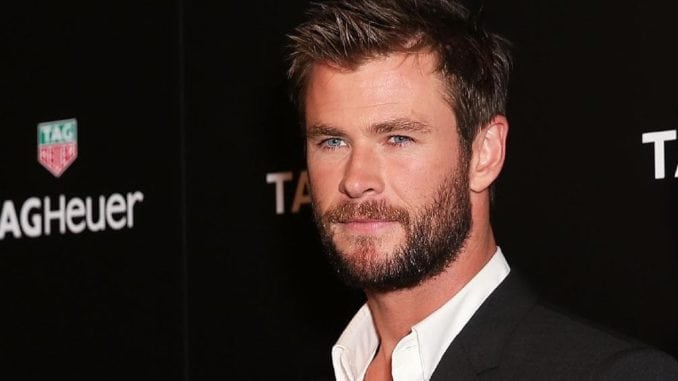 Chris Hemsworth Style Guide
Are you a fan of Chris Hemsworth? If the answer is yes, you've come to the right place. In truth, I've been following this Australian born actor for years, long before he became Thor.
I first became aware of his work when he appeared as George Kirk in the iconic franchise, Star Trek. That was back in 2009 when Paramount rebooted the entire movie endeavor on the silver screen.
Since that time, I've watched all of his films. That's right. We're talking everything from A Perfect Getaway to Cabin in the Woods. I've even gone back to chec kout some of his early television appearances.
To keep it real, women dig this guy and men want to be him. Yes, he has an amazing physique and his "Thor's Beard" is legendary, but beyond the obvious, this dude vibes masculine and rugged.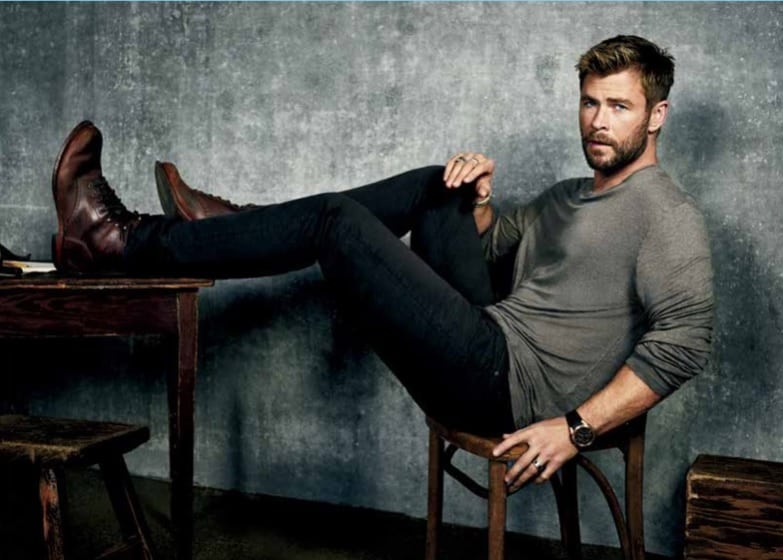 Chris Hemsworth Style
If you follow Chris Hemsworth, you already know the guy isn't a wardrobe showoff. In fact, he's just the opposite – down to earth with a basic, manly presence.
You really only see him dressed up and snazzy when it's super necessary, like a Hollywood party where button-down shirts and suits are the protocol. Even then, he's opts for traditional and classic.
Given interest in this actor, I thought it might be helpful to blog about my personal observations with this man so that you can replicate his look in your own life.
I'll kick things off with some biographical information and then move on to more specifics.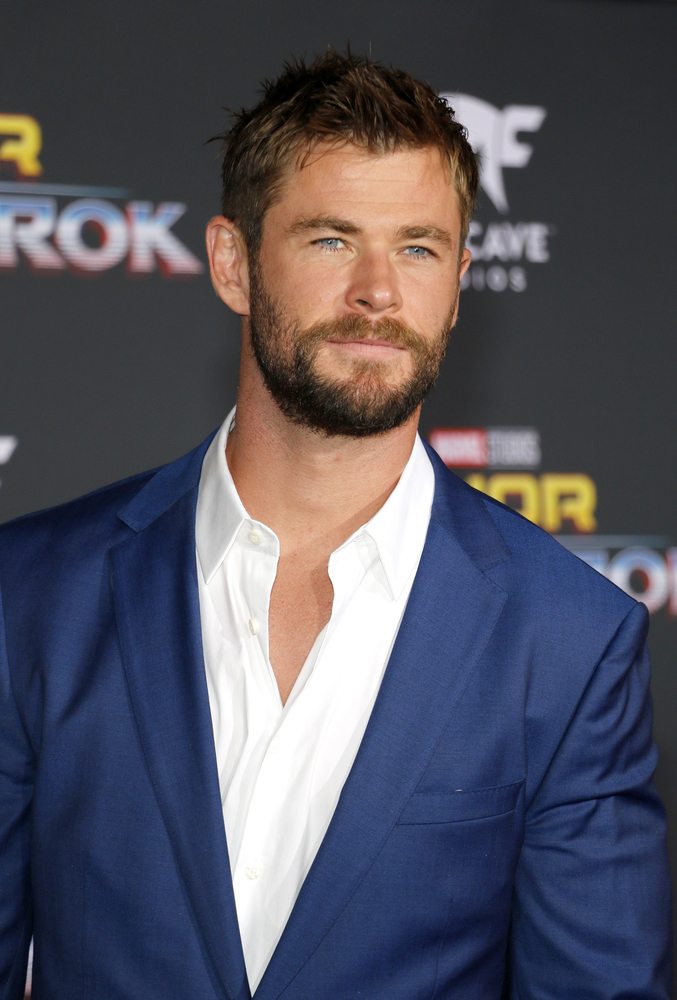 Guy File: Chris Hemsworth
Birthday: August 11, 1983. Melbourne, Australia
Height: 6'3
Eye Color: Darkish Blue
Zodiac Sign: Leo man persona
Body Type: Athletic
Body Snapshot
Obviously, we've got to state that Chris Hemsworth doesn't have your average build. To play the role of Thor as one of the Avengers, he regularly trains his 6'3 frame to get super big.
There are plenty of articles on this site that explore various workouts, like concentration curls; something he likely does regularly to get huge biceps.
But that's not what this post is all about. Instead, the focus is on Chris Hemsworth's style. The reason I'm mentioning his physique is that his body is important to his clothing choices.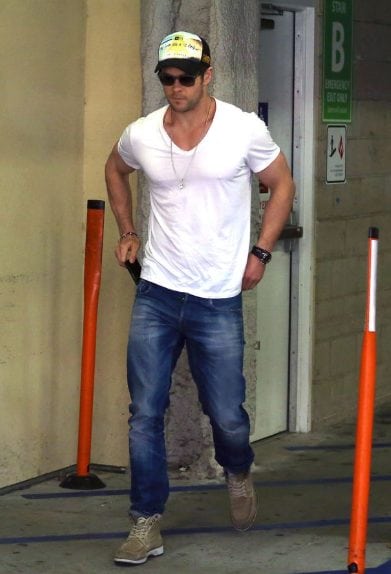 Solid Colors – Basic Look
When assessing what he wears during casual time, he seems to gravitate towards primary colors that are dark and masculine. Specifically, I'm talking about blues, greens, browns and dark reds.
Additionally, his attire is generally loose fitting. There are some who may disagree because the star seems fit into his pants and shirts like a glove. But that typically is an illusion of the camera. On closer inspection, you'll see there's extra room.
Here's the thing with Chris Hemsworth – the guy doesn't like his clothes to cling to him like rubber. This is true for a lot of guys who make fitness part of their daily life. In this way, skin breathes, allowing the person to move about freely.
Chris Hemsworth Styling on Instagram
When you visit Chris's Instagram account, be sure to scroll around and click on the different pictures. You'll see lots of images of the star, mostly in casual wear and shorts while hanging on the beach.
But look closely at the snaps. He's wearing very basic clothing. We're talking white t-shirts and Levi's boot cut blue jeans (see Amazon).
And then you have his sunglasses. In most cases, he's sporting gold-rimmed aviator glasses with an amber frame to keep out harmful UV rays. There are tons of shade choices to choose from but I suspect his are polarized in the same way pilots wear (see Amazon).
And footwear? Well, the truth is he doesn't like to wear any when given the chance. I'm only saying that because in many of his photos, that happens to be the case.
When he does wear sneakers, they are usually comfortable and roomy. Examples include a pair of Pumas. But when it comes to basic casual wear for running around town, more often than not you'll see him in something rugged – like boots.
As mentioned previously, he's not a showboat.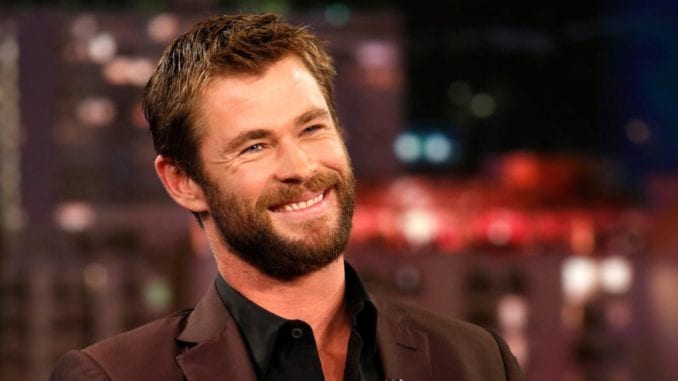 Hair and Beard
So, here's the thing about Chris Hemsworth – his hairstyle and beard reflect his personality. Again, think down to earth and masculine.
For the longest time, he wore his hear long. But as time went on and his role as Thor evolved, the hair got shorter. Now, he's sporting a cropped look.
I suspect that he has highlights infused into his hair; something that isn't all that uncommon for blonds. Given that he is aging, I also suspect he does something to camouflage the greys. See this grey hair men page to learn more.
His beard has pretty much remained the same – short and trimmed well around the jawline. It's possible he is using something to color his facial hair while filling in the patches. Hard to know – just a guess.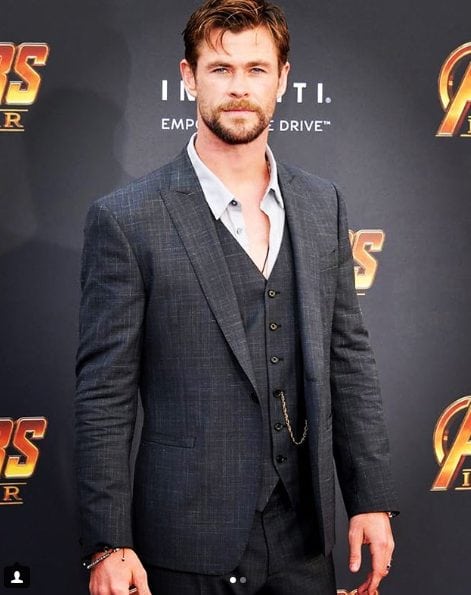 Formal Look
There are times when Thor needs to go formal. It doesn't happen often but when it does, his look is traditional and manly. Think dark greys, deep blues, and occasionally, black.
What's interesting is that he isn't one for ties. Sure, he wears them when necessary. But in looking at his pictures, he seems to like the open collar style.
His dress shoes are also traditional. In fact, I'm willing to wager that he knows a thing or two about how to vibe handsome with classic clothing.
Rugged Masculine Tones
The key thing to remember with Chris Hemsworth is that the guy prefers to come off extremely masculine. In this way, his laid-back attire matches his easy going personality.
In many ways, Chris Hemsworth mirrors another superhero star, Chris Evans (Captain America).
I hope you found this guide helpful. Thanks so much for stopping by!