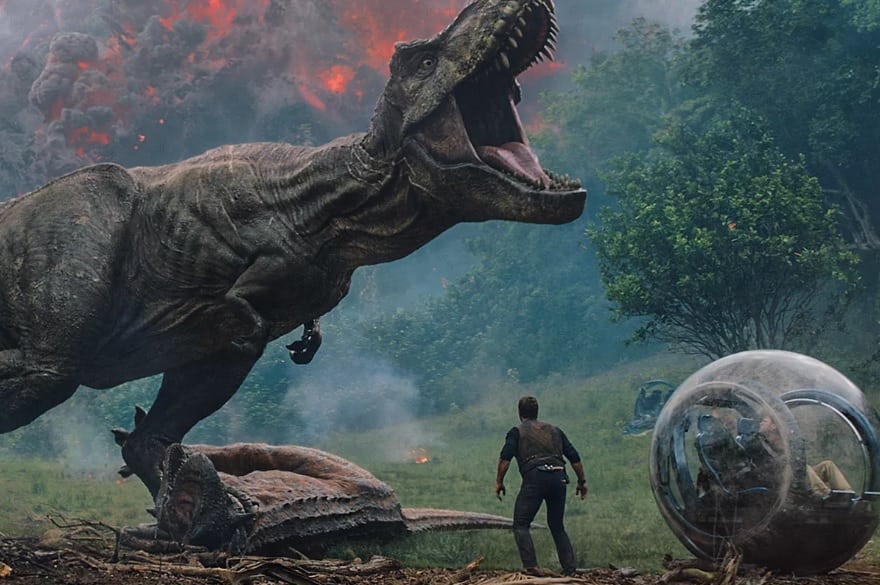 Review of Jurassic World via streaming
Were you one of the millions of people who made it to theaters when Jurassic World: Fallen Kingdom, was released on June 22 of this year?
If so, you weren't alone. During its opening weekend, it hauled in approximately 150 million dollars, according to some news reports. The metrics reveal the movie ranked as number twenty in films for all time in domestic opening weekends.
Sadly, I was not able to make it to the movies when this film was originally released. Work responsibilities and family obligations got in the way. Perhaps you can relate?
The "good news" is that I was able to see "Fallen Kingdom" when it finally became available for streaming on September 18, via Google Play.
In this post, I'd like to give you my impressions of this movie and answer the central question presented in the title: Is Jurassic World: Fallen Kingdom worth renting?
In my case, I ended up renting this film for the price of $5.99 several days ago. All I can tell you is that I was not pleased with this film and wish I wouldn't have spent the money.
Can I be real with you? I've always loved the Jurassic Park franchise and have seen every single one of the movies since the first one was released in 1990.
I didn't expect Fallen Kingdom to be iconic. Most movie sagas, particularly after the second one, rarely are. But I did expect there to be something different in this movie.
In the case of Fallen World, the "something different" was a hodgepodge of retreaded plots from the past that were uninteresting and yawn-worthy.
Reviews are always hard to write because you don't want to give away the movie. I'll try to do that here via this write-up from the folks at The Verge:
"The film opens three years after the theme park and luxury resort [Jurassic World] was totaled by dinosaurs out of containment.
Isla Nublar now sits abandoned by humans while the surviving dinosaurs fend for themselves in the jungles. When the island's dormant volcano begins roaring to life, Owen (Chris Pratt) and Claire (Bryce Dallas Howard) mount a campaign to rescue the remaining dinosaurs from this extinction-level event. Owen is driven to find Blue, his lead raptor who's still missing in the wild, and Claire has grown a respect for these creatures she now makes her mission.
Arriving on the unstable island as lava begins raining down, their expedition uncovers a conspiracy that could return our entire planet to a perilous order not seen since prehistoric times."
OK, now that you have the essential plot of the film, I've got to say it was a massive disappointment. While I'm the first to admit the cinematography was interesting at times, the movie itself featured storylines that we've seen many, many times before.
The Indoraptor (the new, hybrid dinosaur) introduced in this movie wasn't all that scary. And while seeing Blue, the Velociraptor, again was cool, the bad plot and bad subplots took away from his presence.
I like Chris Pratt and thought his previous appearance as Owen Grady in the Jurassic franchise was awesome. But in this film, it just felt like his role fell flat.
At any rate, you can see from my write-up that I wasn't a fan of this film. Is it worth spending $5.99 to steam on Google Play? All I can say is that I didn't enjoy the movie and regret not waiting for it to come out on Netflix.
Perhaps you had a different impression? Did you see this movie? What did you think?