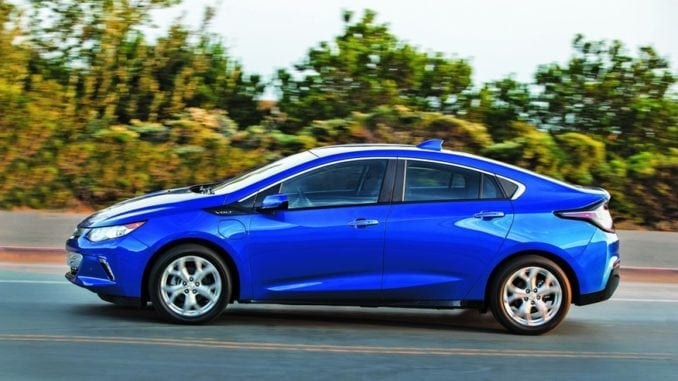 Review of the 2018 Chevy Volt
The 2018 Chevrolet Volt is a plug-in hybrid that bridges the gap between eco-friendly fuel and economy packaging. There are two variants: LT and Premier.
The 2018 Chevrolet Volt has steered away from the conventional "look-at-me" style of flex fuel vehicles and has opted for a more traditional gasoline vehicle body style.
The standard equipment is ample and the safety ratings are in the top tiers for hybrid vehicles.
There are some new additions to the 2018 Chevrolet Volt. The LT Driver Confidence Package comes with Rear Park Assist, Rear Cross-Traffic Alert and Side Blind Zone Alert.
The LT model also gets new vinyl covers for the steering wheel and shift knob. There are also some new exterior paint palettes for 2018: Green Mist Metallic, Satin Steel Metallic and Cajun Red Tintcoat.
Performance – How does it all work?
The 2018 Chevrolet Volt has a 53 mile electric (EV) range and a whopping 420 mile total range. The Volt has an 18.4 kWh Lithium-ion battery for electric propulsion that is capable of reaching 149 horsepower and 294 lb. ft. of torque. This battery pack also has a Rechargeable Energy Storage System with built-in cooling controls.
You can rest assured that you'll never be stranded because once this electric propulsion reaches its limits, the 2018 Chevrolet Volt employs the 1.5 Liter, 4-cylinder gasoline-powered engine to do the heavy lifting. This traditional engine is rated at 42 MPG, boosting that total driving range up to 420 miles.
Related: What's new with the 2019 Porsche Cayenne?
The battery assembly is located between the driver and front passenger, directly beneath the center of the vehicle, giving the Volt exceptional balance and handling.
It's a front wheel drive setup but the power distribution is a bit next level. Either the vehicle's propulsion can be powered by two electric motors, or one motor can be used to recharge the battery system using the kinetic energy of the wheel assembly.
Also, the gasoline engine can kick-in to offer more power when needed. That's a rather complex automatic function, especially for the price range of this vehicle.
Charging the 2018 Chevrolet Volt with a 120-volt charging station will take the better part of a day, but a 240-volt station will get the job done in less than six hours.
Style Points
The front nose of the vehicle is rather hawkish and features the Chevy signature dual grille. That's not chrome on the Volt's lips, but it does have some cool silver paneling there. The hood has deep contours that lead into a low-angled front windshield.
The profile is less distinctive but features a deep gash in the lower paneling. The rear bumper juts upward, but the clear taillight configuration is smooth and aggressive.
The interior is an economy package at any model trim level. For some reason, the leather steering wheel option on the LT was dropped out of this year's vehicle.
Instead, there's a vinyl cover that feels rather cheap and plasticky. The seats are reminiscent of luggage with black monotone cloth covers and blue accent stitching. If you can overlook the style of the 2018 Chevrolet Volt, you might actually start to like it.
Creature Comforts
Chevrolet would like to assert that the Volt has comfortable seating for five, but that is a bit over-zealous. There's 10.6 cubic feet of trunk space. By comparison, the 2018 Mazda 3 doubles that number.
The 2018 Chevrolet Volt has 90 cubic feet of passenger volume while the Mazda 3 has 96.4. So, you see, the Volt is somewhat lagging behind the competition in terms of creature comforts.
The Premier model upgrades the platform to heated seats throughout the cabin, a leather shift knob and a heated, leather-wrapped steering wheel.
Safety Features
A complement of 10 airbags, an OnStar trial subscription and a rear-view camera are standard safety features for the 2018 Volt. Another interesting safety feature from Chevrolet is the Teen Driving Mode.
You can find it on nearly all Chevy vehicles. It allows parents to customize which vehicle features are available for teen drivers. You can limit the radio volume, prevent safety features from being disabled, and receive reports about your teen's driving habits.
Related: Manly cars explored
Aside from that, most of the sought-after safety features are bundled together. As mentioned earlier, the LT model has a safety package that includes Rear Park Assist, Rear Cross-Traffic Alert and Side Blind Zone Alert.
The Premier Driver Confidence Package steps up the features by adding lane change alert and can be upgraded even further to include Forward Collision Alert, Lane Keep Assist, Forward Automatic Braking (low-speed), Following Distance Indicator and Intellibeam headlamps.
Infotainment
The 2018 Chevrolet Volt overcomes some of its failings in the creature comfort category by providing some nifty infotainment features as standard options. Each Volt comes with an 8-inch touchscreen that's compatible with Apple CarPlay and Android Auto.
Even Audi doesn't offer those features as standard equipment on their luxury vehicles. The Chevrolet Volt has a 4G LTE Wi-Fi Hotspot built in, 2 USB ports and 3 months of OnStar service. The Premier model trim's upgrades include an 8 speaker BOSE audio system and a wireless charging station.
Final Verdict
One of the most impressive things about the 2018 Chevy Volt is that you aren't permanently mated to an all-electric system. You can use a backup gasoline-powered system instead. That's great because electric vehicles are still on the cutting edge and we need vehicles that exist in-between.
For a compact hatchback, it is surprisingly comfortable on the interior but lacks any real stylistic distinctiveness of its own.
The infotainment standard equipment is quite generous, considering that even some luxury brands aren't offering an 8-inch touchscreen, Android Auto and Apple CarPlay on their base model vehicles.
The Volt is sure to save you on fuel costs and tax rebates. Also, with a starting MSRP of $33,220, the 2018 Chevrolet Volt is hard to ignore. Do you own a 2018 Chevy Volt? How do you like it? What are your impressions?