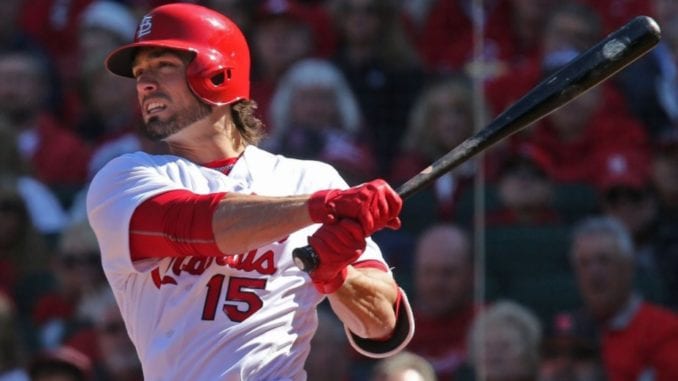 It may take time for him and fans to transition

Randall Grichuk, a 26-year old outfielder for the St, Louis Cardinals, was picked up over the weekend by the Toronto Blue Jays.
The move comes at an interesting time for Grichuk who had developed a healthy following of Cardinal's fans. Part of his appeal can be traced to his ability to engage followers; something he frequently does on social media platforms like Twitter.
In fact, when official word broke that he was moving to Toronto, he immediately shared the news online.
We've acquired OF Randal Grichuk from the Cardinals in exchange for RHP Dominic Leone and RHP Conner Greene.

Last season, Grichuk hit 22 home runs with 59 RBI and 25 doubles in 122 games. pic.twitter.com/624iYWvEx2

— Toronto Blue Jays (@BlueJays) January 19, 2018
Thank you to the @Cardinals organization and fans for all the love and support you gave me over the past 5 years. While I am going to miss St. Louis, I am excited to start the next journey in my career with the @BlueJays!!

— Randal Grichuk (@RGrich15) January 20, 2018
Grichuk has been part of the league for four seasons, slashing .249/.297/.488 for a 108 wRC+.
He's also put up some impressive stats, batting out 20+ home runs during each of his last two seasons. In 2015, he won the distinction of the longest home run at Busch Stadium for that playing year by a Cardinals player.
But when one takes a step back, it's easy to see that most of Grichuk's success has occurred against fastballs and offspeed pitches.
To be sure, he may not be the best at stealing bases but he is a decent base runner.
He's currently under contract for $2.6 million. He's won't be eligible for free agency until after the 2020 season concludes.
Guy Counseling was curious about what it takes for professional players like Grichuk to successfully move to a new team and sell themselves to fans.
According to Costa Provis, a licensed career counselor that works with professional athletes in Chicago, there are two important things Grichuk will need to do.
More: Learn about mental toughness
"More than anything else, it's all about how he plays. If he can run up numbers for Toronto and show the team his value, he'll slip right in without much problem," says Provis.
"Second, he'll need to remain humble. If he thinks he can port his current popularity with him without having to work for it – he'll be making a mistake," he added.
Provis suggests there is a psychological adjustment that needs to take place for both the player and fanbase, which doesn't happen overnight.
"Even when someone as impressive as Grichuk is gets traded, the transition isn't automatic. He and Blue Jays fans are both going to need to warm up to one another," suggests Provis.