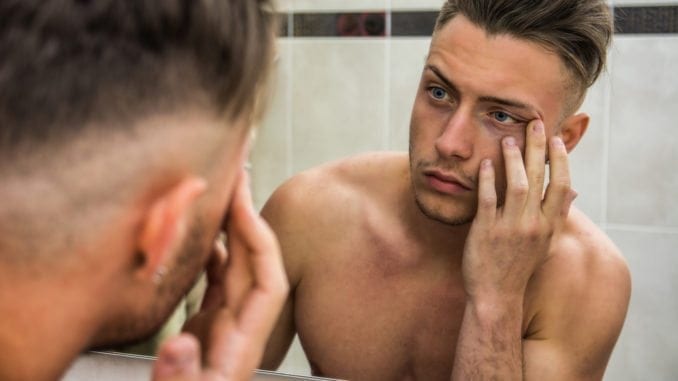 Anti-Aging Skin Care Tips for Men

Men's skin care – it's not a topic that comes up frequently among guys. That's a shame because there isn't one of us who doesn't care about our personal appearance. We just don't talk about it because it is just not something bros do.
Until now …
If you are a man looking for tips and information on how to fight wrinkles, lines and other signs of aging, this article is for you.
My goal is to help you create a skincare routine in a way that doesn't break the bank or make you feel like you are some kind of narcissist.
And so it is like this …
Anti-aging creams and products for men are a dime a dozen. The question is which ones are best to reduce the visible signs of aging?
On top of that, are there simple things that you can do that when combined with a general skincare routine help keep deep lines, dark spots and crowfeet away?
The simple answer is yes. What's more, you don't have to spend a wad of money in order to look your best as a guy.
Men's Skin Care and Research
I've written about skincare in the past when I examined how famous Hollywood celebrities get the even toned skin that you see in T.V and in movies. Examples include guys like Mr. Zac Efron and Christopher Pine.
I've also authored blog posts that look at other features of the face, including eye color (see my post on green and hazel eyes).
The truth is – there isn't a lot of information out there about skincare for guys, particularly anti-aging information that focuses on preservation. That's one of the reasons why I wrote an article about how to get rid of bags under the eyes for men.
What follows 10 tips that you can use to fight back against wrinkles, lines and other signs of aging.
Here's the deal dudes; skincare for men is a multi-billion dollar market!
The reason you typically aren't hearing much about it is because there still exists stereotypes related to men who are concerned about their looks. I admit that things have gotten better in the past 10-15 years but we still have a way to go.
Bottom line – if you are a dude looking to push back against wrinkles, lines and other visible signs of aging, keep reading.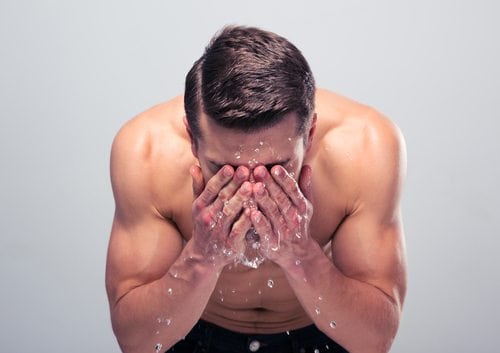 1. Wash your face with the right product
Before you go you can start any skincare routine for your face, you need to know what kind of skin you are dealing with.
Oily Skin
Do you have oily skin? You'll know by doing one of two things. The first is simply looking at your face. Does it have a shine, particularly under bright light? That's likely because the excess oil on your face.
The second way to know if you have oily skin is to the tissue test. Simply take a white tissue and blot it around different parts of your face. If the tissue is sopping anything up, you'll see it. That's likely oil, which may be giving your face that unwanted shine.
What to use: Man Cave Face Wash (see Amazon for pricing). Great for removing excess oils without stripping your skin of essential moisture.
Dry Skin
Does your face sometimes seem flaky? Does it have crack or look a bit scaly when looking in the mirror? If so, you probably are dealing with dry skin.
What to use: CeraVe Foaming Facial Cleanser (check for pricing). Great product to help clean your face while moisturizing it at the same time. This product helps to seal in moisture at the cellular level.
Normal Skin
Many guys have "average" or normal skin that is neither dry nor oily. If this is the case for you, consider it a plus. There are a number of products you can buy for this skin type. Below I've made a recommendation.
What to use: CeraVe Renewing Cleanser (see costs). Great for most all skin types. Helps to keep dryness and oil in check while locking in moisture.
2. Moisturize two times a day
This may seem a bit like overkill bit here is the deal – if you want to keep away those wrinkles and avoid the onset of new lines, you need to start ritualizing your skincare routine. This means getting into the good habit of moisturizing.
There are several products to choose from but if you are like most guys, you want to keep it simple. That's why you might want to consider CeraVe's morning moisturizing and their nighttime moisturizer.
Morning Moisturizer for men here (check for great deals)
Evening Moisturizer for men here (competitive pricing)
3. Don't forget the eyes
If there is one part of the face that shows the visible signs of aging more than anyplace else, it is the eye area. While you will never be able to prevent lines and wrinkles from happening in this area, there is a lot you can do to minimize their appearance and prevent a lot of them from cropping up in the first place.
There's no need to spend vast amounts of cash on creams. Many of these products contain similar ingredients. Here is what you can use two times a day (morning and night) to push back against wrinkles around your eyes.
What to use: CeraVe Eye Repair Cream (check Amazon)
4. Gentle Scrub 2-3x a week
There's plenty of advice on the Internet suggesting how many times you should scrub your face. Most all of the articles are geared towards women. Here is the deal – guys have a much different dermal layer than gals.
Because our mugs tend to be less soft and more rugged, it is important to use a product that is focused on helping to remove debris, such as dirt and oil, without stripping our faces of masculine features.
One of the best products you can use is easy on the pocket book and does a phenomenal job with exfoliating is Dove's face scrub for men. You can get this from most drugstores or simply buy it online at Amazon.
What to use: Dove's Men Care Face Scrub (see current offerings)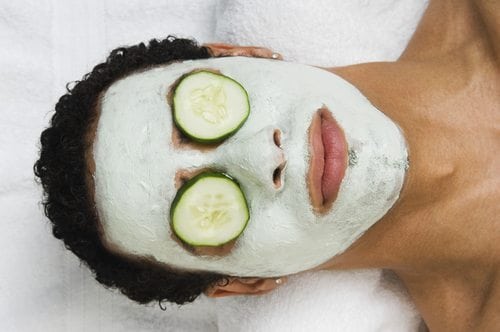 5. Get your face muddy
This particular suggestion is one that a lot of guys shy away from because they think only girls use a face mask. Guess what dudes – it simply isn't true.
If you want to give yourself a more youthful appearance while helping to prevent lines and wrinkles, you need to start getting into the habit of using some type of clay mask at least 1x a week.
Using a mask helps in a number of ways that you might not have ever considered.
Removes deeply embedded blackheads
Unclogs pours
Tightens pours (large pours are make you look older)
Gives skin a refreshed look and reduces "dullness".
There are a lots of masks to choose from but almost all of them contain chemicals and dyes that aren't necessarily good for your skin.
I've done plenty of research on this and personally believe one of the best products out there is Glam Glow Youth Mud. The product works by stimulating collagen at the dermal layer while also helping to resurface your face through gentle exfoliation.
When you use Glam Glow, expect a slight tingling to take place. This happens because the natural ingredients, including volcanic ash (that's right – from a volcano) is working on your skin's viscosity.
Pricing on this product will depend upon the retailer and supplies. Check Amazon for current offerings.
6. Use the right shave cream
This point may seem obvious but it is worth mentioning all the same. If you are like a lot of guys, you probably use a shaving cream that's on sale or something your significant other picked up at the store. That's cool but if you want to get rid of those lines, you might want to attend to this task yourself.
An excellent shave cream designed by dermatologists just for a guy's face is Men's Science Androceuticals Advanced Shave Formula. Not only does if provide a great shaving experiencing, it doesn't foam and is unscented.
Great for preventing razor burns and even better at helping at preventing wrinkles. Why? The product isn't loaded with harsh chemicals like that blue stuff in a can. Check Amazon for pricing.
FYI: If you are someone who sports a goatee, be sure to read this post on goatee grooming.
7. Use an aftershave balm
After shaving, a lot of guys simply dry their face with a cloth and forget to moisturize. The end result? Dry, rough, patchy skin that later has the potential to crack and peel.
If you live in a cold weather climate, this point is particularly true.
This is why you will want to use an aftershave balm that is designed to seal in moisture while calming your skin in a way that reduces redness and bumps.
An excellent product to consider is Proraso Aftershave Balm. What's great about Proraso is that it soothes your face after shaving while strengthening the dermal layer.
Infused with aloe vera and vitamin E, the licorice smelling product gives you a fresh, clean look.
What to use: Proraso After Shave Balm (see current offerings)
8. Reduce time in the sun
This point may seem obvious because it has been said thousands of times by skin experts. What some people confuse is reducing time in the sun with avoiding the sun entirely.
If you are like most guys, you like being outdoors from time to time. An easy way to have the best of both worlds (outdoors and fun in sun) is to use a sunblock, particularly for extended periods outside.
The previously mentioned products for morning moisturizing under point #2 offer an all-around good skin protectant because it has an SPF 30 sunscreen inside. That's great for 30-60 minutes outdoors.
But if your plans include anything that places you under direct, intense sunlight for more than an hour, consider a full on sunblock. Opt for something with at least an SPF of 50. No need to break the bank on this one guys.
What to use: MISSHA All Around Sun Block for Men (see Amazon for current price)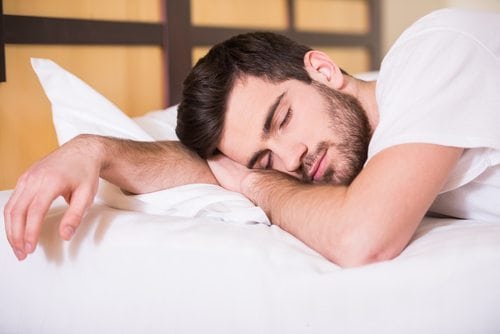 9. Get the right amount of sleep
Yet another obvious point but is being covered all the same is sleep. There have been some reports to suggest that you can get by with around six hours. Personally, I believe that's a bunch of hooey.
The National Sleep Foundation has published some great recommendations which are correlated to age and stage of life.
Rather than reinvent the wheel, I will simply provide an informational link. FYI – if you are between the ages of 26-64, your goal should be 7-9 hours per night.
How much sleep: National Sleep Foundation Sleep Chart
10. Reduce stress in your life
This final point is one that is often neglected and discounted but it shouldn't be. While some stress is normal, too much stress can wreak havoc on your body, including your face.
Self-care needs to be part of your wellness dynamic. What does this mean? Well, sleep is certainly important but so are some other things:
Healthy diet that is rich in nutrients to fuel your body
Engaging in strength training and other forms of physical activity as a tool for stress relief
Not smoking cigarettes
Reducing the amount of alcohol intake
Mindfulness based living, such as mediation (See RAIN Post)
Bonus Areas
What about Botox?
A lot of men are curious about Botox but feel weird about asking questions. There are tons of reasons for this, including concerns about coming off as vein or thinking only girls have this procedure done.
Well guys it is like this – there's nothing wrong with a dude getting Botox if you think it will help with deep lines and wrinkles. Below you will find a link to more information.
Men's Botox Guide – What to Expect
What about water & hydration?
It goes without saying that hydration is key to skincare. The question of course is – how much water? New research suggests that we should be using thirst as a determinant of fluid intake.
While that's fine and dandy, a lot of guys wait until they are dehydrated before reaching for something to drink.
Regarding skincare and fluid intake, most all of the combined studies suggest that on average, you should try to get in 10-15 cups of water per day. This equates to 3.7 liters, give or take.
Final Thoughts
Taking care of your appearance, including your face, is a sign that you give a hoot about yourself. There's nothing arrogant or effeminate about this. That's why I published an article all about men's face care. It matters.
After all, it is your mug, right?
If you are a body builder or involved with strength training, it makes sense that you will want to place some amount of emphasis on your face, just like you do with sculpting your muscles.
Thanks for stopping by Guy Counseling – please like on Facebook and other social media!