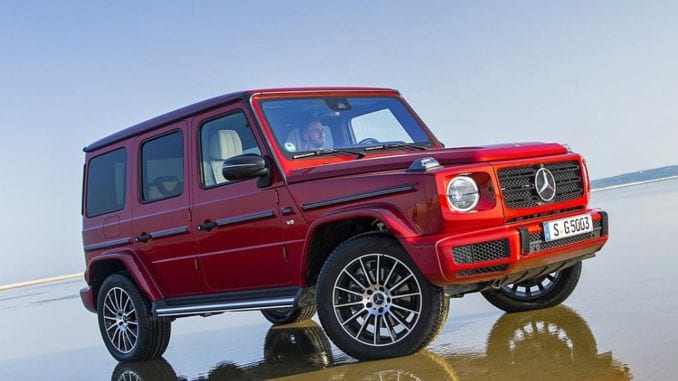 Rundown of the 2019 Mercedes Benz G Class SUV
Not many people can afford one, but for those who can, the 2019 Mercedes-Benz G-Class SUV provides the pinnacle of off-road performance and luxury.
The next generation G-Class debuted at the 2018 North American International Auto Show amid rave reviews and it's now available for purchase if you're ready to cough up six figures. It's got off-road prowess on any terrain, an entirely new suspension, and a mouth-watering, world-class leather interior.
Introduction to the New G-Class
"Enhancing an icon such as the G-Class in technological terms was both a challenge and an opportunity at the same time. Each part and every bolt came under close scrutiny," explains Dr. Gunnar Güthenke, Head of the Off-Road Product Group at Mercedes-Benz.
The second-generation G-Class SUV from Mercedes-Benz has emerged with an updated chassis, new interior layout and improved ride quality, but it keeps the high-stacking, ladder frame exterior design that made the original vehicle one of the most recognized automobiles on the market.
This high-end, luxury G-Wagon is super expensive, super elite and specifically designed to effectively traverse some of the worst terrain on planet Earth. What it's not designed to do is save you money on gasoline.
The G-Wagon gets just 13 miles per gallon in the city and 17 miles per gallon on the highway. If you can ignore those pitiful numbers, then you're sure to find something special here. It's available as the G550, AMG G 63 or the suped-up AMG G 65.
Here's a quick walk-around video from the good folks at Auto-Blog.
Exterior Style
The new G-Class SUV worships at the holy church of our blessed 90-degree angle and reverences sheer opulence in any condition. At first glance, it looks like one single piece of sheet metal that has been expertly honed into a brutally-beautiful form.
The distinctive body style of the G-Class SUV has largely remained the same even though it's shed 375 lbs of frame weight for 2019. Visually, it will look the same as previous years, but savvy auto enthusiasts might notice that the 2019 G-Class is 2 inches longer and 4.8 inches wider.
The new body uses a mix of lightweight, ultra-strong steel and aluminium.
It's still got an upright, boxy frame with externally-mounted door hinges, signature door handles that click and a spare tire mounted on the rear door.
The hood is also mounted on top of the frame, not in-line with the frame like other sport utility vehicles in this class.
Performance Capabilities
The 2019 G550 has a 4.0 Liter biturbo V8 beneath its hood. The engine achieves 416 horsepower and 450 lb. ft. of torque. There's new software in place to improve the response time and fuel consumption of the 9-speed automatic transmission.
You can toggle between four driving modes – sport, eco, comfort and individual. There's another driving mode, the G Mode, but that's explained in greater detail a bit later. The steering goes from a hydraulic system to a new electro-mechanical, rack-and-pinion steering control for 2019.
You'll have increased handling when you need it, but the automated control systems will override your input to maintain the best traction in certain conditions.
You'll probably never know this is happening and nobody can fault you for telling all your friends that you're an off-road traction pro. The engineering is just that good.
The 2019 Mercedes-Benz AMG G 63, as it's called, is the even more powerful version of the G-Class SUV. It comes with a monstrous 5.5 Liter AMG biturbo V8 engine that produces 563 horsepower and 561 lb. ft. of torque.
https://www.instagram.com/p/BrHTRIhnrav/
The 9-speed automatic transmission propels the large frame from zero to 60 mph in just 5.3 seconds. It's hard to imagine a vehicle this large going that fast, but the AMG G 65 is even faster and more powerful. It has a 6.0 Liter biturbo V8 that ups the horsepower to 621 and the torque jumps to 738 lb. ft.
Although this version doesn't make much of an improvement on speed from the AMG G 63, the AMG G 65 has a towing capacity of 7,000 pounds. It comes standard with 4MATIC all-wheel drive and the 40 to 60 percent front/rear torque distribution helps to improve stability and traction.
In either standard G550 or AMG form, the G-Class is in its element when taken off-road. It's built to dominate both land and water. The new double-wishbone front axle is mounted directly to the frame, not a sublevel bar that rocks and sways. The rear axle sits as high as possible to give the G-Class SUV more ground clearance and rigidity.
This vehicle can also power through muddy water like a knife through butter. The 2019 G-Class has a maximum fording depth of 27.6 inches. That's a big improvement on the previous model. You also get 3 driving modes for off-road adventuring. There's a selectable mode for sand, trails, and rock.
Then, there's G Mode. Whenever one of the three differential locks have been activated or the low range off-road reduction gear has been engaged, a small "G" indicator light will flash on the dashboard. That's G Mode kicking in.
Instantly, the G-Class goes to work on nearly every element of the vehicle's performance when you go off-road. Torque, gear shifting, steering control and the chassis dampening systems all adapt to the current driving conditions to provide an optimal level of manoeuvrability.
Interior Amenities
The new G-Class body design lends itself to more interior space for all passengers. There's 6 inches more leg room and nearly 3 inches more elbow room in the rear bench.
It's doubtful that you will hear any complaints from the rear seats though.  Wind noise has been greatly reduced for 2019, but it's still nowhere near as quiet a ride as let's say an S-Class sedan, for example.
The suspension and door seal improvements help with acoustics, but the overall bricklike design of the body cancels out any attempts to channel air currents in a way that will provide a quieter interior space.
There's not a whole lot of room for cargo, but the rear seats do fold completely flat to haul in your skis or bulky camping gear.
The new 2019 G-Wagon dashboard borrows some style cues from the G-Wagon's stablemates – the E and S-Class sedans. It has a single-bonded glass panel that sprawls 12.3 inches across the dash.
https://www.instagram.com/p/Bq0KqR1HSyc/
There's the usual instrument cluster for the driver but you'll also find some off-road specific gauges. There's 3D displays for the car's drive shaft, transfer case, differential status, gradient, incline, steering angle and altitude.
If all that raw data is too overwhelming, you can rely on steering wheel-mounted controls to handle some basics like navigation, air conditioning, Bluetooth and audio volume.
The 2019 G-Wagon has a sunroof that now has heat-rejecting glass. Visible light comes in without the thermal energy that'll bake you in your leather seats. In front of the passenger seat is a leather and wood grab bar.
Related: Masculine cars – what makes them alpha?
The center console has circular air con vents that repeat the design motif of the new circular LED headlights in front of the vehicle. Beneath those vents you'll find an accessory compartment that's deep enough to stow several smart phones and wide enough to eat a meal on when closed.
Another interesting interior amenity is the ambient lighting. You can toggle between 64 different color palettes to create your own sensual mood.
This is perfect for impressing your passengers, especially if you let them play with the settings while you catch up on emails.
Customizable leather and wood are also generously spread around the cabin, but what else would you expect from a Mercedes-Benz?
Infotainment
You'll most likely look to the awesome off-road adventure that you're having for all your entertainment needs while riding in the 2019 Mercedes-Benz G-Wagon.
However, if you decide to cruise through the city and you get bored, you'll be delighted to find that the G-Wagon has an available in-car WiFi hotspot that can connect up to 8 devices at a time. Now, everyone can ignore each other in style.
The main dashboard display screen has large icons and a high pixel count to make menu surfing much easier than previous models.
It does take some getting used to because the driver's instrument cluster seems to flow right into the center touchscreen.
There's no separation there. Thankfully, you can also use the COMAND touchpad controller in the center stack to navigate the infotainment options without taking your eyes off the road. Apple Car Play and Android Auto come standard, so does a 6-month subscription to Sirius XM satellite radio.
https://www.instagram.com/p/BqoWwAUHbnr/
Safety Features
One the main safety upgrades is the placement of the rearview camera. It's located just beneath the externally-mounted spare tire for better visibility.
Another standard safety feature is Park Assist, thanks to the new electro-mechanical rack-and-pinion steering system. The 2019 G Class SUV also comes with adaptive cruise control that can brake automatically if needed, blind spot indicators, lane keeping technology, rain-sensing windshield wipers, trailer stability assist, adaptive braking, and tire pressure monitoring.
The G Class would have undoubtably received those new safety upgrades without a complete next generation vehicle, but it's nice to see that automakers at Mercedes-Benz didn't scrimp on new features (which are already in place on its closest rivals).
Final Analysis
The 2019 Mercedes-Benz G-Class is the height of off-road luxury. It's also the preferred ride of the Pope. The G-Wagon has a military style body frame that's built tough and built to last. The first generation ran for 40 years with only minor tweaks and updates.
The bi-turbo V8 engine in the G-Wagon is super powerful and the AMG G 65 can blow the doors off many high-performance sedans.
First and foremost, it's an off-roader, the best on the market, with only the trail-rated 2019 Jeep Grand Cherokee Traihawk and the Hummer H2 as near contenders.
The purpose of releasing a new 2019 G-Class SUV was to modernize the platform and introduce new engineering amenities that will certainly last for another half century. Engineers at Mercedes-Benz have certainly done just that. They've created an all new classic.
Oh, by the way – expect to pay somewhere between $125,000 to $150.000, depending on what options you choose.
What are your thoughts? Would you buy this vehicle? Share your thoughts below in the comments section.