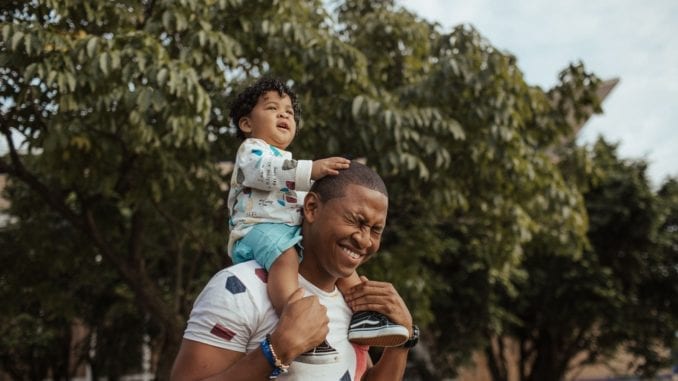 New study shines light on dads and quality time with children
Father's Day is being celebrated worldwide on Sunday, June 16th but studies suggest that fathers aren't spending enough quality time with their children.
Admittedly, dads have increasing pressure to be the financial providers for their household. Plus, the family unit just isn't what it used to be.
Children these days have more distractions than kids twenty years ago. Also, mothers and fathers are spending less time with their children due to work constraints.
A Pew Research Center survey conducted in 2017 found that 6 in 10 dads reported spending too little time with their children. There were several reasons. Sixty-three percent of those fathers cited work obligations as the main cause.
Fathers4Justice commissioned a study this year in the United Kingdom that found that 4 in 10 dads haven't seen their children on Father's Day.
If the survey results were expanded worldwide, then that amounts to over 2 million father's who won't be spending crucial time bonding with their children this year.
The importance of bonding with your children can't be overstated.
"Remember that the most important aspect of your time together is allowing the child to have a sense of relying on you, and the security that comes with knowing that you are consistently there," says Karen L. Garvey, mother of three, author and intuitive parenting coach.
Fatherhood just comes naturally to some dads. These super dads seem to intuitively know how to raise happy, well-adjusted children.
On the other hand, some fathers need help in finding activities that facilitate the bonding experience.
Ideas for Bonding with Your Toddler
A toddler can challenge your patience and creativity with all their energy and inquisitiveness. Karen L. Garvey lends some additional advice in this regard.
"Bonding with toddlers can be tricky when you consider their short attention span, and perhaps yours, for activities geared to this age group.
Gear your child toward activities that you enjoy based on your preferences, such as crafts, music, building toys, dress-up, etc. You are more likely to be the most engaged."
Then, there's the debate over screen time. Experts are divided over whether screen time is truly bad for a young child's development.
Related: Are you ready to become a dad?
The prevalent theory is that sitting your child down in front of a computer, smartphone or tablet impairs their cognitive and social development.
Yet, when you actively engage with your child through technology, this can have the opposite effect.
One way that fathers are bonding with their young children is by making mini movies with smartphones, tablets and cameras.
You can use your child's imagination and their toys to make a storyline and film it yourself. Then, you can re-watch the mini-movie together and even post it to YouTube.
Check out the Axel Show for some father-son playtime ideas.
Happy Father's Day
Being a father is a unique privilege and Father's Day reminds everyone of the crucial role that father's play in a child's growth. Either through their presence or their absence, fathers contribute to their children's development.
Recent studies reveal that fathers are concerned about the time that they spend with their children. Most often, work gets in the way, but some fathers just don't know how to create quality experiences with their children.
You can read to them, wrestle and rough-house, take field trips or make your own mini movies on a rainy day. The most important thing you can give them is your time.