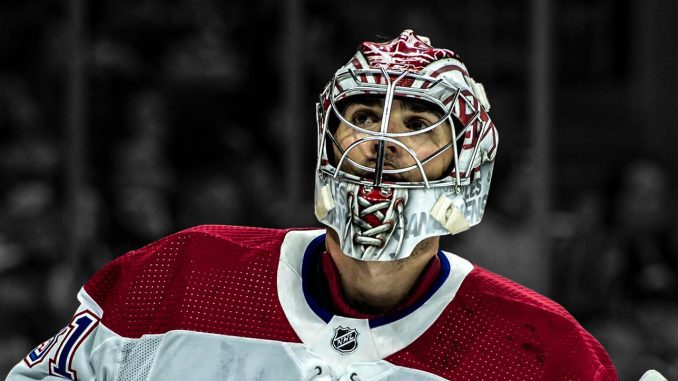 Carey Price and Mental Health
Star goalie for the Montreal Canadians, Carey Price, came out of rehab with a bold statement regarding mental health. In October 2021, Carey Price announced on Instagram that he was checking into a residential treatment facility for substance abuse. After successfully completing a 30-day program sponsored by the NHL, Price left the facility on November 6th.
At first, there wasn't much news about the details of Price's addiction or compulsion problems. Yet, it was later revealed that the Habs star goalie wasn't using drugs or alcohol. Price was being crushed under the weight of mental health problems. After knee surgery, physical rehabilitation, and his team's loss in the Stanley Cup finals, Carey Price had a mental health breakdown.
When celebrities and athletes go through a public crisis, they usually have two options. They can either engage in carefully orchestrated PR damage control or they can put all their cards on the table and use their story to foster positive change.
Carey Price took the high ground and spoke about the underlying cause of his breakdown – mental health. Price stated in plain language that he had been neglecting his mental health for a long time. He also mentioned what the effect of that neglect had on his personal life. Finally, he encouraged others who suffer under the weight of mental health problems to ask for help.
The full statement that Price submitted to the NHL is given below:
"Over the last few years I have let myself get to a very dark place and I didn't have the tools to cope with that struggle.
"Last month I made the decision to enter a residential treatment facility for substance use. Things had reached a point that I realized I needed to prioritize my health for both myself and for my family. Asking for help when you need it is what we encourage our kids to do. And it was what I needed to do.
"I am working through years of neglecting my own mental health which will take some time to repair; all I can do is take it day by day. With that comes some uncertainty with when I will return to play.
"I appreciate all of the overwhelming support and well wishes. I please ask that the media and our hockey community continue to respect our privacy at this time. Your support and respect of this so far has been a critical piece to my recovery."
Related: 7 Reasons Men Seek Out Therapy
Where other celebrities and athletes have dodged the issue of underlying mental health, Price chose to bravely stand up and inspire others to dig deeper. The usual approach for public figures is to label their particular issue whether it be substance abuse or a mental health condition and share a statistic about how many people suffer from that same condition.
In a sense, this is their attempt to hide themselves among the sea of people who face the same issue. Carey Price put the spotlight on himself by making a personal statement about his struggle and what he was doing to handle it. Price's statement avoided catchy buzzwords and hashtags. The result was a statement that was relatable and intimate without needing to go into much detail.
Professional athletes are seen as strong, brave, and resilient figures who power through any adversity. Yet, sports stars are human beings who sometimes falter. According to statistics from Athletes for Hope, a staggering 33% of professional athletes experience some form of mental health crisis during their lifetime.
Physical injuries are more obvious. You see that player in crutches or being seen after by trainers. Yet, you can't always see the effects of a mental health crisis. There's a stigma about mental health in professional sports that is just now starting to change.
The NHL is having a bit of a renaissance moment with players like Carey Price and Kyle Beach bravely speaking up about trauma, abuse, and mental health. Carey Price has played with Montreal for 14 seasons. He's their star goalie and led the league in 2015 for save percentage. He's been the league's MVP and a member of the All-Star team.
Price has been in the spotlight for more than a decade. He's suffered successes and setbacks. By publicizing his journey with handling a mental health crisis, Price opens the door for more players to prioritize their mental health, as well.
Carey Price's team, coaches, and fans have been supportive of his current struggles. He has returned to the ice for practice drills with Montreal but there hasn't been a clear statement on when he'll return for official game play.
If you're an athlete or anyone who struggles with mental health issues, don't hesitate to take Carey Price's advice and seek help. You can share your story on social media or contact a close friend that you trust. If you are looking to experience counseling with a professional from the privacy of your home, consider Better Help.