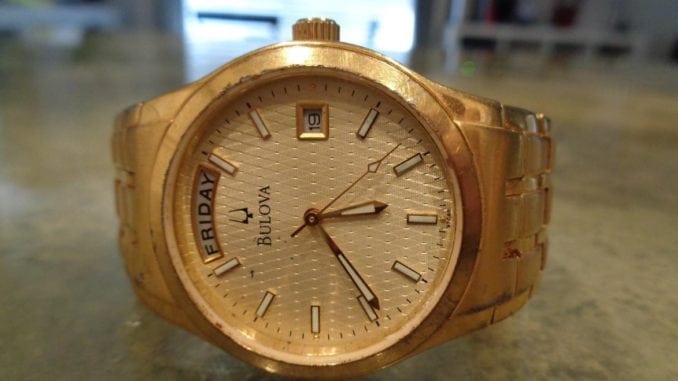 Is the Bulova men's gold tone watch a good deal?
Are you thinking of buying a stainless steel, gold-colored men's watch from Bulova? Wondering if this timepiece looks good on your wrist? Curious if the price tag is worth the money?
If the answer is yes, you've come to the right place. Approximately one year ago, I purchased this watch brand new from a popular online retailer. At the time of purchase, I paid $172.00 USD.
After having worn this timepiece every day for nearly a year, I feel very comfortable sharing my review with you. If you've followed this blog for any amount of time, you probably already know that I'm fond of gold watches.  
Slap me silly and called stupid but I guess I'm just old school. There's just something nice about a classic gold watch that doesn't come off as bling, you know?
At any rate, I wear my Bulova pretty much everywhere. Be it going to the office, hanging out with friends or hitting the  gym, the watch is on me.
The only time I'm not wearing it is when I'm sleeping or in the shower. Yep, that's right – this particular timepiece isn't waterproof or water resistant. Well, it's not marketed that way.
Ok, you are probably wondering what are my impressions? I'll be straight up with you. So far, I've been very pleased with this product.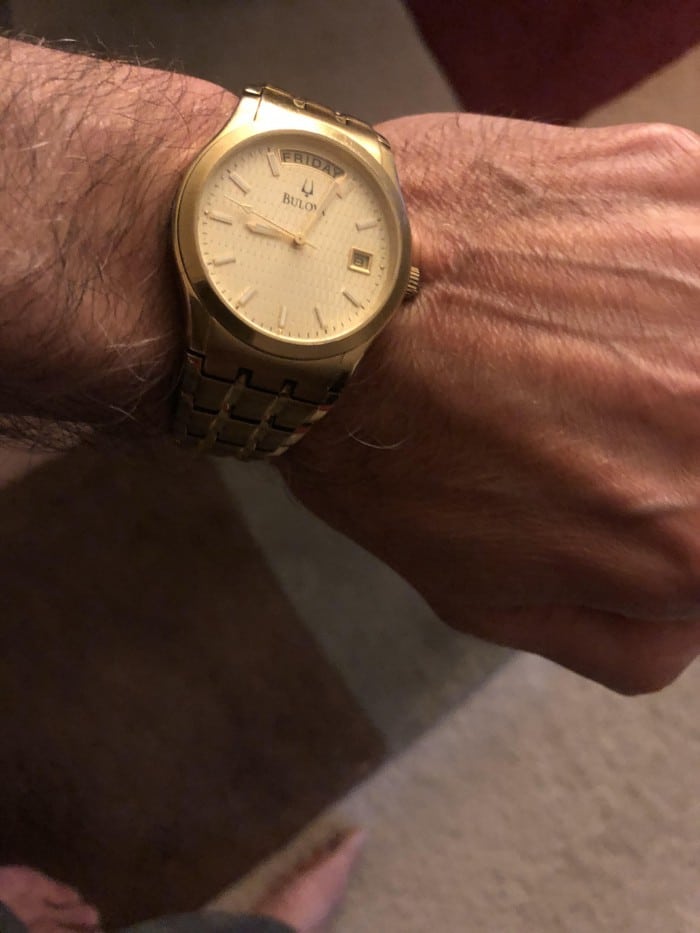 Here's what I like:
Looks great on my wrist without looking gaudy.

The battery has not needed changing.

Even though I've banged it up plenty, the scratches are easy to wipe off with a soft buffing pad and stainless-steel cleaner.

Keeps accurate time right down to the second.

Date and day of week display are always accurate.
Here's what I don't like:
 

It's not water resistant or waterproof

The wristband was a little big on me and I had to have some links removed.

The crown sometimes pops out and needs to be screwed back in.
So, is the Bulova stainless steel gold watch for men a rip-off or worth the money? With a retail price of approximately $172.00, I am the first to admit it's not an inexpensive timepiece.
That said, it's also not ridiculously overpriced like some watches tend to be (see this post on a $3 million dollar Rolex). Personally speaking, I would say my Bulova was well worth the money. And yep, I recognize there are other reviews on the web that suggest this watch isn't worth the dough. Again, speaking only for myself, I've had a very positive experience.
If I had to buy another gold-tone watch, I would very likely pick this brand. But to be completely real about it, I might consider a similar brand, such as something from Invicta.
Now, I'm going to turn the mic over to you. Do you own a Bulova gold tone watch for men? If so, what has been your experience? Do you think it is a quality timepiece? Share your thoughts below in the comments section.