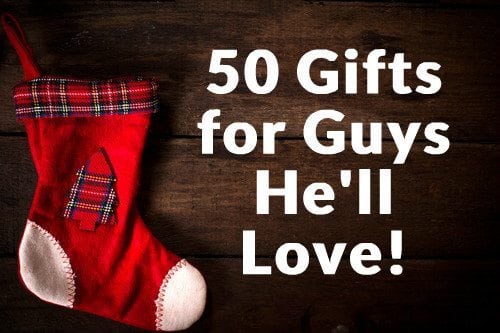 Stocking Fillers for Men
Trying to find some cheap stocking filler ideas for men? You wouldn't be alone. Putting your hands on a unique and practical gift that fits a smallish budget ain't easy!
Lucky for you, I've created a one stop shop with tons of guy gift giving ideas that men typically love! What's more, many of the suggestions listed below are appropriate for all sorts of situations, including:
Stocking Stuffers
Birthdays
Valentine's Day
Anniversaries
Just because
What's great about many of these presents are their universal appeal. In other words, there's a good chance most men will like what you pick up. Sure, he might dig one thing more than another but generally speaking, all of these gifts are guy friendly.
Everything you see here is on the smaller side. All of them are perfect as standalone gifts or as something to stick in a holiday sock.
And while cheap is a subjective term, I've tried to list stocking filler ideas that will fit most modest budgets. Links have been provided to Amazon where you can check pricing.
Don't wait until the last minute. By picking up something for your man in advance, you remove the stress of having to rush and scramble.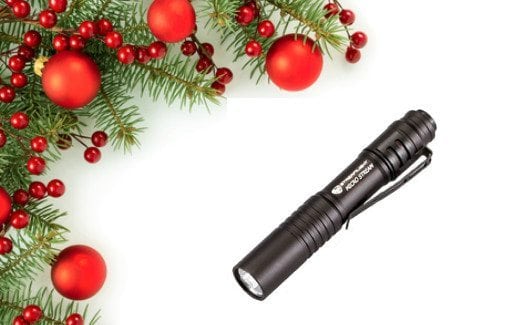 Small Flashlight
There isn't a guy on the planet who won't appreciate this simple and practical gift. Small flashlights, like the Streamlight LED Pen Light makes for the perfect present. Not only will he love this gadget because of its many practical uses, like finding keys in the dark or looking at the engine of his car, he can also use it as a self-defense tool. It's powerful enough to momentarily disorient anyone.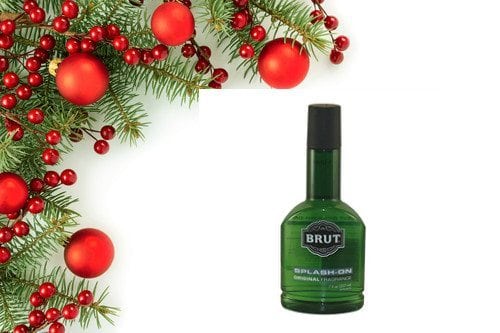 Aftershave Lotion
Men's colognes are a dime a dozen. The truth is many are overpriced and don't smell all that great. Most guys will tell you – they want something that has a woodsy scent that doesn't come on too strong. That's why Brute works as such a great guy gift. It doesn't overpower but instead, offers a masculine presence that's great for work, a night out on the town or any social event.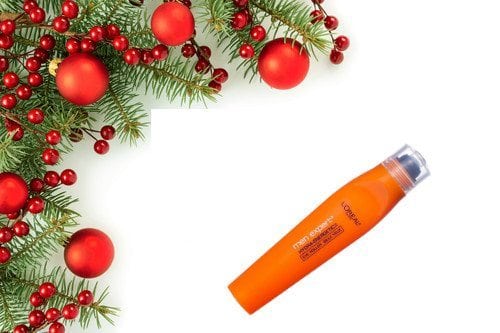 Eye Roller for Baggy Eyes
One of the issues we've examined on this site is how to get rid of baggy eyes and dark circles for men. Lots of guys experience this problem but few know how to deal with it. One of the best things you can do to help that special fellow in your life is to get him a cool tip eye roller. One of the best ones on the market is the L'Oreal Paris Men's Expert Hydra-Energetic Ice Cold Eye Roller. This one is small and compact and can be used to help reduce puffiness when his allergies flare up or if he's just one of those people who suffer from dark circles. If he really has baggy eyes, an ice mask might also be helpful.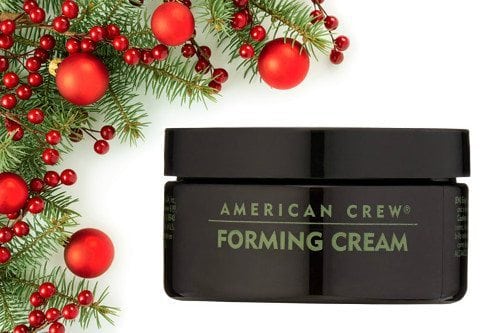 Men's Hair Cream
Here's a secret – guys do care about their hair – a lot. We wrote about male celebrity hair styles not too long ago, which we later found out became popular among the alpha crowd. A very practical gift you can get him is Crew's Forming Cream. It's lightweight and has a pleasant odor. Appropriate for most hair styles and makes for a terrific stocking stuffer.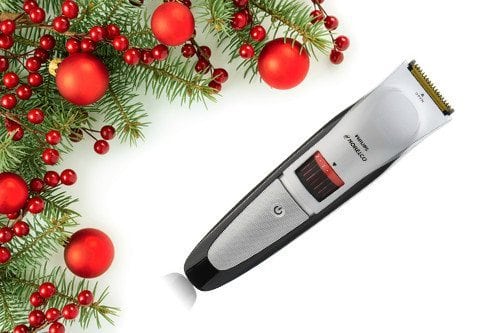 Beard Trimmer
Guys spend lots of time trimming and shaping their beards. But many aren't sure about which tools to use, which makes it a hassle. That's why we created a post that explored beard and goatee trimming a while back. If you want to give something him something that he'll love you for, grab a cordless Phillips Norelco Beard Trimmer. This one is adjustable and can be used to shape the beard or goatee to almost any shape. I highly recommend.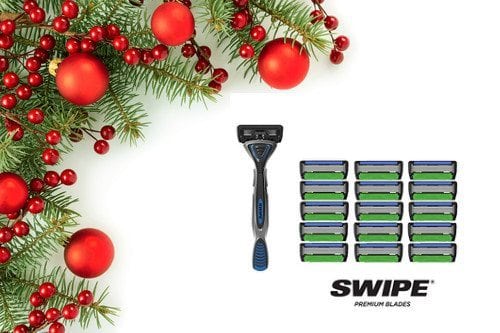 Men's Razors
There isn't a guy on the planet who doesn't shave his face. But trying to pick the right razor to do the job can be a real pain in the rear. One of the best ones on the market can be found by the folks over at Swipe. Highly rated by the men who use them, this guy gift choice is a big time smart choice hands down. The razor and cartridges come together, making for an all in one gift! If you are looking for gifts for guys, make sure to include this one!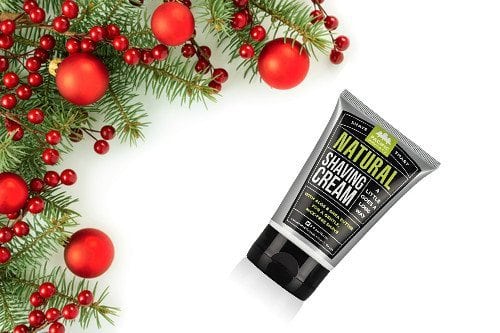 Men's Shaving Cream
If your guy is like most men, he probably uses a shaving gel that can be purchased at the local drug store. There's nothing wrong with these kinds of products but if you want to give him something that will truly benefit his appearance and help him get a high quality shave, consider grabbing Pacific Shaving Company's Natural Shave Cream. It's light weight and just a little bit goes a long, long way!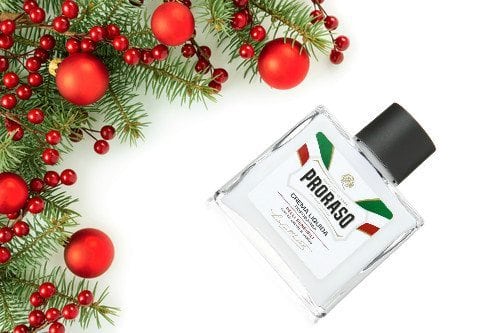 Men's After Shave Balm
When he's done shaving, he's going to need to use some type of facial calmer to reduce the appearance of scrapes and bumps. While there are many products on the market, Proraso Aftershave Balm is top drawer. Not only will the balm moisturize his face, it will also help minimize the appearance of tiny nicks and cuts. Highly rated by guys and one he'll truly appreciate you picking up.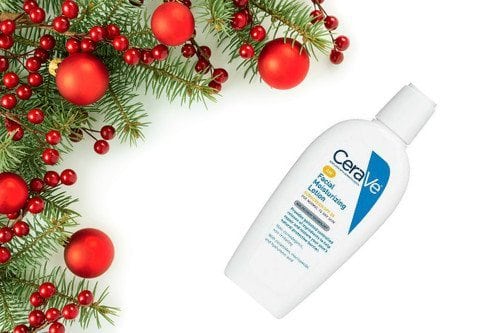 Daily Facial Moisturizer
Men have special moisturizing needs. That's because they are constantly subjecting their faces to trauma with a razor. This is why it's important for guys to use the right moisturizer. Probably one of the best ones he can use is CeraVe's daily product with SPF-30 sunscreen. And the reason you will want to get him this as a gift is because it's non-comedogenic – meaning it doesn't cause acne. Don't forget that he's going to also need some type of a body moisturizer. The folks at CeraVe' also make a great one that's usable for all skin types.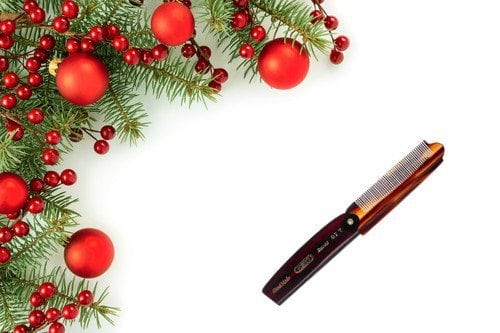 Folding Pocket Comb
If you want to give him something he'll really appreciate, why not pick him up a pocket comb? The folks at Kent make a great folding comb that he can stow in his jeans or duffel bag. Not only does this make for a classy gift, it's also something he'll actually use!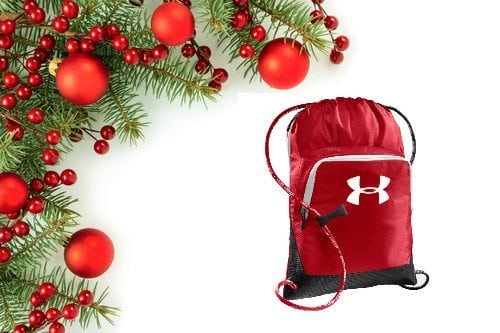 Gym Sack
Guys often carry around a lot of stuff. We're talking gym clothes, smart-phones and even tablets. That's why a great gift to pick him up is a sack pack! The folks at Under Armour make an amazing product that's durable and adjustable. I use this one as an all-around bag for the gym, beach and errand running. The sack pack comes in different colors and is sure to be a real winner with your guy.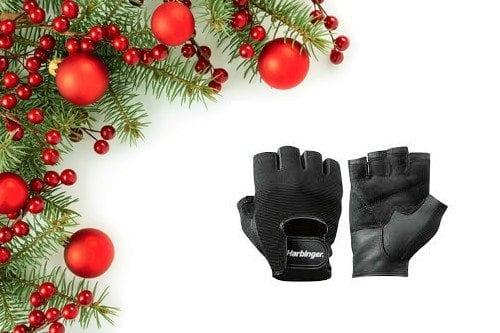 Workout Gloves
Does your man frequent the gym? If so, he probably uses some type of lifting glove. And if he's not using one, he probably should. Weight lifting gloves help to protect the hands while offering important structural support. One of my favorites is Harbinger's Men's Weight Lifting Gloves. They come in various sizes, including large, medium and small. Help your man save his hands with this unique and highly practical gift. As a side note, he might also like a fitness journal. Be sure to read this post on workout journals that gives 7 concrete reasons why they are important to use!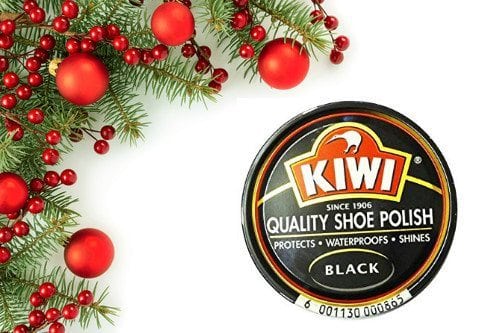 Shoe Polish
As a guy, I can tell you that polishing shoes is something men don't mind. There's just something cool about buffing out the wax and taking a cloth to a pair of leather shoes to bring out the shine. That's why picking him up a can of KIWI Shoe Polish makes for an awesome gift. Great for men who are required to wear dress shoes to work, like wingtips. If you were looking for gifts for guys, this one will be a hit!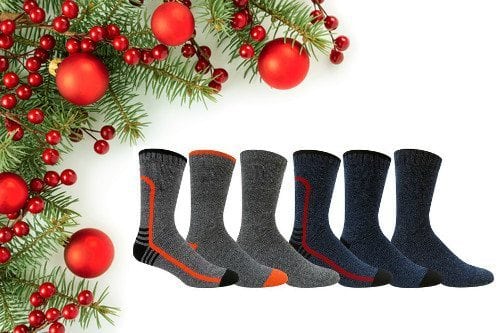 Thermal Sox
Want to pick up a gift for your guy that he'll really dig? You can't go wrong if you get him a super comfortable pair of thermal socks. Not only will they keep his feet nice and warm, they also provide a cushion. These are nice for guys who work on their feet or outdoors. I asked men on Facebook about this one and thermal sox was a major guy gift choice!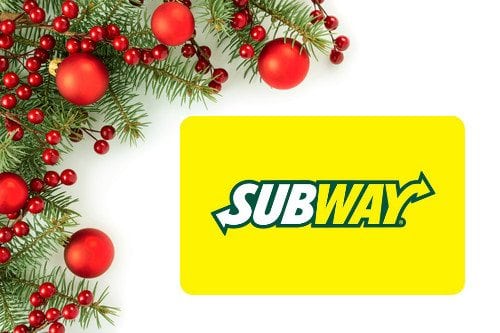 Subway Gift Card
What guy doesn't like Subway? Here's why you will want to pick this one up for you man. First, you know he'll use it. Second, he'll probably use it more than once. And third, he might pick something healthy up to eat because Subway has lots of great choices. Perfect as a stocking stuffer! You can order your Subway Gift Card now and feel good about making a smart gift choice.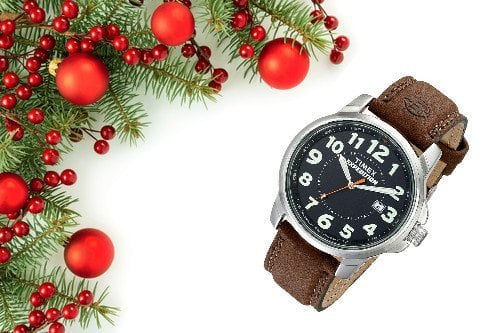 Classic Watch
If you want to give your guy the gift of time, why not get him a Timex Classic Analogue Watch? I own one of these and I can tell you that I wear it almost everywhere. From snazzy parties to the gym, the Timex classic watch makes for a great guy gift. What's nice with this choice is that he'll get years of use out of it. Plus, there won't be any excuses about why he's late. OK – I stretched here but you get the point.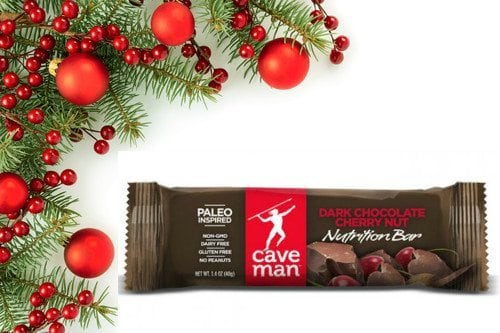 Nutrition Bars
Guys on the go sometimes don't take time to make healthy food choices. If this describes your man, he might like having some ready to eat meals around. Once of my favorites is Caveman Nutrition Bars. They come in a pack of 15 and are simply delicious. Moms love this one for college kids and wives dig these bars for hungry husbands.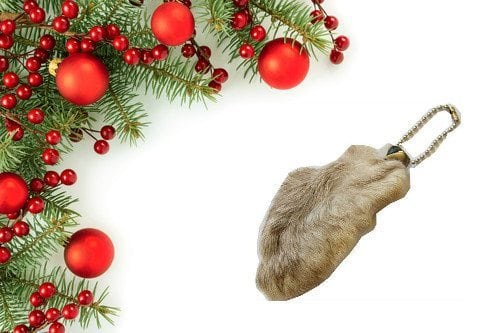 Lucky Rabbits Foot Key Chain
Some gifts are just fun to give a guy. That's why you might want to pick him up a Lucky Rabbits Foot Keychain. If you decide to go with this one, get the all-natural one. While a bright colored rabbits foot is cute, guys don't always dig them. Plus, the dye tends to come off. Super cool gift if you are looking for unique gifts for guys.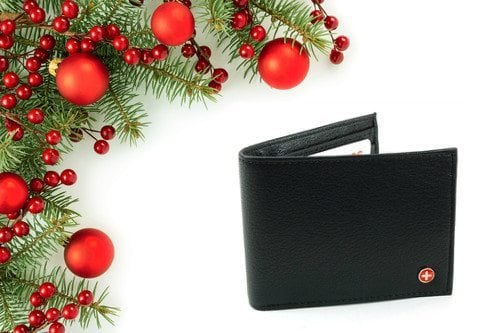 Black Leather Wallet
When's the last time you looked at your guy's wallet? Did it look torn up? It may be time to give him a new one? Why not pick up a classic, men's leather wallet. I like the Alpine Swiss Men's flip wallet because it has storage for ID's, credit cards, money and then some. Beautiful dark black color. It's also genuine leather and not the fake stuff.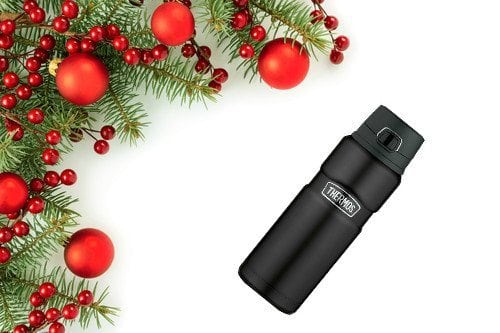 Thermos
Regardless if it's coffee or soup, you can't go wrong by getting your guy a stainless steel thermos. And the folks at Thermos are king of the hill when it comes to this type of gift. I've used the same one for over 20-years now and it's never let me down. Really nice choice for a man on the go or for a quick stocking stuffer or birthday gift.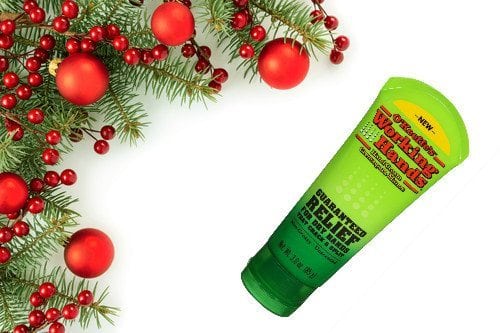 Guy Friendly Hand Lotion
Can I let you in on a little secret? Guys really don't like to use moisturizer on their hands. But if you get him the right one, he'll love you for it. I'm a big fan of O'Keefe's Working Hands lotion. It only takes a small amount to get a big result. Plus, it locks in moisture and is designed for people who work with their hands. Fantastic guy gift and great for year round usage – particularly winter.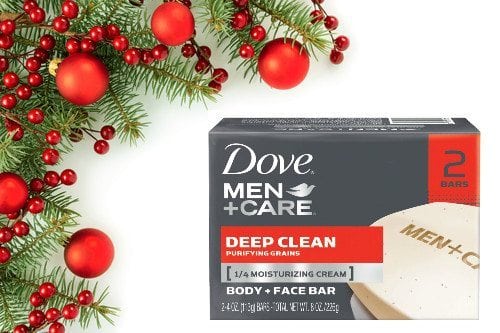 Men's Body Soap
No need to blow a lot of money on a gift. The practical ones often make for the best ones. That's why picking up Dove's Body and Face Bar is an excellent choice. It has a nice, masculine scent and is designed to deep clean. It's also highly recommended by dermatologists. This one is a must if you are looking for a stocking stuffer.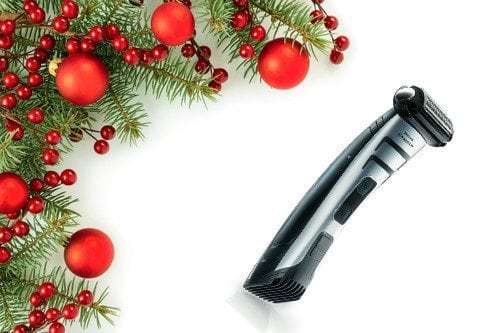 Body Groomer
Believe it or not, manscaping is on the mind of your guy. The problem is, most guys don't know what tools to use to shave their privates or trim body hair. You can help him solve that issue by getting him the Norelco Body Groomer. Highly rated by guys who use them, this hair trimmer has adjustable manscapper that can be customized to his specific needs. Totally awesome gift!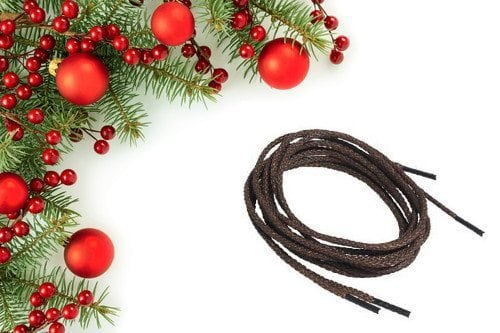 Men's Boot Laces
Does your guy own a pair of boots? How do the laces look? If they are in sorry condition or if you anticipate they will be, now might be a good time to get him a new pair. A great pair to consider are Kevlar Pro-Touch Rust with Black. As a guy, I'm here to tell you that he'll use this one sooner rather than later. And he'll love that you thought of this for him.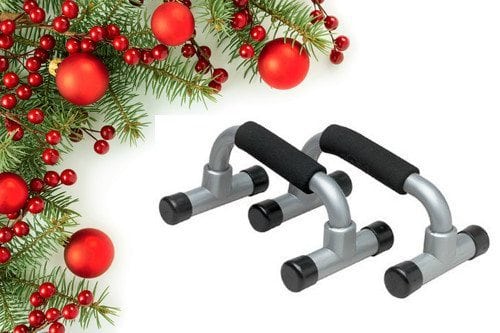 Push Up Bars
Giving your man the gift of health is never a bad idea. That's why snagging a pair of push-up bars is a wise choice. They can be used just about anywhere, like home, work or on the road. Plus, pushups are an amazing way to build upper body muscles. Excellent for warming up or as a complete chest workout.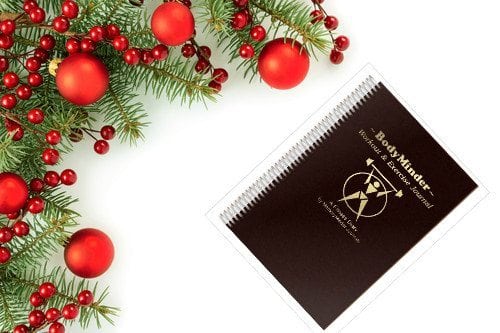 Workout Fitness Journal
If your guy works out or is thinking of working out, a great way to help him stay on track with his fitness goals is to give him something tactile to write in. Workout aps are great but there's nothing like having a classic workout journal that records everything from lifts to nutrition. Ive long encouraged men who visit this site to use some type of fitness journal because it helps with motivation.
Nose and Ear Clipper
As men get older, they start to grow noticeable hair out of the nose and ears. It's just a fact of like. Rather than have him use a pair of scissors to cut the hair and potentially harm himself, a good guy gift choice is the Panasonic Nose/Ear Clipper. It's small, lightweight and battery operated. This one also acts as a detailer for mustaches, beards and goatees. Kind of a cool, all around man gift!

Men's Deodorant
Some people like the smell of rank armpits but if you ask most folks, it's not something you want to be around. That's why a terrific gift is the Herban Cowboy Forest Deodorant. I like this one because it has a woodsy smell but doesn't overpower. Hey, men have grooming needs too!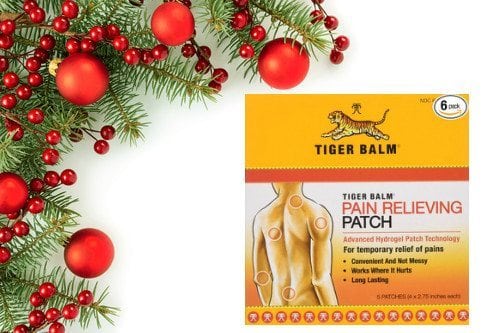 Tiger Balm Pain Patch
Back pain is a reality for many who work on their feet or lift weights at the gym. One of the best gifts you will ever give him (I promise) is a box of Tiger Balm Pain Patches. These little beauties help to relieve the aching for long periods of time. Plus, they aren't messy and don't stain. Also useful for aching joints. I've used these for years and always keep some around. You never know when pain will strike!
Foot Powder
If you want to help your man's feet stay nice and dry, a smart gift choice is Gold Bond's Foot Powder. Just sprinkle some in a pair of shoes or work boots and you're done. For hours on end, the powder absorbs moisture and eats up foul smelling odor. Very practical man gift and perfect for a stocking stuffer.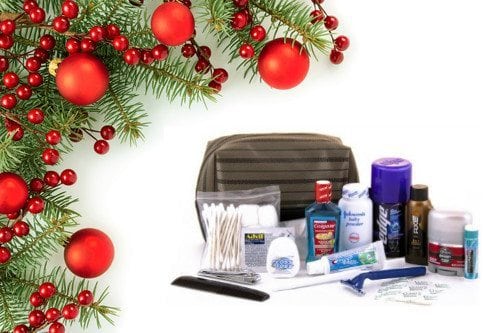 Travel Kit with Supplies
Does your guy travel? If so, an amazing gift to give him is pre-stocked kit. I really like Kit's International's version because it includes 16 different supplies. We're talking everything from toothbrush to toothpaste, plus deodorant, cotton swabs to pain killers. If you give your man this gift, he's absolutely going to use it and more than once!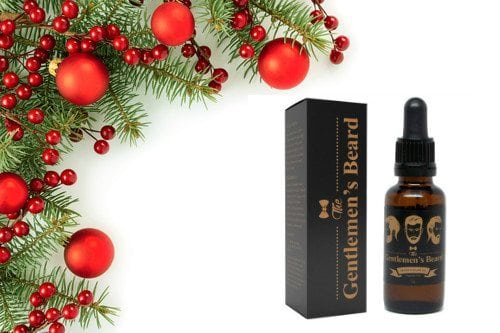 Beard Oil
In case you haven't heard, beards are the in thing! To help your guy keep his beard soft and moist, I highly recommend getting him some beard oil. While there are many choices on the market, I've done the research and learned that The Gentleman's Beard company makes one of the best oils on the market. It's unscented and 100% natural. Also, it doesn't contain fillers and hasn't been tested on animals. The reviews on this oil are amazing. What's more, I use it and really like the result!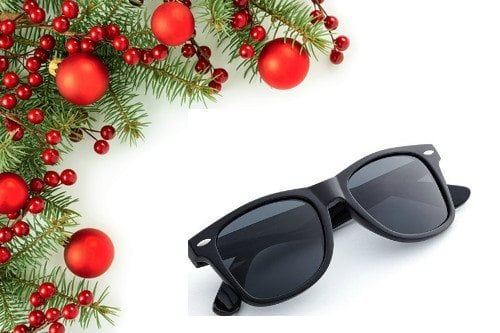 Retro Sunglasses Black
If the guy in your life has light eyes (like Green or Blue) it is a very smart idea to get him a pair of polarized sunglasses. The reason is because people with light eyes are more prone to ocular diseases than others. You can't go wrong by getting him a pair of Black Retro Rewind Polarized Sunglasses. Seriously, this is a very good gift if you are concerned about his health. And yep – also an amazing stocking stuffer.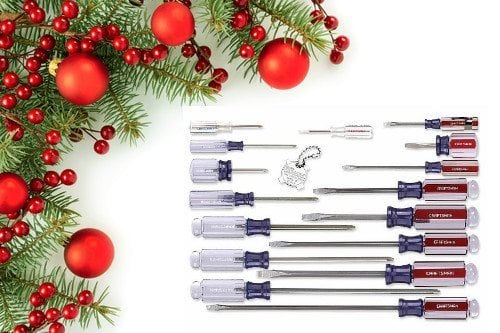 Screw Driver Set
Who doesn't need a full set of screw drivers? What's great about Craftsman is that they are a name you can trust. Getting him the practical 17-piece screw driver kit with bag is just an all-around wise choice. I've got one of these at home and find myself using one of the screw drivers at least once a week and sometimes more!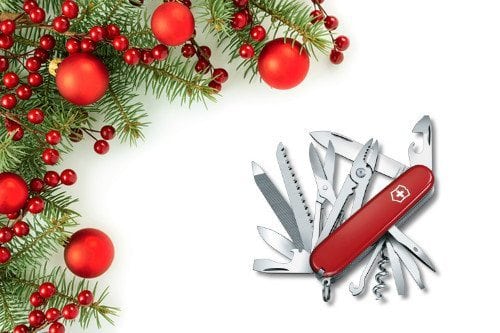 Swiss Army Knife
If there ever was a perfect man gift, it has to be the Swiss Army Knife. Depending upon his needs, he can use his knife as an eating utensil or cutting device. He can also open up a bottle or cut paper. Think MacGyver for this gift! I've had the same Swiss Army knife for over 25-years and except for a few scratches, it remains in excellent shape. He'll really appreciate this one.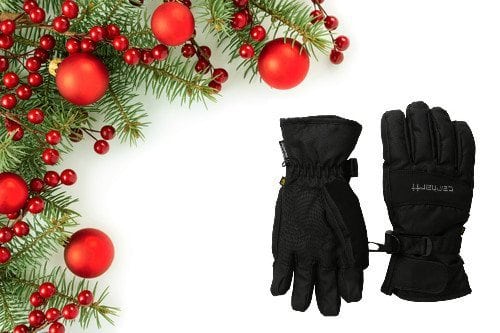 Winter Gloves
If you want to help the man in your life keep his hands warm during cold winter months, I highly recommend a pair of Carhartt Gloves.  They are waterproof and windproof and filled with thermal insulation. I've used these for years in the sub-zero winters of Chicago and they've never let me down. He'll think of you each time he puts them on.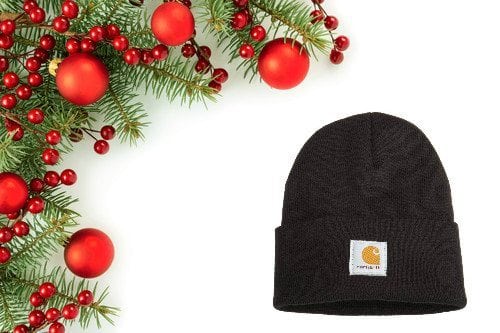 Winter Hat
Helping to keep your man's head warm (including his ears) is hopefully high on your priority list. A really nice choice and great stocking stuffer is Carhartt's acrylic watch hat. If you are looking for a no brainer gift that's sure to be a hit, get him a quality winter hat.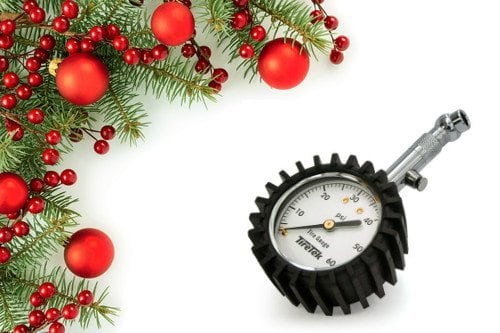 Tire Pressure Gauge
Want something that he'll use and stow away in the glove box? Why not pick him up a high quality tire pressure gauge? I like TireTrek's brand because it's highly rated by people who use it. And it goes up to 60PSI, which is just fine for most cars and utility trucks. Stock this in your guy's stocking and he'll truly appreciate it – and you!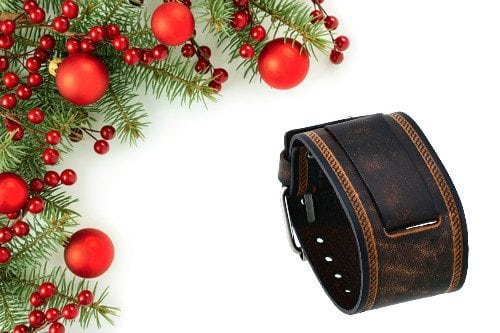 Leather Wrist Band
Most guys like leather. That's why getting him a leather wrist band makes for a cool gift. I'm partial to brown but many people like black. Regardless of color, wrist bands are in and leather ones are perfect for men. If you want something fun and sexy to get him, you can't go wrong with this choice.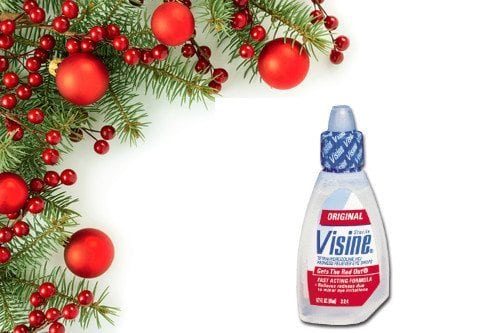 Eye Drops
Some gifts are more practical than others. Visine drops naturally fit into the super practical category big time! Perfect for winter, summer, spring or fall, eye drops help to moisturize and reduce redness. If the guy in your life has blue or green eyes where redness really sticks out, this is a really nice gift.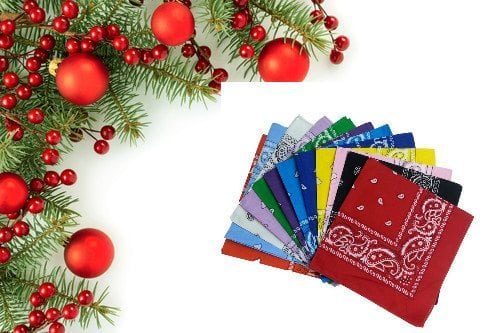 Handkerchief Pack
Need to pick something up that he will use for multiple things, getting him a set of handkerchiefs might not be a bad idea. I like the 12-pack set of variety handkerchiefs personally. You can get these online and place them directly in his stocking.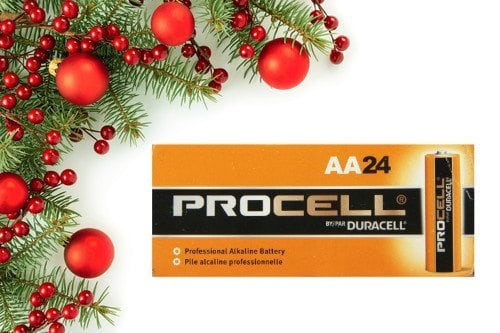 Battery Pack
Do you want to wrap up a gift that you know he'll use and love? I can assure you that getting him a box of Duracell Procell AA batteries will go over very well. There's 24 in the pack and they have a 10-year shelf life! That's truly the gift that keeps on giving. Seriously, you might want to get this one.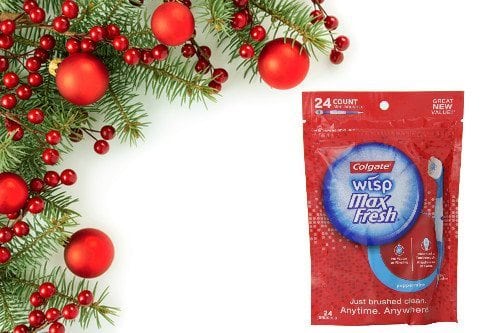 Mini Brush Teeth Cleaner
Men on the go love gifts that have quick, easy and practical use. That's why you can't go wrong by getting him a Wisp Disposable brushes from Colgate. Perfect for pre and post business meetings, family events and other types of gatherings. Super choice if you are looking for something small.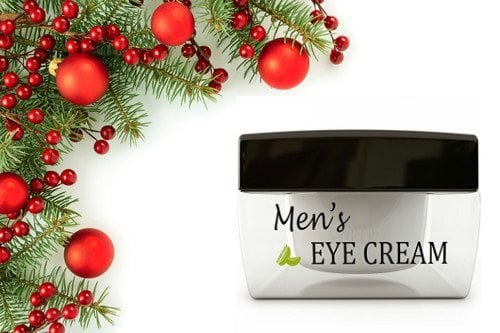 Men's Eye Cream
Guys care about their faces but they just don't like to talk about it. One major issue for men are baggy eyes. A very gentle way of saying I love you while offering something highly useful is getting him a Honey Dew's natural eye cream for men. I've used it and it helps – a lot. Designed specifically for men's faces. Nice choice for his stocking or anytime.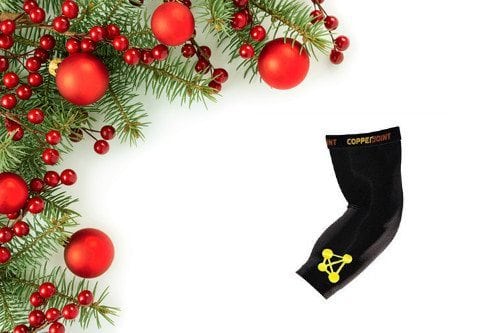 Compression Sleeve
Joint pain stinks, particularly when it strikes the elbow. That's why a lot of guys opt for an elbow compression sleeve. One of the top rated products on the market is made by the folks at Copperjoint. If he works out, plays sports or is involved with physical labor, I highly recommend this as a guy gift. I'd couple this one up with the previously mentioned tiger balm if he deals with a lot of elbow pain.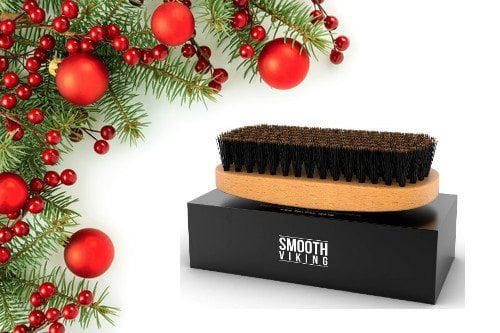 Beard Brush
Like the hair on his head, his beard needs brushing. That's why picking him up Viking's Beard Brush for Men is a fantastic gift idea. This guy has real boar bristles in it, which offers the ultimate upkeep and grooming tool. I personally have this and use it every day. This one can be wrapped with a bow and coupled with the beard oil listed earlier.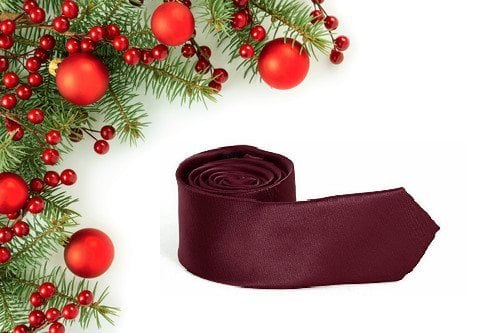 Classic Red Silk Tie
Maybe he rarely wears a tie. Perhaps he needs to put one on every day? Either way, getting him a red silk tie by EPoint is a good choice if you are going for the classic gift. Every man should own a red silk tie because it can be worn for almost any formal occasion. I promise you that if you get this one, he'll be reaching for it big time.

Zippo Lighter
There's just something manly and classic about Zippo lighters. Even if your guy doesn't smoke, a Zippo lighter still has practical use. From lighting candles to starting a fire, he's going to use it for something. I am partial to the Brass Zippo Lighter but they have lots of different choices.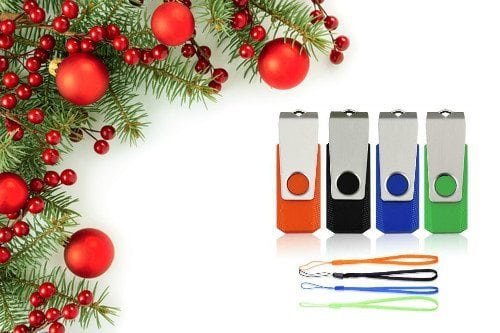 Flash Drive
For men who work remote or need something portable that can go from laptop to desktop, a good guy gift choice is jump drive, which some people call memory sticks. I use these all the time and have found them to be very helpful when traveling. I highly recommend the jump drive variety pack with lanyards.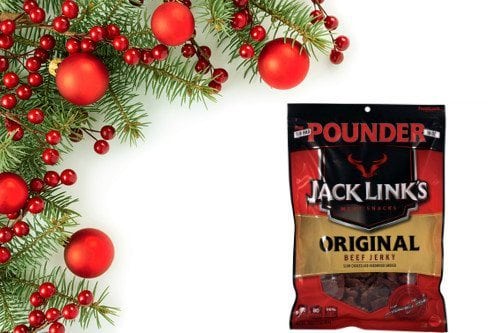 Beef Jerky
Here's why Beef Jerky works as a cool guy gift – most men love this product! And why shouldn't they? It's tasty, provides lots of protein and makes for a real man-snack. I've been chomping on these for years and wouldn't dream of not having some around. I recommend the original flavor beef jerky because its time tested and guy approved! If you are looking for men's presents, include this one on the list.
Thanks for stopping by my gifts for guys page. Hopefully, you found some things for him and got a few ideas along the way.