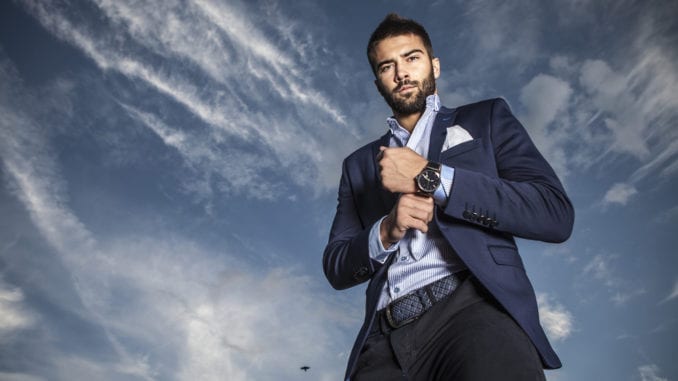 Upgrade Your Wardrobe
You just opened your closet, looked at your wardrobe and realized that you have nothing to wear. Guys, this doesn't just happen to the ladies.
Your style reflects your life and sometimes your clothes don't align with your self-identity.
This can happen when you change your direction in life, get a new job, or even a new romantic partner.
It's not about what other people think of you. Something as small as wearing a new shirt and tie can boost your confidence and help change your mindset and improve your outlook on life.
I've been down this road. While I was in a long-term relationship I just didn't think about style for a few years.
When I went through a bad break-up and had to get back out on the market, I looked at myself in the mirror and realized that my clothes weren't saying anything in particular about my intentions in life.
I looked like one of those background characters in the movies. I felt practically invisible. I needed to upgrade my whole wardrobe and fast.
Yet, upgrading your style on a budget is a daunting challenge for most men. You might be tempted to go the easy route and just buy that cheap pair of skinny jeans that those Facebook ads have been trying to push on you for months.
Pause.
Take a deep breath and let us help you improve your wardrobe with a few manageable, affordable steps.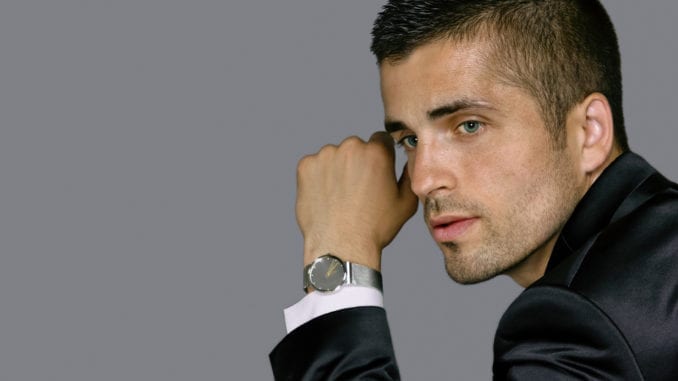 1. Take Inventory of Your Wardrobe
The first step in upgrading your style is to develop a clear picture of your current wardrobe. Take a good look at everything you've got. Empty your drawers.
Pull out everything in your closet. Place everything on the bed in your room and go through each item one by one. Don't forget about your laundry basket; half of your clothes might be waiting to be washed. (No judgment)
Now, separate your clothes into two piles. One pile is for items that have special meaning for you, items that carry sentimental value or simply make you feel great when you wear them. The second pile is for items that are damaged, dingy or leave you unaffected when you look at them. These articles can be donated to charity shops or simply trashed if too badly damaged.
2. Get Some Style Ideas
If you're like me and it's been awhile since you've even thought about your personal style, then it might help to get some ideas that will inspire you.
Yet, it can be difficult to choose a style when there's so many different looks out there. Trying to keep up with the latest fashion trends can leave you overwhelmed and looking silly.
So, here's a few notes about fashion and style that can help you find the right look. Fashion and style are not the same thing. Fashion is all about the trends that people are wearing at any given time.
It changes from season to season, even week to week. Fashion is the brands. Therefore, fashion can incorporate many different styles.
Style is different. It's a vehicle for your own self-image. Style is more personal than fashion.
Your style is a non-verbal form of communication that conveys elements of your personality to the world around you. Your style can happen to be fashionable, but it should never follow fashion trends.
Now that you have a clear distinction between fashion and style, you can look for clothing that resonates with you. Pinterest a good place to start.
One of the great things about Pinterest is that you can create categories for different styles that you like. You can make categories for formal, casual, or go with your own categories. I tend to categorize according to season.
So, I have saved images for summer looks, winter wear, etc. Don't focus too much on trying to acquire specific articles of clothing that you see on Pinterest.
It can be difficult to track them down and only add to your frustration. This is for ideas only.
Another place to look is Instagram. You can use hashtags like "men's style" and "men's fashion" or look for specific items like "men's shoes".
Hashtags work as a digital word of mouth on social media. In fact, a University of Missouri research study published in 2019 suggested that fashion designers use hashtags to determine how much celebrities influence style and which styles consumers are focusing on at that moment.
So, use hashtags like they do – to find out what's hot in men's fashion.
You can follow fashion and style pages, as well. You'll get regular posts in your feed and this helps to keep you style knowledge bank refreshed and up to date.
Now, if you see something you like on Instagram, chances are high that there will be a link to buy that specific item. Just try to avoid getting carried away by advertising. Stay focused on your own ideas.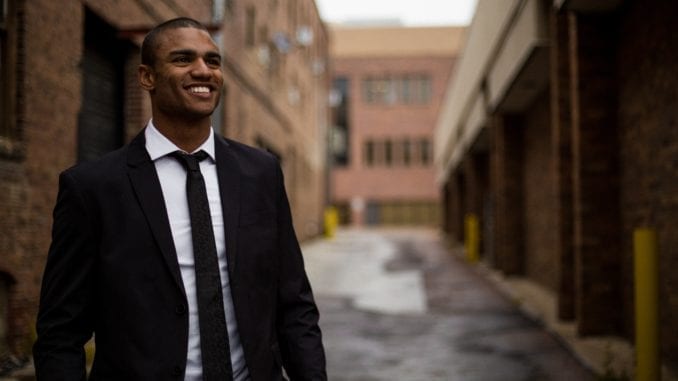 3. Shop in Person Before You Buy Online
People are buying clothing online, now more than ever. It's super easy and you can take advantage of sales and last-minute deals. Yet, you can waste time and money if you don't have a clear vision of your style preferences or don't know your exact measurements.
Do some shopping in person. It can be useful to try on clothes and shoes, especially when you're still trying to determine if a style is right for you.
For example, I found some khaki suit ideas that I thought would look great on me, but when I tried on a dark khaki summer suit in the store, I found that the color didn't complement my skin tone. I would have never known that if I had just bought a khaki suit online first.
By shopping in person first, you'll learn valuable lessons about how clothes fit your body, which colors flatter your complexion, and you'll also see where some fashion trends intersect with your sense of style.
That style of jeans you saved on Pinterest might be in fashion, and you can add cool points to your wardrobe by scooping them up now instead of later.
4. Make a Budget
Lastly, you should consider acquiring clothes on a budget. You don't have to have a specific dollar amount in mind, but it helps to consider how much you're generally willing to spend on upgrading your style every month.
Now, let's go back to that pile of items from your existing wardrobe. You can save some money by steadily adding to your collection. Look at each item individually.
Build on what you have piece by piece and avoid buying an entirely new outfit. This way, you can mix and match to have more style options.
So, you might have a handsome pair of trousers, but nothing to go with it. Work around those trousers and buy a couple of new shirts to go with them, shirts in the styles that you've chosen.
See this page on how to look like a handsome man.
Buy two different types of shirts – a polo and a button-up shirt for example. This will give you added variety and you can use those shirts with other items in your wardrobe, as well.
Also, try to complement your upscale, premium articles of clothing with clean, new, affordable items. If you've already spent $100 on a pair of jeans, then don't rush out to buy a $100 shirt to go with them. Instead, buy a couple of packs of crisp T-shirts.
A pack of T-shirts costs less than 10 bucks. White Ts and colored T-shirts are instrumental in upgrading your style.
Always try to wear a brand-new shirt fresh out of the pack when you're going out.
Wear your old T-shirts around the house, but always break out a new T-shirt, fresh from the pack when you're putting together an outfit. Here's a pro tip: throw it in the dryer for five minutes to take out the creases.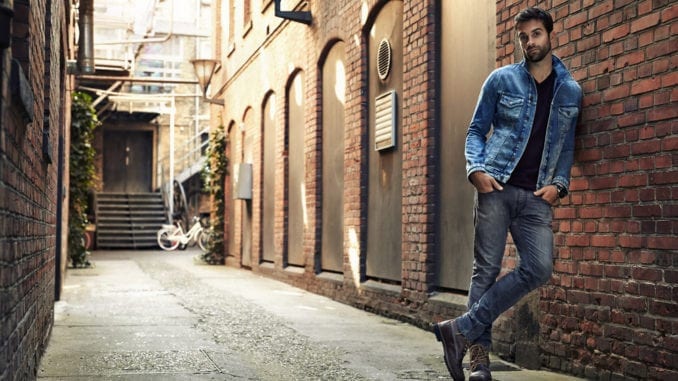 6. Think Vintage
Vintage style T-shirts are super affordable and speak volumes about your personality. You can choose tops that feature your favorite TV shows from childhood, bands you like, or funny phrases and logos.
They can also be convenient conversation starters.
The trick with vintage T-shirts is to match them with upscale items from your wardrobe. If you wear a vintage T-shirt with scuffed-up sneakers and old faithful jeans, you'll project an image that screams – lack of effort and not rockstar.
So, wear your vintage T-shirts with a nice watch, clean shoes, and fashionable jeans or trousers.
6. Look at Big Picture
You can build up your wardrobe with small purchases over time. However, you're going to have to bite the bullet at some point and purchase a complete outfit – the whole package.
This should be done with the greatest amount of care and consideration when working from a budget. So, avoid buying an entire outfit online.
It might not fit according to that retailer's size scale and you might not like the colors and patterns when you see them at home.
So, pop into retail shops quite regularly, even if you're just window shopping. Find your favorite clothing stores and get to know the people that work there.
When you're ready to make the big purchase, a retail clerk will treat you as an individual and put in extra effort to help you if they've seen your face before. Otherwise, they might just ignore you or even worse, push you to the priciest items to earn a higher commission.
Don't let anyone rush you when you're buying the whole package. Take the time to try on the outfit to make sure it feels comfortable and inspires your newly acquired sense of style. Move around in it. Sit down in it. Dance.
Do everything you plan on doing in a typical outing. At the end of the day, you should leave with an outfit that might have cost you a couple of hundred dollars, but makes you feel confident and well-balanced.
If you can afford to buy a complete outfit once a month or once every couple of months, you'll give your wardrobe a big boost.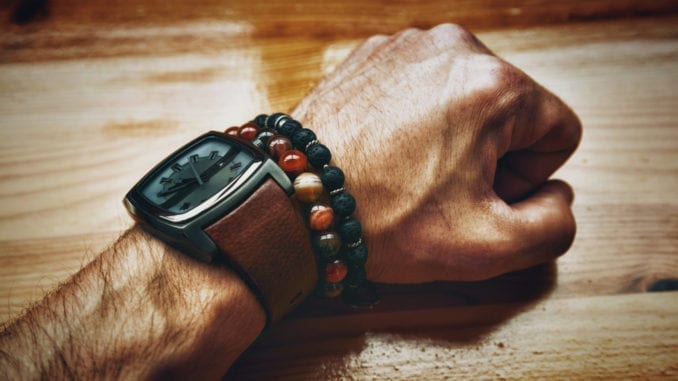 7. Accessories are Key
They say that the devil is in the details. Well, doubly so when developing a new style profile. You'd be surprised at how a pair of colorful argyle socks can really tie a look together.
You might also be surprised at how an expensive watch can totally flop when worn with a polo shirt that's two sizes too small.
If you're powering-up your style on a budget, then try to avoid spending too much money on accessories. Expensive accessories only work when the rest of your wardrobe and lifestyle fit the profile. Accessories can also include a cool watch bracelet or leather band.
A diamond stud earring will just make you look tacky if you're riding in a ten-year-old Civic coupe that needs new brakes. So, make sure that the accessories you choose add subtle nuance to your style and don't overshadow the rest of your outfit.
A polished stone pendant on a leather or nylon necklace can make you look masculine and rugged without costing an arm and a leg.
Drop a couple of buttons from the neckline of your flannel shirt to let it show and you'll highlight your style choices with a sense of simple refinement. This stone spike necklace (Amazon) from MATT HANN is a great example.
Wrapping Up
Upgrading your wardrobe shouldn't be done overnight, even if you can afford to spend thousands of dollars at a time. Developing your style is a personal journey that can teach you about self-image, perception and confidence.
When you feel good about what you're wearing, then you have greater access to a wealth of social skills.
Sometimes, life catches you off guard. You get comfortable wearing the same old outfits day in and day out. Then, something happens to change your attitude.
It was a bad break-up for me, but it might be something different for you. One day, you slide into a pair of jeans and it just doesn't feel right. That's when you know that your real-life avatar doesn't fit your sense of self anymore.
Take stock of what's in your wardrobe. Have the courage to let some items pass on and reacquaint yourself with the items that bring you joy.
Then, you can work around those clothes to redefine your personal sense of style.
There are tons of ideas on the web, but don't buy online before you have a good sense of your measurements and understand what type of clothes look good on you.
Take the time to shop at retail stores to make practical connections between the style elements you like and the style choices that are right for you.
Supplement your existing wardrobe with affordable items like vintage t-shirts and accessories that match your lifestyle. When you're ready to make a big purchase, take your time and get advice from style experts if need be.
Make upgrades slowly and steadily month by month and before you know it, you'll feel more secure about your style choices.