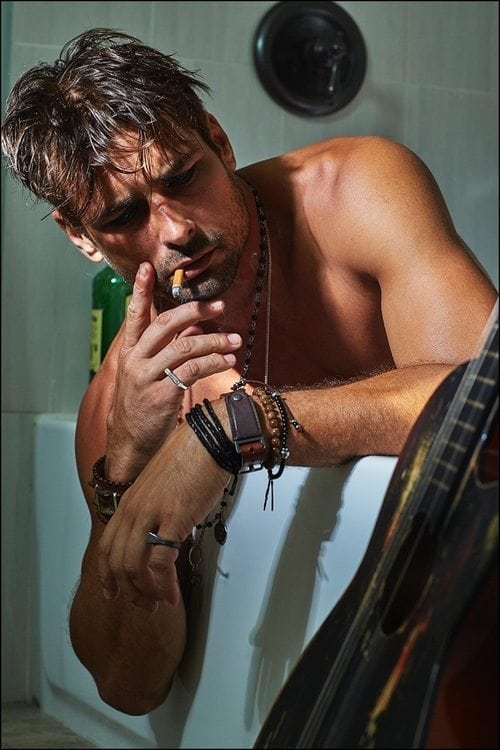 Men's Leather Bracelets Guide
Are you looking around for men's leather bracelets? Have you wondered about which one would look best on your wrist? If so, you're not alone. In recent years, the leather bracelet has made a real comeback!
While hard to pinpoint exactly, there's just something about the bands that give off a masculine vibe. What's more, leather communicates to the world that you aren't boring.
Now for full disclosure – I've been wearing wrist wear since my teens. In fact, I'm wearing a black leather band right now as I pen this article. Slap me silly and call me stupid, but they've always grabbed my attention.
If you are like most guys, you probably saw somebody wearing one and thought it looked cool. Or maybe you just want something to make a statement. Whatever your reasons, you've come to the right place.
The truth is there are tons of leather bracelets out there. But what a lot of guys don't know is that choosing a wristband should be done with care. Just like tattoos, what looks good on one man might not look right on the next.
Related: Owl tattoos meaning and symbols
What follows is a detailed walkthrough of men's leather bracelets. My goal is to help you make the best choice possible for your wristware needs.
Here's what you'll learn:
Some background on leather
The history men's leather bracelets
Bracelet colors and their meaning
The different types of bracelets on the market
How to pick a leather bracelet based on wrist size
Assess the statement you want to send
How to care for your leather bracelet
List several male celebs who've worn leather wristlets
Examine common myths about leather
At the end of this article, I've also included a leather bracelet poll. Don't forget to chime in.
OK, are you ready to learn about men's leather bracelets?
Here we go.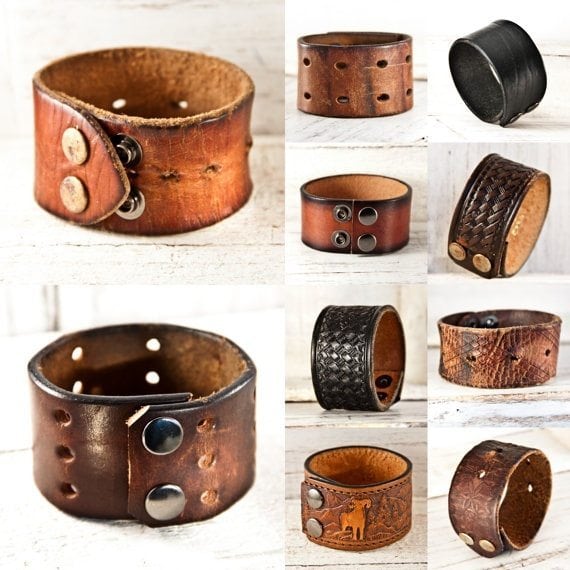 Brief History of Men's Leather Bracelets
Before picking the right leather bracelet for your wrist, it might be helpful to know a little history behind the material. Not only will this help to provide context, the insight may also assist you with decision making.
Here are two common questions people have as they consider a leather purchase.
What is leather exactly?
At its core, leather is a flexible, durable material created by the tanning of animal rawhide and skin.
Can leather come from other sources?
Many people assume that leather comes exclusively from cattle hide. While this is true for most types of products, leather can from pigs, alligators, bears and deer. For our purposes however, we'll stick to the traditional cowhide leather.
Leather Use and History
The research suggests that mankind has been using animal skins dating back to the Paleolithic Period, commonly referred to as the stone age. Early man used animal hides for a number of reasons, including shelter and clothing.
As the geologic clock ticked forward and we evolved, the material was used for everything from footwear to musical instruments. It was during the Neolithic Period ("New Stone Age"), that early man figured out how to treat the hides and produce leather. This process is commonly referred to as tanning.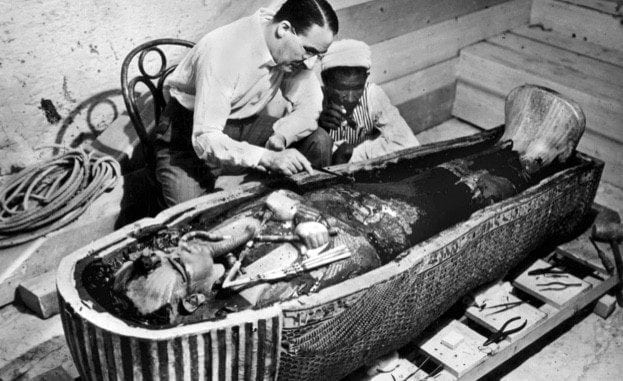 The First Leather Bracelets
The history of the leather bracelet is somewhat difficult to trace. There is evidence to suggest that some of the first humans wore leather bracelets to signify tribal roles, such as group leader.
It wasn't until the time of the ancient Egyptians that we really saw leather being used symbolically to indicate status. For example, we know that the eighteenth dynasty Egyptian pharaoh, Tutankhamun, wore a leather cuff as a symbol of his monarchy.
Leather bands were also worn in ancient Greece and Rome by soldiers. There primary purpose was to signify allegiance and rank.
Here's a fun fact:
The famous gladiator Spartacus is believed to have worn a simple brown leather band around his right wrist to symbolize raw power. In this way, he projected strong alpha male characteristics to all who he encountered.
Related: Alpha Male: Traits and Characteristics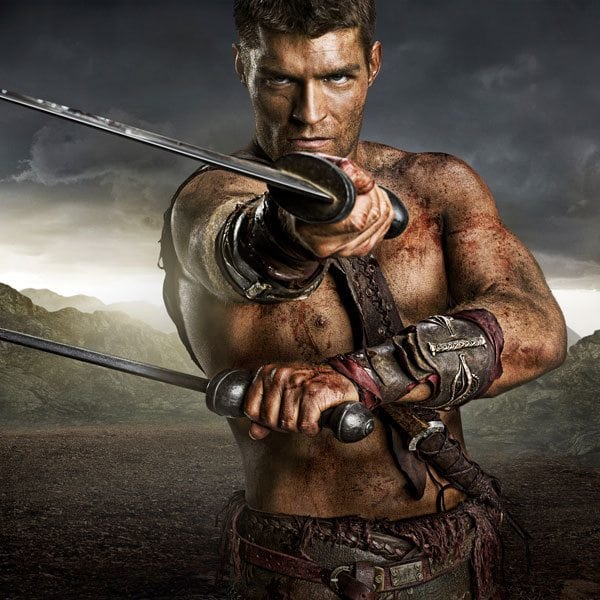 As an aside, bands similar to what Spartacus wore can be found on men of the modern era; inspired by the legendary fighter himself.
Moving on, we know that men's leather wrist bands have been worn by Native Indians for centuries. According to Indian lore, some wristlets are designed to establish a tactile connection with animal guides.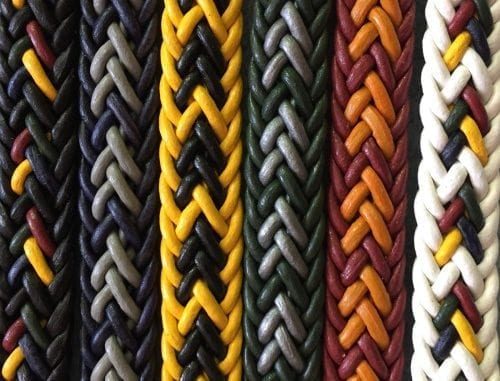 Leather Bracelet Colors and Symbolism
When you are searching for a men's leather bracelet, it's important to understand what the symbolism is behind the various colors. Each has its own meaning, meant to project a specific message.
I've taken these colors and their symbolism directly from an area of study known as the psychology of color and infused this knowledge with historical references from the literature.
There's no way for me to cover all of the colors so I'm only listing the more popular ones.
BROWN
Ruggedness
Oneness with nature
Practicality
Calmness
BLACK
Strength
Power
Sophistication
Mysterious
Dominance
DARK GREEN
Woodsy
Nature focused
Warmth
Serenity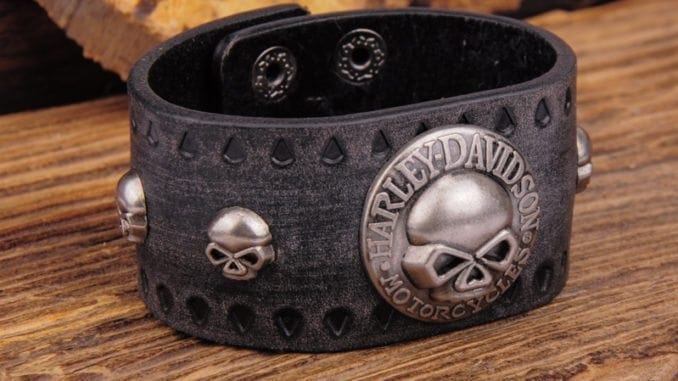 Types of Men's Leather Bracelets   
Because this article focuses exclusively on men's leather bracelets, I've boiled the categories down to three basic types. Hopefully, this will help you as you begin looking around.
Simple wide bands
Design bands
Thin, rope bands
Generally speaking, the wider the strip of leather, the more masculine the vibe. That's not to say narrow bands aren't considered manly because they are. I'm just giving you general characteristics to tuck into the back of your mind.
Let's walk through each of these bands and highlight the various pros and cons. Best matches for wrist sizes have also been included.
Simple Wide
Perhaps the most popular type, simple wide leather bands are designed to project strength with a hint of edginess. Many guys wear these as well to give of a sexual vibe.
Reinstituting a trends from the 1970's, we've also seen a resurgence in leather cuff wrist watchbands made of leather that contain intricate artwork.
Simple wide leather wristbands are sometimes studded with metals.
Pros
Great to wear for all around occasions
Sends a message of strength and masculinity
Works well for guys who have tattoos (see tattoo idea post)
Durable and will last for years when properly cared for
Appropriate for medium to large wrist sizes
Compliments other wristware, like watches
Cons
May not be appropriate for all work settings
May need to be removed for full wrist movement
Can interfere with long sleeve shirt sleeves
Design Bands
A lot of guys like design bands because they add an element of texture and style. Most often, you will see embroidery on brown and dark green wristlets.
Often edgy, you may see metals, such as silver, built into the band itself. Check out this cool leather and chain band as an example. I've even seen skulls, anchors and Zodiac signs on some of the more artsy wristlets.
You'll find that embroidered bands come in narrow and wide strips of leather. But if you look around, most guys opt for the wide types, like the bangle band, because it looks super unique.
Pros
Awesome band to wear with a t-shirt
Great all around band for everyday wear
Compliments body art
Gives off a definitive masculine vibe
Fun conversation piece
Appropriate for all wrist sizes
Cons
May not be appropriate for all work settings
Can interfere in wrist movement when going wide
May be hard to care for if embroidery is intricate
Woven metals can sometimes tear into the leather
Thin Rope Bands
The final type of band that is popular with many guys is the rope band. You most often will see these with the surfer crowd or guys who want to send a subtle but stylish message.
Thin rope bands can also signify special relationships, such as friendships and dating.
Pros
Great for all wrist sizes
Usually OK for most work settings
Gives off a slight edgy vibe
Cool conversation piece
Worn by some to compliment a "cowboy" look
Cons
Can come apart easily
Not always the easiest to secure around wrist
Can be difficult to clean and care for
Men's Bracelet Size Chart
| Wrist Measurement (Inches) | Your Size |
| --- | --- |
| 6 1/8 - 6 1/2 | Small |
| 6 5/8 - 7 | Medium |
| 7 1/8 - 7 1/2 | Large |
| 7 5/8 - 8 | Extra Large |
| 8 1/8 - 8 1/2 | 2X Extra Large |
| 8 5/ 9 - 9 | 3X Extra Large |
| 9 1/8 - 9 1/2 | 4X Extra Large |
| 9 5/8 - 10 | 5X Extra Large |
Wrist Size and Leather Bands
Now that you know about the different wrist band types, let's take a quick look at how to choose the right one for your wrist. If you are unsure of what your wrist size is, here's a graphic to help you figure it out.
Small Wrists
If you have a small wrist, you can go with any of the band types but it is important to choose something that blends in and doesn't look awkward. Body types, such as mesomorphs and endomorphs should look for something that's medium width.
Medium Wrist
If you have a medium sized wrist, consider yourself lucky. Basically, you can wear any type of leather band because all of them will look good on your forearm.
Large Wrist
Men with large wrists have lots of options however, the width of the strip should be proportional to your forearm. If you are unsure what might work best, I encourage you to lean towards a medium size. If you go to wide, it might not look right.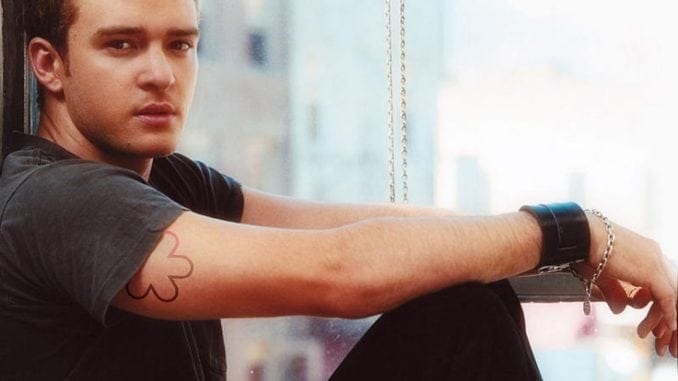 Caring for Your Leather Wristband
When you buy a band for your wrist, it is critical that you take care of it to preserve the leather. Over the course of time, your band will come into contact with your skin and body oils, which may cause an unpleasant odor.
Before I walk you through the basics of leather cleaning and preservation, I want to stress right now that you should never shower or swim with a leather wristband on. The simple reason is that water will cause the material to shrink.
OK – time to give you a quick cook's tour of cleaning your bracelet.
Things You'll Need
Cotton cloths (4)
Moisturizing hand soap
Leather conditioner
Step One: Quick Hand Wipe
Using a cloth, wipe the leather to remove surface dirt, dust or other debris. This will help to prevent granules from scratching your band during the cleansing process. As an option, you can use specially made leather cleansing wipes for this part of the process.
Step Two: Moisturizing Soap
Take a fresh cloth and get it wet with lukewarm water. Pump out a few drops of the moisturizing liquid soap and rub two ends of the cloth together to create suds.
Using gentle circular motions, work your way from the center of the band outwards. Be sure to clean both sides of your band and not just the outer part.
Take a clean cloth and dampen again with warm water. Wipe off the excess soap. Lay your leather band down on a paper towel or other surface and allow to air dry away from direct sunlight. This should only take 10 – 15 minutes.
Step three: Apply Leather Conditioner
Once the band is completely dry, it's time to apply a high quality leather conditioner. I personally use one called Trinova Leather Cleaner because it's specifically made for apparel.
This one comes with an applicator, which is kind of a bonus. If you want something that cleans, shines, moisturizes and protects, I highly recommend.
Just place a few drops onto a dry cloth and gently rub your band. Allow 30 minutes to dry. Then, use a dry cloth and buff your leather band to a high shine.
Bonus tip: At the end of each day when you take off your wristlet, it's a good idea to wipe it down with a cloth to remove reside. This helps to prevent excess buildup of oils, which can lead to cracking.
Male Celebrities Who've Worn Leather Wrist Bands
Chris Hemsworth

Chris Evans has a leather wristband here

Paul Walker
Zac Efron
Nick Jonas
Brad Pitt
Jamie Foxx
Ryan Reynolds
Channing Tatum
Joe Manganiello
Tyler Hoechlin
Chris Pine (Chris Pine post here)
Chris Evans
Nick Zano (Nick Zano bio page)
Johnny Depp
David Beckham
Leather Myths
There are more myths about leather (and leather bands) than I can share on one page. I have outlined some of the biggies below just for fun. Have you heard of these?
Leather is hard to clean
Leather shouldn't be exposed to sunlight
The more expensive the leather, the longer it lasts
Only bikers wear leather wristbands
Leather wristbands are only worn by girls
You can't wear a watch with a leather wristband
Only guys with smooth forearms should wear leather bands
Aquarius men don't wear leather
Leather Wristlet Poll
Because I know a lot of men are interested in the topic of leather wristbands, I've published a poll below that asks you to share your motivation for wearing (or wanting to wear) this kind of men's accessory. If you are thinking of snagging a leather cuff as a gift, be sure to stop by my unique gifts for guys page.
Wrapping Things Up
Hopefully, all of the information shared on this page will help you make smart choices when it comes to buying a men's leather wristband.
I will say that Amazon offers an amazing array of bands to choose from so if you get a chance, head on over to their website and see what's available.
Thanks for stopping Guy Counseling!
—
References
Encyclopædia Britannica. (2016, June). Paleolithic Period. Retrieved from Encyclopædia Britannica: https://www.britannica.com/event/Paleolithic-Period
Jones, P. (2010). Experimental butchery with modern stone tools and its relevance for Palaeolithic archaeology. Retrieved from World of Archaeology : http://www.tandfonline.com/doi/abs/10.1080/00438243.1980.9979789
Moore, J. (2014). Do you have a spirit animal . Retrieved from Psychcentral : http://blogs.psychcentral.com/life-goals/2014/09/do-you-have-a-spirit-animal/
Whitfield, T., & Wiltshire, T. J. (1990). Color psychology: A critical review. Retrieved from Journal of Generap Psychlogy: https://www.ncbi.nlm.nih.gov/pubmed/2289687
Main Photo Credit: Mark Fisher