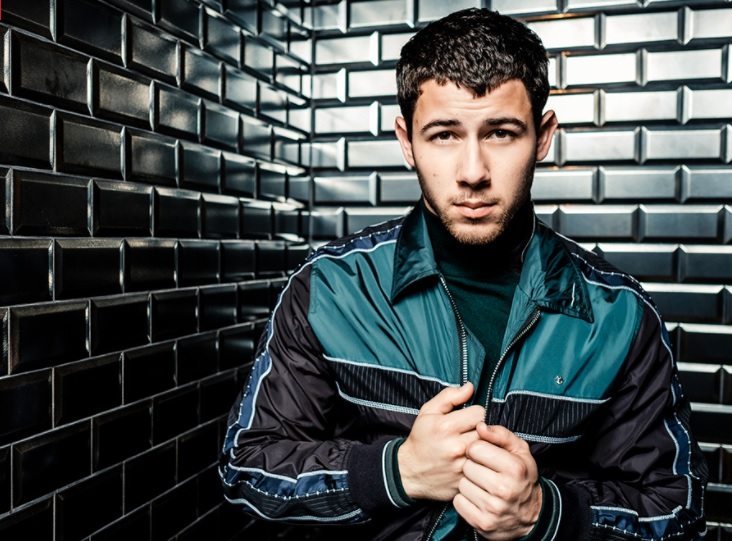 Style like Nick Jonas
Trying to copy the style of Nick Jonas? Hoping to replicate his vibe in your own life? Do you dig his clothes and hairstyle? If the answer is yes, you've come to the right place.
I'm a fan of Nick Jonas and have followed him since the time he was with the Jonas Brothers (2007-2011). If you have watched him over the years, you've probably noticed that the man has gone through a bit of a transformation.
That's right – he went from being in a squeaky-clean boyband type to something much different, channeling a bad boy vibe that still catches the attention of many.
Who can forget his 2014 album, Chains for example?
In public, we see the entertainer in various clothing, which sometimes can take on a hipster style. But the truth is Nick is far more traditional than some might realize.
I'm going to walk you through the essentials of Nick Jonas's style. We'll start off with some basic demographic information so you have a mental snapshot.
After, we'll examine his look from head to toe so that you have a good idea of how he dresses – with tips to use in your own life. Are you ready? Let's jump right in!
Guy File: Nick Jonas
Birthday: September 16, 1992, Dallas, TX
Zodiac Sign: Virgo Man
Height: 5'7
Eyes: Deep Brown
Body Type: Endomorph(ish)
Body and Style for Nick Jonas
To begin with, it's important to recognize that Nick Jonas falls on the shorter side of the height spectrum. This is critical to know because for men who are short, clothing options tend to be somewhat limited.
In Nick's case, he has a lean body type. This allows him to choose clothing that compliments his physique. It is, for this reason, you will see him wearing shirts and pants that mostly cling to his body.
In this way, his style differs from other stars, like the super popular Chris Evans (see Chris Evans style guide). But what you may not know is that Nick personally enjoys a more traditional look that is somewhat different than his public persona.
In a piece printed in American Way Magazine in January of 2018, readers learned that the look you see today with Nick is the product of his personality – meaning laid back and somewhat lowkey.
Nick Jonas Hair
Let's start with his hair. Throughout his career, he's kept it short – with varying lengths such as a buzz cut or close crop. Almost always, the hair itself is shiny.
This is likely the result of applying conditioners that infuse his hair follicles with an argon-based moisturizer. While there's no way to be sure, I'm guessing he uses some type of product like the Aria Star Argon Oil Hair Mask (See Amazon).
What's cool about his shortcut is that he doesn't have to spend time styling it forever and a day. Bear in mind that Nick is a man on the go. If he's not entertaining, he's making appearances at various venues – almost non-stop.
Nick Jonas Face
Look closely at Nick's face. You'll almost always see him with some type of facial hair. Not a beard per se but more like stubble. This helps to give him a masculine vibe mixed with edgy.
Given that he's relatively young, it's unlikely he uses face masks, although he might. But it's hard to believe he doesn't have some type of system in place for cleansing.
Upon close inspection of the photographic evidence, he appears to have the classic "oily skin type". Many people have this, including me.
Part of this is due to his ethnic background, which includes Italian, German, Irish, and French-Canadian. It's the Italian part that he likely gets the oily skin from. Most folks with a Mediterranean background do.
To control shine and to keep acne to a minimum, he likely engages in a program designed to remove oil and tighten. Be sure to check out this men's skincare routine page for specifics.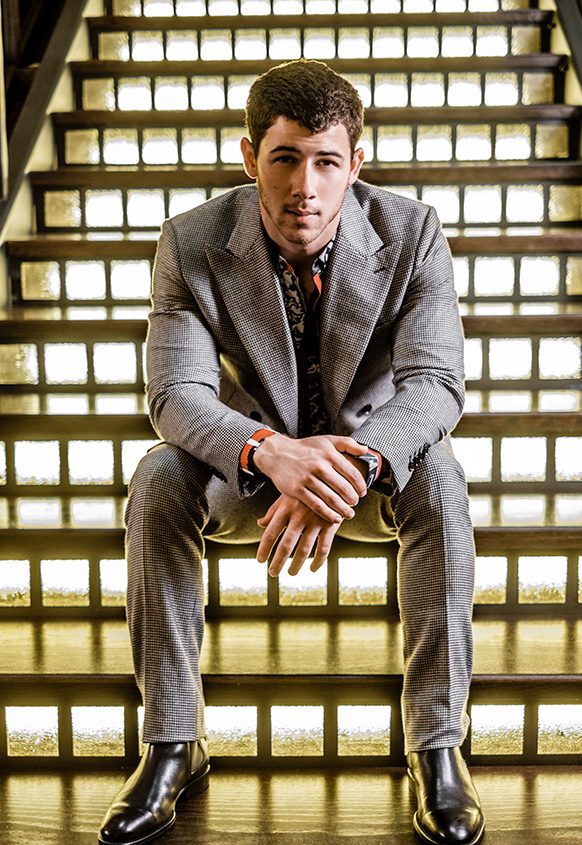 Clothing – Solid Colors
When you see Nick Jonas, he's usually wearing solid colors. In many cases, they often match. But here's the thing – away from the cameras, Nick usually sports basic attire.
While many people see him as this cool dude, he is a lot more down to earth than some might think. He smokes cigars, likes to play golf, and prefers gold watches as opposed to loud bling.
Oh, and those watches aren't cheap. We're talking Rolex brand with prices in the multi-thousand area department. He wore one in a GQ 2014 "Man of the Year" photoshoot called the DateJust II with a retail price tag of circa $10,000.
When he's going casual, you'll often see him in greys and blacks – unless he's golfing. In that case, the guy wears white pants.
Colognes
It's hard to know for sure but given that Nick is now paired up with John Varvatos, it's hard not to imagine he's not splashing on something woody, like Artisan for Men. Visit this extensive men's cologne page for more info on the brand.
Suits and Shoes
Over the years, his suits have gone from super bright to elegantly dark. Blacks, blues, and grey tweeds seem to be where he gravitates – at least today.
And here's something you may not know. Jonas appears to wear shoes and boots that bump up his height. He wouldn't be alone by the way. Many guys in the public eye do this. Tall happens to be "in" (apparently) in Hollywood.
An example item of footwear that accomplishes this is Timberland's Broadstreet Trainer Boots (See Amazon). Only the guy wearing them knows that it adds a few more inches.
Classic Look for Jonas
To sums things up, Nick Jonas has a classic look. While not exactly clean-cut, he is well groomed and takes care of his personal appearance.
In this way, he employs many of the tenant's good-looking guys do to come off as attractive. As mentioned in the American Way Magazine article, Nick is really a 20-something going on 60.
Yup, he's more old-school with his look than a lot of folks think.
Thanks for stopping by!