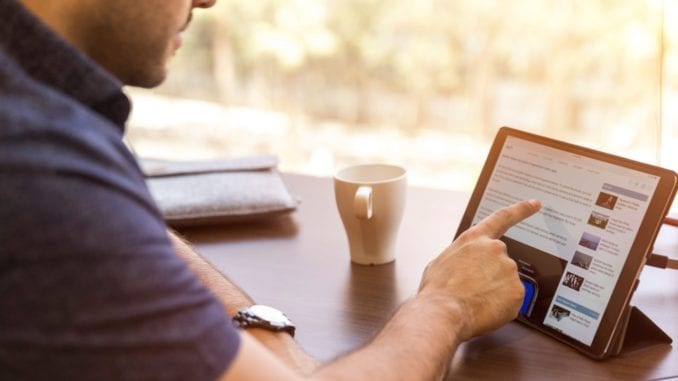 Here's our review of tablets for 2018
Tablets can range in size, power and price, but they offer the finest middle ground for tech. users who want the web, onboard apps and entertainment options all in one place.
With so many variations on their features, capabilities and price range, tablets are the no-brainer holiday gift this year.
However, the competition is fierce. It's largely a battle for dominance between the tech. giants – Apple, Google and Microsoft.
That's because their operating systems are the only game in town: iOS, Android, and now Chrome. Samsung and Amazon are both prime contenders this holiday season though.
The Galaxy Tab S4 could replace your smart phone and the Fire HD tablet from Amazon is an entertainment dynamo.
Should you be looking at buying a smart phone instead of a tablet?
New smart phones are more popular than tablets, but they usually come bundled into a service provider's annual contract, so they're difficult to buy as a one-off gift. The Consumer Technology Association estimated that sales of tablets would fall by 12 percent this year, but I don't think Amazon got that memo.
Amazon overtook Samsung last year as the second largest tablet manufacturer in the world and their sales are steadily booming. Their new Amazon Fire HD tablet is a hot item, but it's not the only tablet worth considering.
Luckily, all that competition means a savvy shopper like you can scoop up a great deal on a tablet just in time for the holidays.
Tablets are Replacing TVs and Desktop PCs
Just about any tablet in this list can be acquired in a range of sizes, but 10 to 12-inch screens seem to be the sweet spot. The Amazon Kindle Fire HD 10 and iPad Pro are prime examples of tablet devices that are aimed at producing the ideal video viewing experience.
Pushing the boundaries of what constitutes a portable device these days, the Google Pixel Slate has a huge 12.3-inch display that can be rather cumbersome if you're trying to settle in for a Netflix marathon.
Related: Best holiday stocking stuffers for men
Mini tablets were more popular five years ago, but now they're rubbing elbows with smart phones. For most people, it's either one or the other. However, Apple's iPad Mini 4 seems to have market dominance with the small size package.
Criteria for Comparison
These are the top tablets for the 2018 holiday season based on their novelty, performance, price point and longevity. Year after year, there's an ever-evolving list of new devices on the shelf and what's new today won't be fit for purpose a year from now.
So, that makes buying a tablet quite difficult. With prices climbing into the stratosphere, you could be left with buyer's remorse if you see that your brand-new tablet has an even-newer version coming out in just a few months.
That said, the availability of better models is a top criteria in this list.
Top Tablets for the Holidays Reviewed
1. Apple iPad Mini 4
The Apple iPad mini 4 is the smallest tablet on the list, but certainly one of the best. It weighs in at just 299 grams. It comes with an A8 processor and the iOS 10 Safari platform. That means it's lean and mean.
It has a 7-inch screen, but the resolution is tops: 1536×2048 resolution. The rear camera has 8 megapixels, but the front camera comes in at just 1.2 MP. You have access to apps like iTunes, iMovies, Apple Maps and FaceTime.
You can also pick just about any service provider you want: Sprint, Verizon, you name it. A 16 GB storage package comes standard, but you can scale that all the way up to 128 GB if necessary. You can expect 10 hours of battery life even when operating at full brightness with multiple apps open.
Don't forget that the iPad Mini 4 has the split screen option that allows for multiple apps to run simultaneously. Unfortunately, you won't be able to link-up a keyboard or stylus though.
The compact size, sleek design, and powerful processor give the iPad Mini 4 staying power in an ever-changing market.
The only competition for this tablet is the larger iPad Pro. The iPad Mini 4 is at the high end of the price spectrum at nearly any level, but with the Apple pedigree, it's portability and longevity in the market, it's worth every penny.
2. Apple iPad Pro 10.5
The Apple iPad Pro 10.5 is the dominant tablet on the market this year, but it's not bargain-priced. It's peerless when it comes to powerhouse computing, striking display, and thin, ergonomic casing. In terms of performance, the iPad Pro has a blisteringly-fast A10X Fusion processor, 4 GB RAM, and base models get 64 GB of storage memory.
Although you can't integrate a micro SD, you can still scale the memory up to 512 gigabytes. Those numbers will even put some desktop computers in drydock. The iPad Pro has a 10.5-inch display, but it doesn't feel bulky in your hands. It weighs in at 469 grams.
The new design allows for better sound quality. Remarkably, the iPad Pro's sound is crisp and downright loud. It's operated on the iOS 11 platform with Safari and can be integrated with a keyboard and Apple Pencil. It's not quite a MacBook, but the iPad Pro can put in some serious work when needed.
Its stamina is hit or miss though and depends largely on what you're doing with the tablet. Word processing will tax the iPad Pro less, but watching movies in full HD will run your battery out in under 8 hours. Apple's brought on some next levels apps for this device to make up for it.
Some standouts are the Document Scanner in Notes, Instant Markup for scribbling on PDFs, and Apple Maps. If the rumours are true, an 11-inch and 12.9-inch iPad Pro are in the works for the future, but if you are comfortable with the size of the iPad Pro 10.5, you won't feel the need to buy a new one anytime soon.
3. Samsung Galaxy Tab S4
If you're looking for a tablet that feels more like a workhorse than an entertainment tablet, then take a closer look at the Galaxy Tab S4 from Samsung. It has a powerful Octa Core processor, 4 gigabytes of RAM, and 64 gigabyte memory.
You can even expand the memory with an available micro SD. The S4 runs the Android 8.1 operating system. For multi-taskers, a stylus pen is included at no extra charge, but you will have to cough up extra cash for the keyboard case.
The Galaxy S4 Tab has up to 16 hours of battery life, but that figure will drop a bit if you really put your device to task. There's an interesting software package on the S4 called DeX. It's designed to mimic your desktop PC experience with a taskbar, drag-and-drop functionality and resizable windows. For entertainment buffs, the Galaxy Tab S4 has a 10.5-inch screen and Dolby surround sound.
There's a 13-megapixel camera on the back and an 8MP camera on the front of the device. 4K video recording is handled by the rear camera and the front shoots video at 1080p.
The Samsung Galaxy Tab S4 is the result of a tightly-contested battle with Apple's iPad. You, the consumer, are the benefactor. This tablet has all the functionality and features of an iPad, but at a reduced cost.
This powerful tablet won't become obsolete any time soon, and you can bet on the value of the S4 for years to come.
4. Amazon Kindle Fire HD 10
The Amazon Kindle Fire HD has finally proven to the world that it's more than just a reading tablet. That's because it's got some seriously powerful hardware in the form of a 2GB RAM and 1.8gHz CPU combo. Operating Amazon apps, games, music and movies is cake work, but there is something lacking here.
The Fire OS doesn't give you access to Google aps like YouTube and Gmail. You also won't find popular apps that you can acquire through the Apple App Store. You've got to settle for the Fire OS, Kindle Unlimited, Amazon Prime and convince yourself that having Alexa onboard is a worthy trade-off.
The HD 10 has a long-lasting battery life that can run continuously for 10 hours without charging. That's on par with the iPad. Fully charging the Amazon tablet takes about five hours. Perhaps the greatest value for the Fire HD 10 is the brilliant 10-inch LCD display that boasts a 1920 x 1200 resolution. There're two onboard cameras, as well.
It does feel a bit bargain in the hand because the controls are in less-than-ideal locations and the casing plastic is chunky and cheaper than its rivals.
Upsides to this tablet are the affordable range of prices and the entertainment value that the Fire HD presents its users.

5. Amazon Fire HD 7 Kid's Edition
Amazon makes a second appearance on this holiday season's top tablet list with the Fire HD 7 Kid's Edition tablet. It's for kids, but this is a fully-functional, multi-use tablet.
Most notably, the Fire HD Kid's Edition comes with a 2-year worry-free warranty. Kids will be kids, but this tablet can be easily replaced if your little ones figure out how to destroy it.
That's not going to be easy because the Amazon Fire HD 7 for kids is built tough.
The casing is durable, yet lightweight. At just 390 grams, only the iPad Mini is lighter in the hand. It comes in pink, blue and yellow. Cosmetics aside, this tablet has 16 GB of storage, onboard cameras, available mini SD slot, and 8 hours of battery life.
The Amazon operating system might not be on par with Apple and Google just yet, but it seems perfectly suited for kiddie surfing. The tablet comes pre-loaded with 5,000 apps, games, videos, books and educational content from Disney, Nickelodeon, Sesame Street, and more.
This works with a 1-year free subscription, so prepare to top it up once the service runs out. One impressive feature for this tablet is the parental control function. You can set usage limits and limit the access to certain apps on the device and via remote.
The icons are large and colourful, making for an easy interface experience for toddlers on up to pre-teens. Adults might even secretly get a kick out of some of the onboard games.
6. Google Pixel Slate
Google is a talented chameleon when it comes to tablets. They've taken the best features from Amazon, Samsung and Apple to create a contender of their own – the Pixel Slate.
It comes with the guts of a desktop computer – an Intel Celeron, Intel Core i5 and i7 are all on tap for the choosing. In keeping with the depth of choices Google gives you, the Pixel Slate can be outfitted with 4 GB, 8 GB or 16 GB of RAM. Storage options vary from 32 GB on up to 256 GB.
The Pixel Slate waves goodbye to the old Android operating system and puts in an updated Chrome OS. The 12.3-inch molecular display screen has 6 million pixels at the ready for vibrant viewing of movies and games.
The Pixel Slate is thin and feels like an oversized Pixel phone. Yet, when coupled with the available keyboard mount, the Pixel Slate steps on the toes of Microsoft's Surface Pro in terms of functionality.
Fast charging and 4K video output come courtesy of two new USB-C ports (which most tablets in this generation don't have yet). The Pixel Slate has a fingerprint scanner for enhanced security, but just one front-facing 8MP camera.  Also, there's no headphone jack.
You'll need Bluetooth headphones or speakers to get a decent audio experience. Pricing is tiered much like an iPad. The Pixel Slate can range from affordable to astronomical depending on the processor and RAM that you choose.
This is a brand-new device though. If the trendiest tablet is what you're after, then this is the device you're looking for.
7. Microsoft Surface Pro 6
Back in 2013, Microsoft boldly took a swing at Apple with the Surface Pro. It was a versatile tablet that offered something different than the iPad experience – a familiar operating system and a removable keyboard.
This year, it's all about the Microsoft Surface Pro 6 tablet and critics are unanimous in its praise. Instead of trying to conquer the tablet market, Microsoft hopes that the Surface Pro 6 will replace both your laptop and your smart phone.
One of the main selling points is that the Surface Pro 6 operates on the Windows 10 platform and has an eighth generation Intel Core i5 processor.
It has a whopping 13.5 hours of sustained battery life and 12.3-inch display screen. There are some powerful cameras on the Surface Pro 6, as well. You get 5 megapixels up front and 8 in the rear.
Notably, the keyboard doesn't come with the base model and it will cost more to include one in the package. Also, you can get more RAM and onboard storage for a larger price tag at checkout.
One major drawback for the Surface Pro 6 is that Microsoft is already leaking details about next year's release of an even better Surface Pro 7.
So, if you are thinking of gifting someone a Surface Pro 6, keep that in mind.
I hope the review of these tablets helps you with your holiday gift giving plans!