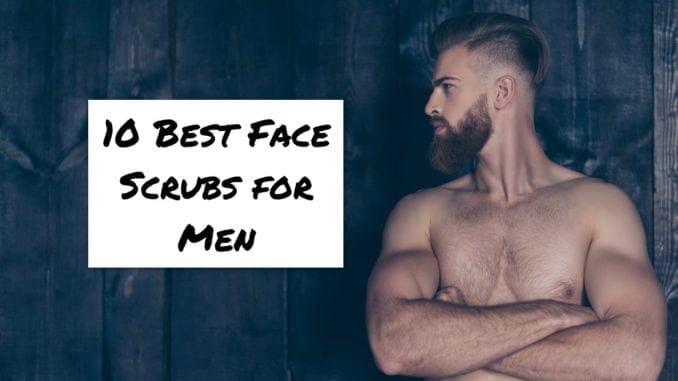 Do you exfoliate with a scrub twice a week?
Looking for the best exfoliating face scrubs for men? Trying to pick a product that works for your skin type? Hoping to find something that removes debris while giving your complexion a youthful glow?
If the answer is yes, you wouldn't be alone. As a man who works with other guys around personal image building, I completely understand why finding the right scrub is really important.
Let's face it. Your face is the first thing people notice. And for better or for worse, it also can make or break a first impression.
The problem is so much of what appears on the web regarding men's exfoliators is designed to sell you crap without factoring in skin type. Moreover, some of what has been written is just completely wrong.
And so that is what this post is all about – men's exfoliating scrubs and making smart choices. I'll start off with a list of top 10 picks based on feedback from guys. Afterward, I'll give you several reasons why you need to use a scrub.
At the end of this article, I'll also talk about scrubs and dispel common myths. You'll even find a poll. Finally, I'll talk about exfoliators as part of a simple men's care routine.
Let's look at the best face scrubs first.
Best Men's Exfoliating Scrubs
1. Brickell Men's Renewing Face
2. Thrive Natural Face Scrub
3. The Gentleman's Face Scrub from Beau Brummell for Men
4. Derma-nu Miracle Skin Remedies Face Scrub
5. Tiege Skin Care System
6. Jack Black Energizing Face Scrub
7. Elemis Face Exfoliator
8. Viking Revolution Face Scrub
9. Body Shop Vitamin C Scrub
10. Anthony Face Scrub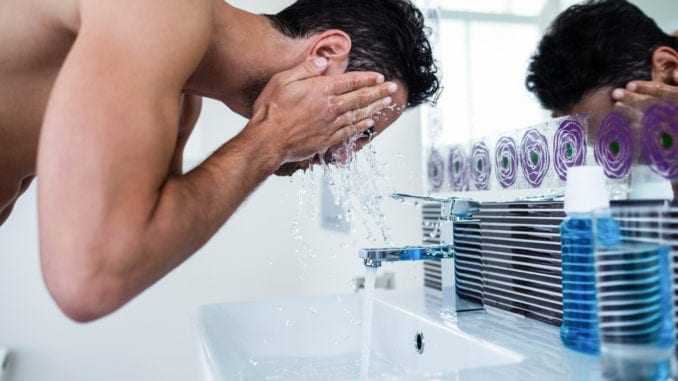 Why Do I Need an Exfoliator?
A lot of guys wonder why they need to use a face scrub. Is it really necessary to exfoliate on a weekly basis? The answer on both counts is a resounding – yes.
It's important to recognize that your skin has several different layers. The top layer (the one you see in the mirror) is called the epidermis.
Under this primary layer is the dermis; a place where connective tissue resides, along with your sweat glands and hair follicles.
Each day, your epidermis accumulates dirt and debris. This gets mixed in with oil, which is excreted from the sebaceous glands. Translation: When it all gets combined, it can cause clogged pores.
Using an exfoliator helps to remove this oil and dirt mixture while preventing pore blockage. Additionally, scrubs dislodge harmful material that can take away from your skin's glow.
But I'll give you another powerful reason you need to use a scrub. Anti-aging. Yep, that's right. By using the right scrub, you can take years off your appearance.
Here's why:
In your twenties, your skin generates new cells at a fairly fast clip. But once you get into your thirties, that process slows down. The result is dead skin cells that accumulate and rest atop the epidermis. In turn, this gives your mug a dull, bland appearance.
By exfoliating, you remove those dead skin cells and stimulate mitosis. In addition, you also encourage the production of collagen; a gel-like substance that gives your face a plump, youthful appearance.
Joshua Zeichner MD, a New York-based dermatologist, said the following about the use of scrubs: [exfoliation is] "the process of removing dead cells from the surface of the skin. As dead cells accumulate, they interfere with light reflection, giving a dull appearance. Exfoliating can help improve skin radiance and even skin tone" (Today Show).
As you can see, using a scrub really is important. The question becomes which exfoliator works best for your skin type? Yep, it is critical to know the answer to this question before buying a product.
What is my skin type?
Whenever you hear "skin type" when it comes to men's personal products, realize this is a generic term that is interchangeably used for scrubs, masks, lotions, and creams.
A lot of these products are labeled with your dermis in mind. Typically, these include normal, dry and oily.
This is why it is critical to know your own skin type because you want to pick the right product for your needs.
1. Normal
People with normal skin typically have:
Minor imperfections
Not all that sensitive
Pores that aren't generally visible
A radiant skin tone
2. Combo Type
Some guy have skin types that have a combination of features. These include:
A mix of dry and oily areas
Some black or whiteheads
Easy to see shine
Scattered dryness
Noticeable uneven skin tone
3. Dry Skin
When you have dry skin, you will know it because the features are obvious. Here's what you will see:
Redness with patchy areas
Sometimes scaly
Areas of roughness
Some visible lines
A dull-like complexion
Invisible pores
4. Oily Skin
When you have oily skin, it's super obvious. Genetics, the environment, and daily stress can all contribute to this problem. Some guys even end up getting stress pimples. Here's what you will notice:
Large pores
Thick looking skin
Zits of different sizes
Small and large blackheads, whiteheads and patches of acne
5. Sensitive Skin
If you have sensitive skin, you'll know it based on the following characteristics:
Patches of redness
Inflammation
Areas that itch
Dry spots
Now that you have a basic overview of your skin issues, let's move on to exploring the 10 best exfoliating scrubs for men. Next to each product, I've included skin types.
FYI: Everything listed below is linked to Amazon.
Top Men's Face Scrubs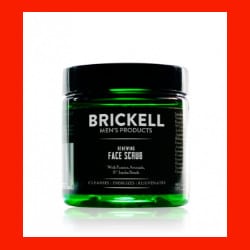 1. Brickell Men's Renewing Face (Normal, Oily, Combo)
Excellent choice for guys struggling with different skin types, particularly oily. Uses natural ingredients to remove dead skin cells and other debris. If you are prone to blackheads or notice that your face gets shiny, you may want to consider this product.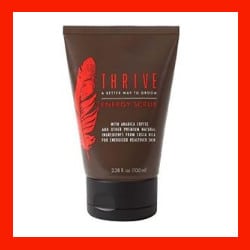 2. Thrive Energy Scrub (Oily or combo)
If you are looking for something that is made from natural substances and does a terrific job of sloughing off dead skin, you might like Thrive's product. Uses Arabica coffee grounds infused with caffeine to cleans and energize. One of my favorites because it also contains anti-oxidants. Finally, an excellent choice for vegans or environmentally aware men.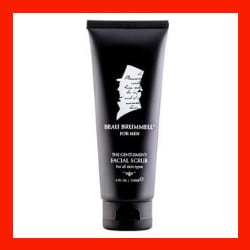 3. Gentlemen's Facial Scrub (Combo Skin)
This exfoliator uses natural ingredients plus caffeine to dive deep into pores and get the crud out. Pulverized walnut shells and bamboo help dissolve debris, leaving your face looking cleaner, smoother, and younger.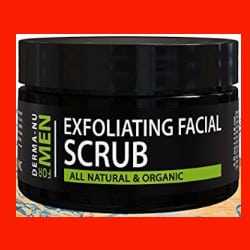 4. Derma-Nu Exfoliating Scrub (All Skin Types)
Need something that is gentle and effective? Want a scrub that is good for all skin types? If so, this may be exactly what you are looking for. Uses natural Pumice & Jojoba Beads to gently exfoliate to remove dry skin and unclog pores. Leaves your face feeling and looking healthier. Great for giving you a more youthful glow. Encourages collagen growth.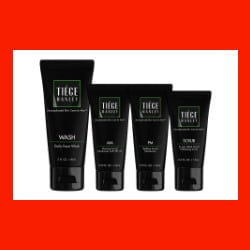 5. Tiege Skin Care System (All Skin Types)
I can personally attest to the many benefits of this product. Sold as a kit, you get an all in one cleanser, scrub, and moisturizer. Made from natural ingredients. Super easy to use. Eliminates the need for multiple products in the medicine cabinet. Leaves your skin feeling and looking amazing.
Visit Tiege directly for best deal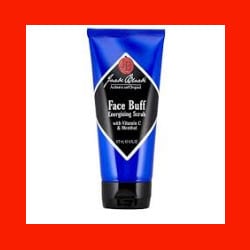 6. Jack Black Energizing Scrub (Sensitive and Combo)
If your face is sensitive or you have a combo type, you might find this to be a good choice for your exfoliating needs. Removes dead skin cells and debris nicely. Won't scratch your face. Many guys use this as a pre-shave product. Available in some stores or online.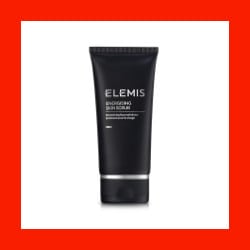 7. Elemis Face Exfoliator (Dry or Combo Types)
Need a product that energizes your skin while removing debris? Hoping to find something that smooths your face's appearance while giving you a healthy glow? If the answer is yes, you may find exactly what you need with this guy. Use on neck and face for best results.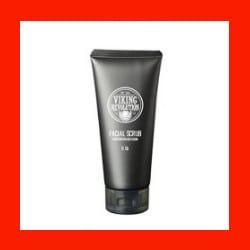 8. Viking Revolution Face Scrub (Dry or Combo Types)
The great thing about this product is how it exfoliates and removes debris while also moisturizing. If you struggle with ingrown hairs, you may want to try this as a pre-shave scrub. Leaves your face looking smoother and cleaner.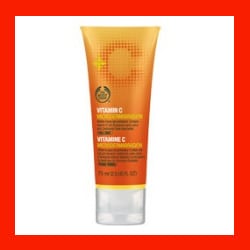 9. Body Shop Vitamin C Scrub (Sensitive to Dry Skin Types)
Believe it or not, you can use this exfoliator on a daily basis. That's because it goes on and comes off gentle. Lots of vitamin C, which helps to push back against harmful free-radicals. Does a great job giving your face a clean, polished look.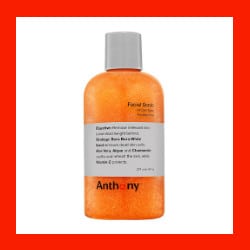 10. Anthony Face Scrub (All Skin Types)
This is a very good product for all skin types. Uses Bora bora white sand to remove dead skin cells. Infused with aloe vera, algae and chamomile to soothe and refresh the skin. Vitamin C has been added to protect.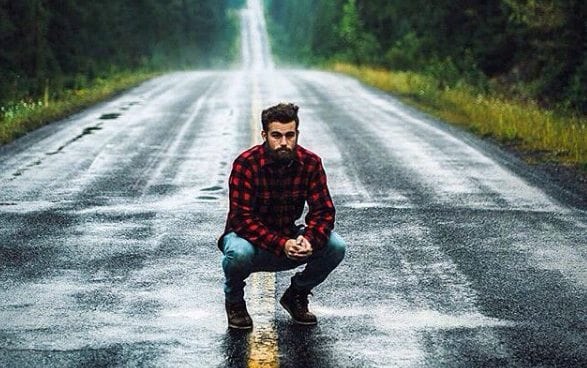 When Should I Use a Scrub?
Now that you have chosen an exfoliator, you are probably wondering how often it should be used. The simple answer to that question is: It depends.
There's no hard and fast rule but generally speaking, here are some routines to consider:
Normal Skin
Once a week
Twice a week during hot, humid weather
Combo Skin
Twice a week
More often if the weather is hot and humid
Dry Skin
Once a week
Twice a week when exfoliator has a moisturizer included
Oily Skin
Three times a week
Up to 5 times a week, depending on lifestyle factors
Sensitive Skin
Once a week
Maybe twice a week, depending on weather
Additional thoughts on frequency
The reason I mentioned there not being any hard or fast rules is that each of us responds to skincare products differently. It will take time for you to figure out how the scrub works on your face.
Some men find they only need to use an exfoliator bi-weekly. Others use every other day because of lifestyle factors.
Example: If you work outdoors, play sports or live in a hot climate, frequent exfoliation may be necessary.
Importance of Moisturizer
There's just no way I could write this piece without mentioning the importance of using a face moisturizer after the scrub. A lot of guys forget this step and they shouldn't.
Here's the deal. When you use any type of exfoliator, you are stripping the top level of your skin of dirt and grime. But you are also dissolving dead cells and other material.
Translation: Your skin is going to be somewhat dry afterward. For this reason, you'll want to apply a face cream. Check out this page and learn about the best face moisturizing lotions for men.
Should I use a Face Mask?
Some men want to know if they should include a clay face mask as part of their skin care routine. Speaking only for myself, I can tell you they can make a big difference with your appearance.
Men's clay, mud, and sheet masks are designed to tighten pores and encourage collagen growth. They also help to promote that youthful glow I mentioned earlier.
Learn all about the best face masks for men in this post.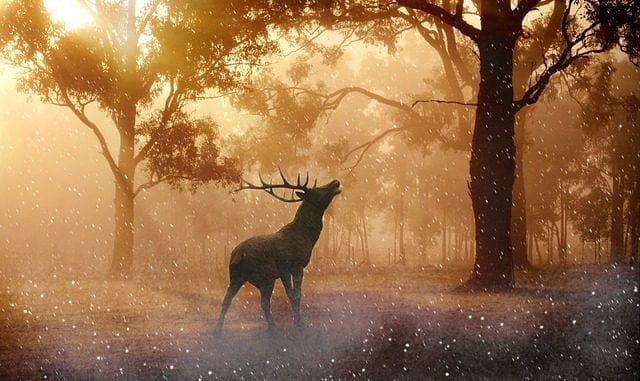 Men's Face Scrub Myths
Just for fun, I am going to address a number of myths that are floating around about exfoliators and men's skin. Perhaps you have heard of these?
Scrubs rob your skin of nutrients (not true)
Guys don't need exfoliators (not true)
A woman's scrub works just as well as men's (untrue)
You don't need to wash your face if using a scrub (untrue)
Exfoliators cause acne (nope, not true)
Exfoliator Poll for Men
Because I recognize there are a lot of guys interested in this topic, I'm publishing an anonymous poll below. How often do you exfoliate?
Bringing It All Together
The choice to use a men's exfoliating scrub is a smart one. Not only do they keep your face looking handsome and fresh, they also can help you to look younger.
If you have problematic skin, it never hurts to make an appointment with a dermatologist. Hopefully, you have found the skin care hacks shared on this page useful.
Thanks for visiting!
RELATED READING:
Best body washes and shower gels for men