1967 Chevy Camaro Facts
Are you a fan of the 1967 Chevy Camaro? When you see this car on the highway, does it grab your attention? Curious about the history of this automobile?
If the answer is yes, you've come to the right place. In the past, I've written about classic muscle cars. Let's face it, most guys dig these kinds of vehicles because of their unique, manly design.
If truth be told, the reason I like the 67' Camaro is that it represents a period in automobile manufacturing that is long gone.
Starting in the mid-1960's, cars began to take on a rugged, manly vibe. They were sporty, compact and fast. For guys who were trying to project alpha, these babies rocked.
But I digress.
The 67' Camaro was no doubt an automobile of "firsts". As you read what follows, bear in mind the era in which this car was made.
Think American innovation, speed, and pride. The cold war was still very much on. JFK was dead and wireless technologies were the stuff of fantasy.
To help complete this mental picture, the hit movies of the time were: Guess Who's Coming to Dinner, Bonnie and Clyde and – The Graduate.
Here's what you'll learn from this piece.
Quick facts about the 67 Chevy Camaro
Video on the car
Special historical information
Car options unique to the Camaro
Camaro book
1. Who created the 67 Camaro?
The original version of the Chevy Camaro was conceived from a place of necessity. Back in the 1960's, Ford had a wildly popular vehicle called the Mustang.
To compete, General Motors began drawing up secret plans for the launch of a new car. The entire project was given the codename  "Panther" (Settlemire, 2005).
Highlights
The name of the car (Camaro) was thought up by Chevy's merchandising manager Bob Lund and GM's vice president Ed Rollet.
On June 28, 1966, at a press conference held in Detroit, the new car line was announced by the company general manager, Pete Estes.
It had a designated project code of XP-836.
When the name "Camaro" was announced, it was somewhat of a scandal. The folks at GM suggested the name was derived from French slang to mean "friend" or "pal". The problem is Camaro really isn't a French word.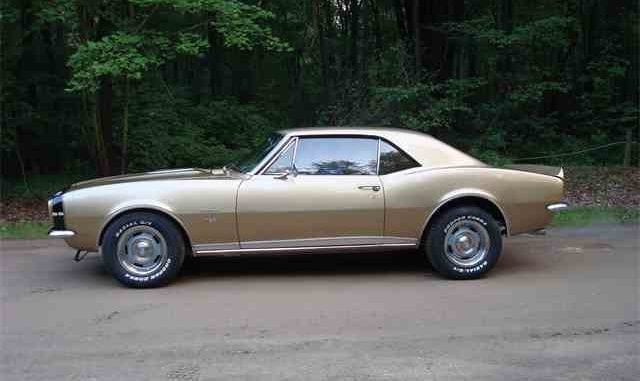 2. Rollout of the 67 Camaro
The first Camaro went on sale on September 29, 1966 for model year 1967. The car itself shared some of the same components of another GM auto that also was introduced in 67'; the Pontiac Firebird.
Here are some highlights:
220,000 67' model cars were sold during 1967.
Featured rear wheel drive.
Was available as a two-door coupé or convertible with 2+2 seating.
Choice of V8 powerplants as part of the power system. Here, we are talking about the engine, transmission, drive shafts, and differentials.
Depending upon options, the original Camaro cost between $2,800-$3,500.
3. Unique features of the 69 Camaro
In addition to some of the points mentioned above, there were several features that were unique to this vehicle.
It's important to point out that some of the marketing behind the Camaro was in reaction to a book authored by Ralph Nadar called Unsafe at Any Speed.
In it, Nadar exposed many safety problems regarding cars of the era. For example, Chevy took a hit because its Corvair vehicle was mentioned in the book.
To compensate, GM highlighted the fact that Camaro had the same rear-drive, front engine setup as the Nova II and the Ford Mustang.
Highlights:
First generation offered a Super Sport or Rally Sport option.
The Z/28 model was added in 1967, featuring distinctive stripes on the trunk and hood.
Rally road wheels were offered
Car was built on the old GM-F Platform.
Consumers had a total of seven different engine models!
4. Time constraints
Remember, at the time, GM was under tremendous pressure to get a car rolled out to compete with Ford's Mustang.
Just to give you an idea, in 1966 Mustang was doing massively well, selling a whopping 607,000 automobiles. Sales took a hit in 1967, dropping to 472,000.
By 1968, the number of Mustangs sold plummeted to 317,000.
The decline, at least in part, was due to GM's production and marketing efforts.
Highlights:
Designers at one time had considered making a station wagon version of the car but quickly abandoned those plans.
Nearly all of the original Camaro's were built in two American assembly plants: Norwood, Ohio and Van Nuys, California.
Some were assembled at the company's Biel, Switzerland plant.
Car was built mostly from sheet metal except for the hood and trunk lid.
5. Engine and transmission options
As mentioned earlier, there were 7 engine options available. It came standard with a manual three-speed transmission.
By the time 1969 rolled around, consumers had 12 engine options.
Other facts:
Original Camaro shared a subframe and semi-unibody design with the 1968 Chevy II Nova.
RS option included "hidden headlights", backup lights under rear bumper, and exterior bright trim.
SS option (SS performance package) included a V8 engine with Chassis upgrades for greater power and better handling.
Z/28 option offered a V-8 engine and optional 4-speed transmission. The two wide stripes, characteristic of Z/28, were placed on hood and trunk.
Wrap Up
Since the 1960's, there have been six generations of Camaros. Many style changes have happened over the decades.
If you are looking to read more on this classic American car, head on over to Amazon and pick up a copy of Camaro: Fifty Years of Chevy Performance by Mike Mueller.
When people ask me my about my favorite muscle cars, I'm here to say that the 1967 Camaro ranks high on the list.
The ultimate Camaro, at least to me, is the 1969 COPO, But hey, that's another blog post.
Thanks for stopping by.
—
Photo images: Flickr
References:
Settlemire, S. (2005). The Day the Panther Died. Retrieved from Generations of GM History: https://history.gmheritagecenter.com/wiki/index.php/The_Day_the_Panther_Died