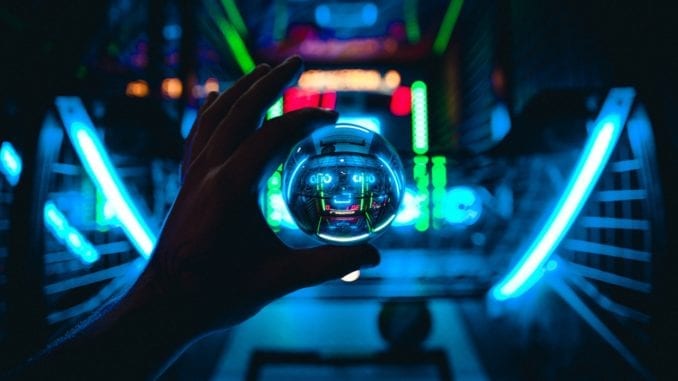 Consumer Tech Show Goodies
It's that one time a year when geek goes mainstream – it's the Consumer Electronics Show. Last week, the biggest tech companies in the world descended onto Las Vegas to unveil new products with a wow factor that's on par with a Disney theme park.
There were flying cars, lots of robots and a dizzying array of colorful screens on display. Some of it was amazing – like the curved electronic wall display from LG. Some of it was downright weird – we're looking at you Alexa-enabled smart toilet. If you want to know what tech devices will flood your timeline for 2019, here's the wrap-up of all the best entries.
Best Tech from CES 2019
Self-driving Cars
This year's CES could have doubled as an auto show. It seems as if our normal modes of transportation just aren't good enough anymore and there were plenty of autonomous driving vehicles at CES 2019. At this year's Consumer Electronics Show, participants were ferried around the event in a self-driving car from Lyft and BMW.
All the big automakers had living rooms on wheels that looked like they were ripped off the cover of a science fiction magazine. The interior of Audi's concept vehicle looked like the bridge of the starship Enterprise.
Hyundai debuted a self-driving taxi that can climb stairs and walk on legs, but Bell took home the gold prize with the Nexus air taxi concept vehicle. It was massive, with four VTOL rotors and Tron-like neon lights.
Mitch Snyder, Bell's president and CEO remarked that "As space at the ground level becomes limited, we must solve transportation challenges in the vertical dimension — and that's where Bell's on-demand mobility vision takes hold." Admittedly, all these prototypes and concepts are a few years away from reality, but that didn't stop automakers from whetting your appetite.
I, Robot
It comes as little surprise that this year's CES would showcase a few robots. They seem to be the trendiest way to say Hi, tech! these days. At CES 2019, robots were everywhere. However, robotic designers are steering away from the Terminator fears that Boston Dynamics' robots inspire and are going for something cuter and more approachable.
Enter the Lovot Groove X – a small, furry robot designed to provide love and companionship. You can cuddle your little Lovot to sleep or stare into its big, expressive eyes while you pose for a selfie using its onboard camera. On Monday, January 7th, Samsung led its press conference by unveiling a fleet of four new robots.
Related: Can men close the tech gap?
These aren't the cute, cuddly kind either. They're more functional. Samsung's robots can check your blood pressure, help you buy a new suit, and make sure your personal air quality is top notch. LG wanted in on the robot invasion and showcased a robot of their own named ClOi during the company's press conference on Monday.
Although CLOi might get confused with a garbage can with its polished white exterior and sloped face, LG president I.P. Park insists that "You'll find her friends at airports assisting travelers, but she's here tonight to help me with my keynote."
Big Screens
According to Statista research, Americans only spent 22.5 hours a week watching actual TV screens in 2018. That number hasn't deterred big tech companies from developing some of the most impressive display screens the world has ever seen. At CES 2019, LG's booth was enhanced by a wall-sized, curved OLED screen demo. You could barely take your eyes off it's undulating colors.
LG also had a 65-inch rollable OLED TV that disappeared into its stand and could be summoned again at the touch of a button. Seeing 65-inches of screen roll away on command is a sight that participants aren't likely to forget. LG, Samsung, Sony and TCL also had ridiculously expensive 8K televisions with the highest possible resolution and price tags to match. We're talking up to $10,000. Another impressive screen solution came from Samsung.
It unveiled a massive 75-inch display that was comprised of micro-LED panels, just like a billboard. Now, who's going to have that much wall space in the cyberpunk home of the future?
Amazon vs. Google
Amid all the gadgets, robots and cars there was a real war being waged between Amazon Alexa and Google Assistant. Most of these gadgets and devices will employ one or the other as their main user interface and voice assistant. Google landed some big advertising blows by canvasing the entire city. There were ads on the sides of trains, buildings and any other clear space that could fit the name.
Google announced that it's AI-enabled voice assistant will be available on products from Samsung, KitchenAid, and other smart home devices. Amazon countered with Alexa-enabled digital pianos from Roland, smart eyeglasses from Focal, and Kohler's Alexa-enabled smart toilet. One CES 2019 attendee poked fun at the voice war by tweeting – "To say that Amazon Alexa is everywhere at CES in Las Vegas would be an understatement."
Google might be lagging behind Amazon in product integration with Google Assistant, but they put together a really neat theme park-style ride. The Google Assistant ride slowly dragged attendees through the Google Assistant home of the trendy now complete with two-seater ride cars, animatronics, and bubbly music. Kitchy and expensive – yes. Memorable and Marketable – double yes.
Smartphones
These have long been a mainstay at the Consumer Electronics Show. The foldable phone from LG received much of the spotlight this year. You can read more about the latest foldable phones from our Guy Counseling review "The Holy Grail of Handheld Tech". Aside from folding phones, there were quite a few budget level phones at CES this year.
For under $100, you'll be able to buy quality smartphones from Rokit and Alcatel. These phones have Android platforms and 3G networks. 5G smartphones were on hand from Motorola and Samsung, but their details were sketchy and even Samsung kept their 5G-enabled device encapsulated behind a glass display.
If you've been following tech developments for smartphones in 2018, then nothing that was showcased at CES 2019 will come as a surprise to you. Still, it was a good chance to hold and handle the new foldable phones that will hit US markets as early as Q4 2019.
Gadgets Galore
Peppered in among the big tech companies were countless small devices and gadgets from new and independent tech developers. The NexOptic Double Take is a set of binoculars with a digital LCD display, Quadcore processor and 12-megapixel camera.
The Ovis suitcase is an $800 robotic carry-all that uses onboard sensors to follow you around without the need for you to actually do the manual rolling. You can keep your hands free for smartphone scrolling or pointing out landmarks while on your next vacation. The WT2 translator is also a nifty new gadget. It translates voices in real time through an ear piece.
So, when someone speaks to you in a foreign language, you'll hear their response in your own dialect. Perhaps the coolest item of all was just a block of wood. Mui is a voice-enabled plank of wood with hidden LED technology embedded inside that can be used as a digital display. It's perfect for curing screen fatigue.
The Takeaway
January's Consumer Electronic Show revealed that more devices are becoming platforms for artificial intelligence. Tech firms are focused on user interface and experience, pushing deeper into your personal life and learning more of your personal preferences along the way. Autonomous vehicles are coming soon…still.
Robots are already here, and big tech firms are cramming their voice-enabled chips down everyone's throats whether you like it or not. Smartphones, tablets and personal computers were almost a no-show, opening the door for different types of technological interfaces. Before we've fully understood why we need more personal devices, the market for them is already booming.