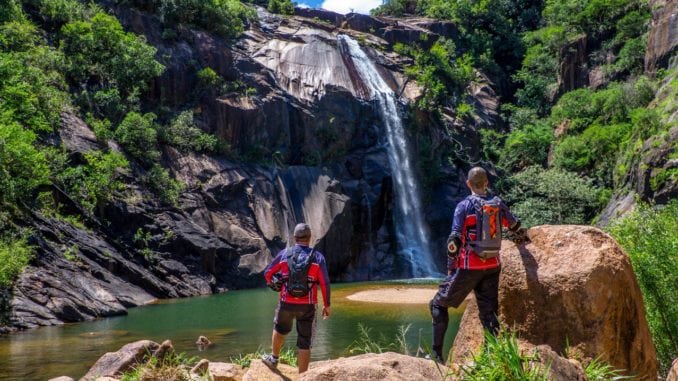 Places to hike in Colorado
You don't have to travel far in Colorado to reach some of the most physically challenging and overwhelmingly beautiful hikes in North America. Whether you want to sneak away for a quick sunset hike close to town or head out on a multi-day trek through the backcountry, Colorado is the gateway to it all and this article will help you find the trails you seek.
1. Red Rocks Park
You may have heard of the world-famous Red Rocks Amphitheater where acts such as the Beatles, Jimi Hendrix, and Radiohead have sent sound waves bouncing off the natural sandstone theater walls. But did you know that there's phenomenal hiking at Red Rocks, too?
Only a 25-minute drive from Denver, the trails at Red Rocks Park offer the perfect getaway for anyone wanting to take a convenient, scenic hike. The trails here wind through open meadows and in between the impressive red rock structures which are part of a geological wonder called the Fountain Formation. Climbing on the rocks isn't allowed, but just getting up close is enough for a huge dose of awe and some killer photos.
More: Tips for hiking with your dog
There are two primary trails at Red Rocks Park — the Trading Post Trail, a short-but-scenic 1.4 mile loop, and the more challenging Red Rocks Trail, which is about 6 miles round-trip. The landscape is very open and exposed to the sun, so plan your hike for the early morning to avoid the heat. Don't forget sunscreen and plenty of water!
2. White Ranch Park
Another hiking area close to Denver is the White Ranch Park located just outside Golden, CO. The trails at White Ranch take you through classic Colorado Foothills scenery — open meadows and stands of ponderosa pines sprawled out over the rolling hills that lead to the High Rockies. As a protected area, an abundance of wildlife can be seen including elk, deer, black bear, wild turkeys, and the occasional mountain lion.
There are several short trails at White Ranch and a popular option is to link up the Rawhide, Longhorn, Maverick, Belcher, and Sawmill trails to create what's known as the Sunset Loop. The loop is about 2 miles long with approximately 1,400 feet of elevation gain and gives you a perfect tour of the park in all its splendor.
And if you want to do an easy overnighter, the Sawmill Hiker's Campground within the park offers ten hike-in-only campsites to pitch a tent and cook up a meal over the fire.
3. Golden Gate Canyon State Park
If you feel the White Ranch Park is a little too close to town, you can head slightly further into the mountains to visit Golden Gate Canyon State Park. Still only 30 minutes away from Denver, this 12,000-acre chunk of outdoor paradise has over 35 miles of hiking trails that range from easy strolls to hardscrabble slogs up steep faces.
While this is a popular state park with full RV hookups and over 100 developed campsites, there are plenty of opportunities to get away from the crowds. Several trails — like the Coyote and Mountain Lion trails — take you up and away into the backcountry where you'll get panoramic views of the Continental Divide, Indian Peaks Wilderness, and Tremont Mountain among other peaks.
Plus, if you want to extend your stay, there are three backcountry campsites with primitive three-sided shelters that sleep up to six people each — perfect for impromptu overnighters.
4. Elk Meadow Park
Rounding out our recommendations for close-to-Denver hiking destinations we have Elk Meadow Park. And like its name implies, you'll find large herds of elk in the meadows of this stunning mountain park in Evergreen, CO. In addition to wildlife, which beyond elk include mule deer, coyotes, and birds of prey, you'll also see historical structures such as the Bergen Barn that date back to when the area was first settled.
There are over 13 miles of hiking trails at Elk Meadow, most of which are rated easy to moderate and perfect for bringing kids or first-time hikers along. The South Loop is a great trail that links the Meadow View, Elk Ridge, and Sleepy "S" trails to form a 2.6-mile loop. However, if you're looking for more of a challenge, there are two strenuous trails that climb to the summit of Bergen Peak.
Tucked back into the foothills, Elk Meadow is often a few degrees cooler than Denver, ideal for a summer retreat into nature.
5. Chautauqua Park
If you happen to be in the Boulder area, you can't help but notice the Flatirons posed against the Front Range to create one of the most picturesque backdrops any town could have. And what do you do if you want to get up close and personal with those giant rock structures?
Head to Chautauqua Park.
From Chautauqua Park, you gain access to a large network of trails that take you through vast meadows and up into the hills where the Flatirons rest. The Chautauqua Trail, by far the most popular, leads you straight to the Flatirons where you can explore to your heart's content. Branching off from the Chautauqua Trail is the Royal Arch Trail that offers a vicious climb — 800 feet of gain in 0.8 miles! — up switchbacks to the Royal Arch, a unique arched rock formation.
More: Wilderness backpacking tips
Longer hiking opportunities are also available at Chautauqua including the Mesa Trail — 6.9 miles — along with trails that lead to the summits of Bear Mountain, South Boulder Peak, and Green Mountain.
6. Indian Peaks Wilderness
As you can see, there are some amazing places to hike close to Denver and Boulder. But what if you want to head a bit deeper into the mountains to experience some truly wild places?
One of your first stops should be the Indian Peaks Wilderness located a relatively short drive from Boulder. Although it's one of the most accessible and frequented federally designated wilderness areas in the country, with 169 miles of trails spread out over 76,711 acres, you should have no problem finding solitude on your hike.
While there are many trails to choose from in the Indian Peaks Wilderness, the Buchanan Pass Trail is a great starting point if you're ready to test your endurance with a 15-mile hike. You'll follow the glacial St. Vrain Creek and pass by Red Deer Lake before reaching the crux of the trail — crossing the Continental Divide at over 12,000 feet.
Hiking and camping are permitted year-round in the Indian Peaks Wilderness, so if you're itching to set off on an extended backpacking trip, this is a great place to do so. And since the area is so vast, you may want to pick up a copy of the guidebook, "Colorado's Indian Peaks: Classic Hikes and Climbs," to get the most out of your trek.
7. Rocky Mountain National Park
If you take a gander at the Colorado Front Range, one of the most prominent peaks you'll see is Longs Peak clocking in at 14,259 feet. This undeniably majestic mountain is located inside Rocky Mountain National Park which is a must-visit destination for anyone coming to Colorado.
While there is a trail that ascends Longs Peak, it's no easy feat and not recommended for inexperienced hikers. Luckily, Rocky Mountain National Park is home to many other more welcoming trails, which you can think of training grounds for the ultimate challenge of Longs Peak!
There are way too many excellent day and multi-day hikes to list here, so if you're planning a trip to RMNP definitely pick up a copy of "Rocky Mountain National Park: The Complete Hiking Guide," which is widely held as the authoritative resource on hiking in the park.
But to give you an idea of what's available, some of the best trails to check out in the park are the Mt. Ida Trail, the Hallet Peak Trail, the Emerald Lake Trail, and the Chapin-Chiquita-Ypsilon Trail which take you to some of the highest elevations in the park.
8. Telluride Area
Telluride is famous for powder-rich skiing and snowboarding, but in the summer when the snow melts, it's a hikers haven. Many of the best hiking trails in Telluride are accessible from right in town. A great resource to check out for more information is the Telluride Mountain Club website.
For a moderate and very rewarding hike, check out the Ajax Peak Trail which takes you up a non-technical climb to the summit. You get 360-degree views of Imogene Pass, Savage Basin, Bridal Veil Basin, as well as the town of Telluride.
For a nice short and easy hike, the Bridal Veil Falls trail couldn't be better, leading you straight to Bridal Veil Falls — the tallest free-falling waterfall in Colorado.
9. Great Sand Dunes National Park
So far we've covered lots of trails throughout Colorado. But what if you don't want to be confined to a trail? What if you want to amble through the wilderness as you please?
Then we highly recommend heading down to the Great Sand Dunes National Park in south central Colorado.
It's hard to believe, but Great Sand Dunes National Park is home to the tallest sand dunes in North America. Star Dune, the tallest of the tall, is over 750 feet tall. The best part is, it's hikeable.
The dune field at the park measures 30 square miles and you can have free reign over it all. Since the terrain is essentially open sand, there aren't any strictly defined trails. However, there are some great routes established that will take you to the top of the highest dunes to see the incredible views in the distance.
The dunes butt up against the Sangre de Cristo mountains which are some of the most beautiful in the state. And although the dunes seem dry and barren, only the top several inches of sand are dry — there's enough moisture below the surface to sustain plants like blowout grass and small creatures like the Great Sand Dunes Tiger Beetle and Ord's kangaroo rat.
Larger animals such as elk, pronghorn antelope, mule deer, and bighorn sheep also frequent the dunes and a large herd of bison owned by the Nature Conservancy is ranched within the bounds of the park.
It might seem easy enough to walk up a big hill made of sand, but sand can be a lot harder to walk on than solid dirt or rock — don't be surprised when you feel the burn! And speaking of burn…
If you visit Great Sand Dunes National Park in the summer, be prepared to cope with the heat — the sand dunes can easily reach 150 degrees! Sunscreen, sunglasses, and a good hat are a must and a handkerchief or buff can be helpful to keep the sand out of your mouth when the wind picks up.
10. Continental Divide Trail
There are countless hiking trails within Colorado, but don't overlook the mega-trail that traverses all the way through the state. We're talking about the Continental Divide Trail, and if you have an extra 6 months of free-time on your hands, it'll take you from Canada all the way to Mexico — on foot.
Now, you don't have to hike the entire Continental Divide Trail to enjoy it. Approximately 800 miles of the trail pass through the mountains of Colorado and there are many points of access along the entire length. So even if you want to hop on the CDT for a day or two, you can. Popular access points are in the San Juan, Rio Grande, Arapahoe, and Medicine Bow Routt National Forests as well as in Rocky Mountain National Park.
If you do decide to tackle the entire CDT — or even just the Colorado section — you'll hike through some of the most scenic and remote parts of the Rocky Mountains. You'll march through the alpine tundra of the South San Juan, Weminuche, and La Garita Wilderness areas, pass by the Collegiate Peaks near Leadville, go up and over Grays Peak, the highest point on the CDT, and see geological sites such as the Window, the Knife Edge, and Devil's Thumb.
If you've been searching for an extreme hiking adventure, you just found it. Load up your pack, strap on your boots, and get on the Continental Divide Trail.
However, if you're just getting into hiking and aren't quite ready to spend months living out of a backpack, start frequenting some of the many great trails we introduced today and build up your endurance. No matter where you choose to hike, there's always an adventure to be had in Colorado.