Men's Grooming Kit Choices Made Easy
Are you searching for a men's grooming kit? Trying to find a toiletry bag to hold shaving gear and other personal care items? Not sure where to start?
If the answer is yes to any of these questions, you've come to the right place.
Here's the deal: there's a ton of kits on the market. So many in fact that trying to pick something can be overwhelming. And to complicate matters, the term "men's grooming kit" is completely subjective.
Some guys call them dopp kits, other men call them grooming kits and still others, shaving kits.
Confused yet?
No need to stress. That's why I prepared this guide. My hope is to help you identify the specific kit for your needs so that you feel confident when making a purchase.
Before we get too far into everything, I'd like to share with you a story.
My Grooming Kit Story
Not long ago, I was in need of a grooming kit. I was traveling to California for a conference and realized that my old toiletry bag had gone missing.
I don't know if I left it in a hotel on a prior trip or if I had simply misplaced it. All I knew was it was gone.
Frantically, I found myself trying to search for a replacement.
But the more I searched, the more frustrated I became. I remember at some point saying to myself, "Why there isn't a basic men's grooming kit?!"
Ultimately, I found what I needed but it took a lot of time. Talk about being stressed out!
After that California trip, I promised myself to pen this piece so that nobody else would have go through what I did.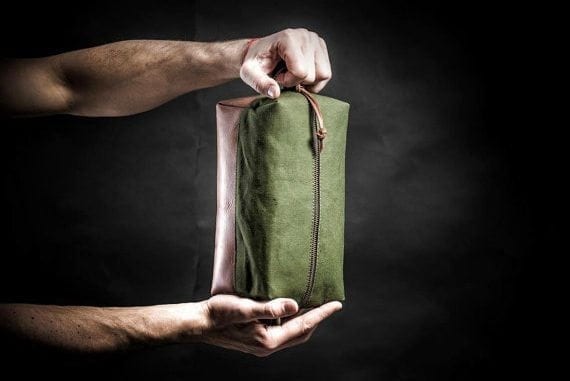 Before we continue, you're probably wondering who I am? It's pretty simple. I'm a guy just like you that uses things like razors, beard trimmers, moisturizers and all the rest.
I'm also a men's counselor and educator.
And believe it or not, the topic of personal care comes up often with my clients.
For reasons I'll share in a bit, men don't talk about these issues with each other. But they will with me because they know it's totally confidential.
Now let's move on to why you are here – the grooming kits.
In this article, you will learn:
A working definition of a men's grooming kit.
Three types of grooming kits on the market.
What's typically inside of each bag.
How to choose the right kit for your needs.
How to build your own dopp/grooming kit.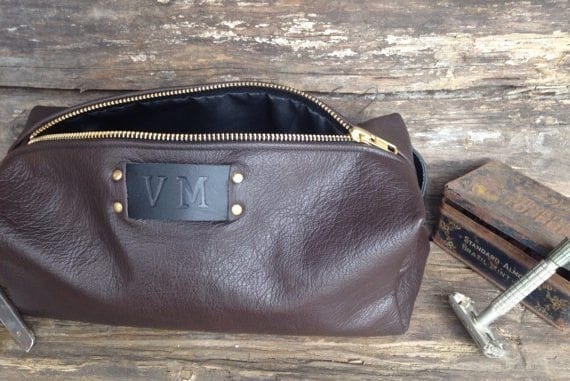 As part of this piece, I'll also share some information to help make choosing a men's toiletry bag easier.
What Is a Men's Grooming Kit?
This may seem like a silly question but if you ask ten guys their definition of a men's grooming kit, you will probably get ten different answers.
The reason?
As I mentioned earlier, men typically don't talk about personal care items. Chalk it up male machismo I guess. It's just the reality of guy culture.
Recent research published in a peer reviewed journal confirms that men struggle when it comes to discussing things like face care products and shaving creams.
Even manly stuff like the best colognes are considered taboo. It's all part of the bro code; a 25-cent term for topics guys don't discuss.
Personally, I think it's silly but that's just what way it is. In fact, it was the "bro code" that acted as a barrier to me finding information when I needed my kit.
So guess what – I'm breaking it now.
Here's my working definition of a men's grooming kit.
Men's Grooming Kit: A bag that is designed to hold men's personal care items. Sometimes referred to as a dopp kit.
Pretty simple, huh? OK, let's continue.
via GIPHY
Three Types of Kits
As you probably know, grooming kits aren't all the same. Some hold shaving gear. Others hold toiletries and still others contain "incidentals".
After spending a great deal of time doing research, I've broken these kits down into three distinct categories.
Men's Grooming Kits by Type
How to Choose the Right Kit
Knowing what type of men's grooming kit you need is half the battle. So here are a few questions to ask yourself. Use these as a refection tool before buying anything.
What do I need the kit for (travel, gift, shaving?
Do I need disposable kit or one I can keep stocking with supplies?
How often will I use the kit?
How long will I use the kit?
How much room do I need?
Let's take a look at each of the three to gain better insight. This will help you to make the right choice for your needs.I've taken the liberty of including the best kit for each category, based on extensive research.
1. Men's Shaving Kit
These kits usually have razors, shaving balms and a lathering brush. Some high quality ones come with a pre-shave oil and an aftershave balm.
Here's what you need to know. Most shaving kits come in boxes and not bags.
Yep, this means almost all of them are designed for to be given as a gift or used as a men's stocking filler.
If you are in the market for this type of product, you'll find lots of choices out there. I can tell you from experience that one of the best ones you can buy is from the folks at the Art of Shaving (AOS).
Inside the box, they pack in high quality items with handcrafted accessories that include:
Pre-shave oil
Shaving cream
Shaving brush
Aftershave balm
Here's the thing about the AOS kit – the grooming products they include are things guys love. I'm talking about cedar scented oils and creams with razors that are designed to prevent bumps and nicks.
I was given this shaving kit a decade ago by a family member and have found myself replacing it each year. Why? Because it's an awesome kit!
2. Travel Kit
Just like the name implies, travel kits are designed for men on the move. Inside the bag, you'll find a variety of grooming items.
We're talking disposable razors, deodorant, comb, toothbrush, toothpaste, shaving gel plus shampoo and conditioner.
There's usually extra room for other items too, like a portable beard trimmer, aftershave cream or bottles of medication.
An excellent example of this can be found in the Man on the Go Travel Kit that available on Amazon. Here's why I like this particular product – its TSA compliant.
This makes it easy to throw into a suitcase for last minute travel. I've got several in my closet so that I can grab one should the need arise.
Inside this kit, you'll find:
Small can of shaving gel
Razor
Toothbrush w/toothpaste
Shampoo/conditioner
Comb
Palm brush
Deodorant
Tissue pack
In all, there are 11 pieces in the kit. And there's even a small amount of room to tuck in medications, etc. An excellent choice too for any man needing something for the gym.
Also great as a Father's Day gift or a college student.
3. Men's Personal Care Kit (Dopp Kit)

These types of kits are designed to hold a variety of men's grooming supplies. Mostly, they carry things like facial moisturizers, toners, body washes, shave creams and balms.
If you are looking for something portable and pre-packed that comes in a bag, I highly recommend Baxter's Deluxe Kit.  I personally think of it as a dopp bag because of what it contains.
Here's what's inside the kit:
Daily face wash
Oil free moisturizer
Shaving formula
Aftershave balm
High protein shampoo
Pocket comb
Shave brush
Lip Balm
I've used this on the fly and I've always given as a gift. Baxter is well known for the excellent men's grooming supplies they make.
How to Build Your Own Grooming Kit
Now that you've learned about the three types of kits, I'm going to make an argument about why it might be a smart idea to build your own. This is particularly true if you use a lot of different tools for grooming, like lumersexual men.
First, all men's grooming kits/dopp bags contain a limited supply of product. If you are traveling for an extended period of time or if you want something to use for the gym on a regular basis, building your own is the way to go.
FYI: This will probably save you money in the long run.
If you've never built your own toiletries bag, there's no time like the present. But I'm here to tell you that creating your own is a process that requires careful consideration.
For starters, you are going to need is a men's toiletry bag. There are many of these to choose from. In fact, if you walk into department store and you'll find a boatload of them.
But here's the thing guys – most of them suck!
I say this because in my experience, a lot of the bags aren't big enough to carry grooming supplies men typically use. Worse, they're made from crappy material that easily falls apart.
I've looked around at a lot of toiletry bags and the best one I've found is the Vertelli Leather Toiletry Bag for men. This is an awesome bag because it has lots of room for personal care items!
I personally use this bag and am very happy with it. It's made of genuine, high quality leather and is very durable. It also has two large separate zip compartments. Inside, it's water resistant. You even get a pair of 2oz travel bottles.
Finally, the bag itself looks really cool!
What Should I Put In My Kit?
Guys, that's the 64,000 question, isn't it? Because each of us have needs, there's no right or wrong way to go about this.
What I'm going to do is simplify things by listing out what is commonly placed in most dopp bags. The information is anecdotal in nature and based off conversations I've had with men.
You can use as a check list for your own needs.
FYI: Don't forget to pick up a men's manicure set that has clippers, tweezers, nail file and grooming scissors. You'll be surprised at how much you reach for these.
If you want something specifically made for men, consider picking up The Tool Kit from Anthony Logistics. I have this one in my dopp bag and use if often.
Typical Men's Toiletry Bag Essentials:
Razors
Shaving cream
Hair brush
Hair gel
Portable beard trimmer
Q-Tips
Portable Hair Dryer
Cologne/Aftershave
Toothpaste
Toothbrush
Mouthwash
Small body moisturizer
Shampoo/Conditioner
Pain relievers (Tylenol)
Personal medications
Men's manicure set
Other personal items
Final Thoughts
Grooming kits for men are everywhere. Hopefully, this article helped you think about which type of kit works bests for your needs.
Thanks for stopping by!
Related Men's Grooming Articles:
How to get rid of dark spots on face for men
Tips to get rid of wrinkles for men
Get rid of baggy eyes for guys
—
References:
McNeil, L. Douglas, K. Retailing Masculinity (2011). Journal of Retailing and Consumer Services.