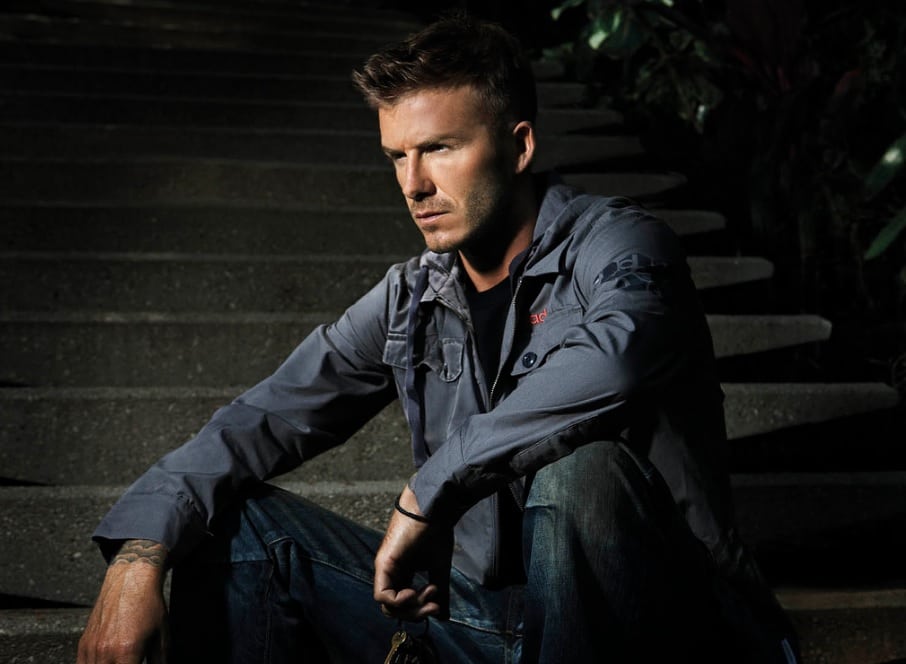 David Beckham Style Guide for Men
Trying to get the David Beckham look? Want to style like the English soccer player? Hoping to channel his manly vibe?
If the answer is yes, you wouldn't be alone. A lot of guys admire this handsome athlete's look. It all makes sense when you consider that David Beckham has adorned almost every major men's magazine on the planet.
Who can forget when he burst onto the pop culture scene back in 2006 as part of the successful "Got Milk?" campaign? Remember that? I sure do.
Well, ever since that time, the athlete turned model has become a household name. For men specifically, Beckham serves as a kind of blueprint for guys who want to appear "rugged".
David Beckham – Overview
In public, we see a man who wears different clothing. Sometimes he goes formal, like at a wedding or special event. Other times he's dressed down – meaning casual and laidback.
On this page, I'm going to walk you through the basics of David Beckham's style. Here's what you will learn:
His hairstyle
His skin care routine
How he achieves a casual look
The types of shoes he wears
Formal wear (suite) ideas
Like many of the posts on this blog, I'll give you some quick demographic information to help provide context.
Afterward, we'll move on to assessing the celeb from head to toe so that you have a foundation from which to work. Are you ready? Let's jump right in!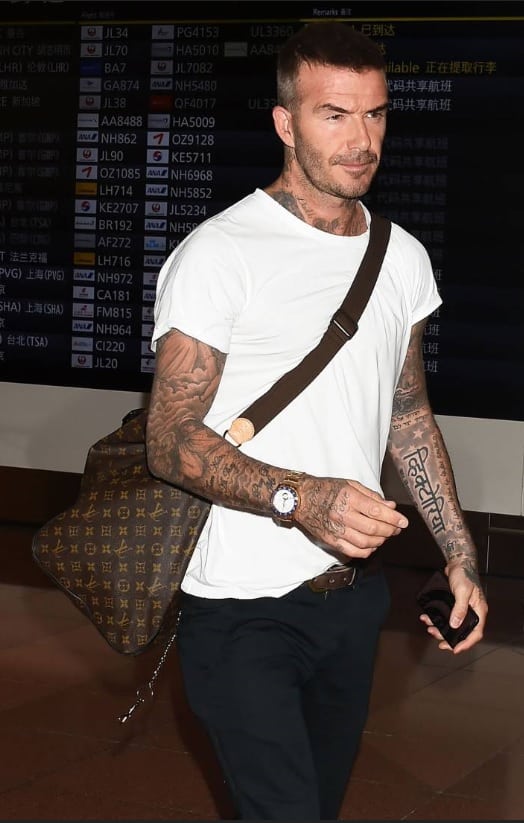 Guy File: David Beckham
Birthday: May 2, 1975, Leytonstone, London, England
Zodiac Sign: Taurus Male
Height: 6 ft 0
Eye Color: Hazel Mix
Career: Athlete and Model
Relationship: Married to Victoria Beckham
Children: Four
Body and Style for David Beckham
Right off the bat, it's important to acknowledge that Beckham has a lean build. Unlike other male celebrities who have bodybuilder physiques (see Chris Evans), this man does not.
In many ways, this is a real plus because let's face it, a lot of men aren't trying to get all swol. Instead, they simply want to look athletic – meaning fit and toned.
While it's hard to be sure, he likely spends a lot of time doing basic, compound exercises that focus on upper and lower body strength. Cardio, no doubt, is a big part of the dynamic.
The reason it is important to know something about his body is that his physique – in many ways – helps to inform his overall style.
Speaking of style, let's take a closer look.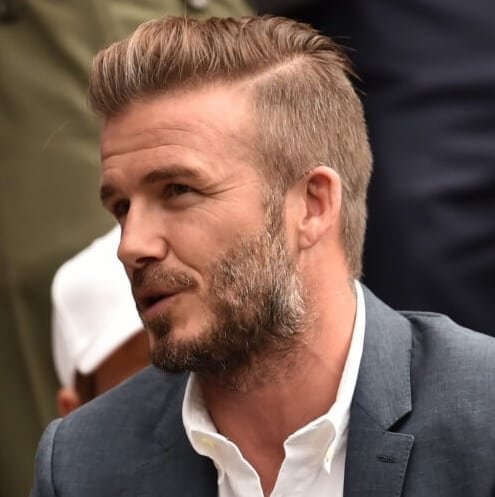 David Beckham Hair
The very first thing we want to look at is his hair. While the length may change from time to time, he generally wears it short.
This means his barber uses clippers that are (likely) set to a setting of 0 to 0.5 on the sides. The top usually left at a length of 1 to 1.5 inches.
In plain speak, he's got a "crop cut". Depending on what's going on, it could even be described as a "crew cut". See this short hairstyle guide for men to learn more.
In looking at his scalp and hairline, he doesn't appear to have suffered a great deal of hair loss. That said, there has been some receding over the years – which is completely normal.
To combat this issue, I highly suspect he uses Minoxidil (see Amazon). He may even take a prescription medication like Propecia.
In addition, his hair is somewhat fine; which isn't that uncommon for men his age.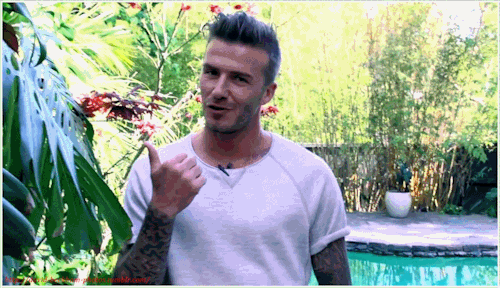 https://media.giphy.com/media/f9oBV8m7lnhv2/giphy.gif
To give it a fuller look, he may use a thickening conditioner, like Ultrax Labs hair Solaye (see Amazon). If you are starting to lose hair, this may be a good one to consider.
And what about hair products for styling?
Chances are, he uses a standard paste or pomade. You can find these at almost any drug store and certainly online. Because he sometimes has a wet-look, he may also use a finishing spray like a gloss.
Again, I am just guessing here but if I were rolling the dice in Vegas, I'd feel pretty confident about what I've just shared.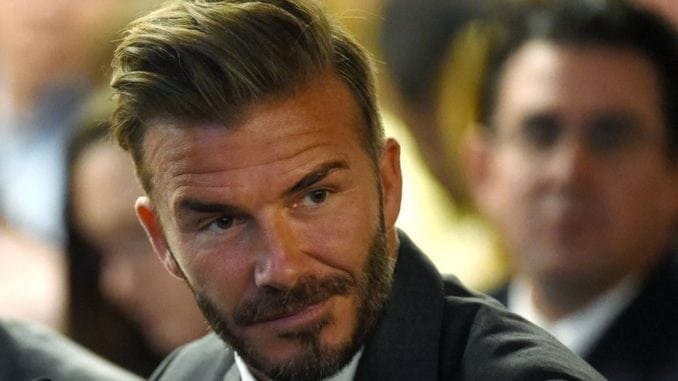 David Beckham Skin
In looking at his face, it must be said he's done a great job at keeping the wrinkles away. I suspect Beckham has been using some type of sunscreen for years, which makes sense given how much time he's spent playing soccer outdoors.
That said, I believe he likely applies a moisturizer once or twice a day and probably a facial mask one day per week. There's no way to be sure but on the face mask front, it could be something like the Alaskan Glacial Facial Mask. See this page on best face masks for men to learn more.
Does David Beckham use Botox?
Well, according to his public interviews, the answer appears to be no. In a 2017 piece appearing in The Daily Mail, he said:
"I have no interest in doing anything like that, ever [Botox]. Growing old gracefully is my thing. I would never inject my face. Or my backside, obviously."
So, the bottom line is that he doesn't use any type of skin freezer or filler. While many find this to be admirable, it is important to note that increasingly, a lot of guys are having cosmetic work done to help them look younger.
In the general sense, it's fair to say that Beckham likely partakes in a general skin care routine for men. We're talking the basics here – nothing over the top.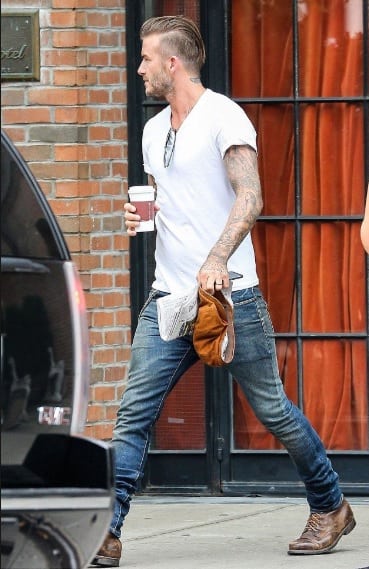 David Beckham Casual
Now that we've got his skin and hair out of the way, let's turn our attention to his look. Specifically, I'm talking about the man's casual style.
T-Shirt
If you want to grab his look, the first thing to do is pick up is a white t-shirt. Now here is the thing – he's known for wearing T's that are on the expensive side.
There's no need to waste a wad of cash like that.
Instead, opt for something reasonably priced. After all, it's just a white cotton T-shirt. Ralph Loren's Polo brand is a good example of what I'm talking about (see Amazon).
Flannel
Depending on the season, you may also seem him in a traditional flannel shirt. Not hipster flannel but instead, the classic type. There are many options to choose from. Here is something to consider at Amazon.
Jeans
Moving on to his pants, Beckham generally gravitates towards slim cut jeans. I'm not saying he always does this but in looking at his pictures, it seems he prefers this style.
You can buy these at most department stores or online. Sure, he may wear designer denim but you don't have to empty the piggy bank to achieve this look.
Calvin Klein sells this style in a variety of colors. Your best bet is to opt for something dark. Be sure to shop around a bit.
[amazon box="B0018OLTAC"]
Belt
Sometimes, the man wears a belt. Not always but a lot of the times he does. In many instances, we're talking about something in brown leather.
Here again, you have lots of choices. Here's a two-stitch belt available at Amazon that gives you an idea of what I'm talking about.
Shoes
You may already know this but Beckham has his own signature footwear. Specifically, we're talking the Adidas Accelerator. There are variations of this shoe and they come in assorted sizes and colors. You can check out an example on Amazon.
The price point for these can be out of reach for a lot of guys. Personally, you could probably do just as well by picking up a pair of Puma Carson sneakers. Here is a somewhat extensive review for you to reflect on.
Hat
Sometimes, you will see Beckham in a hat. During cold weather months, he's usually sporting a standard skull cap or beanie. Again, lots of choices available online and at department stores.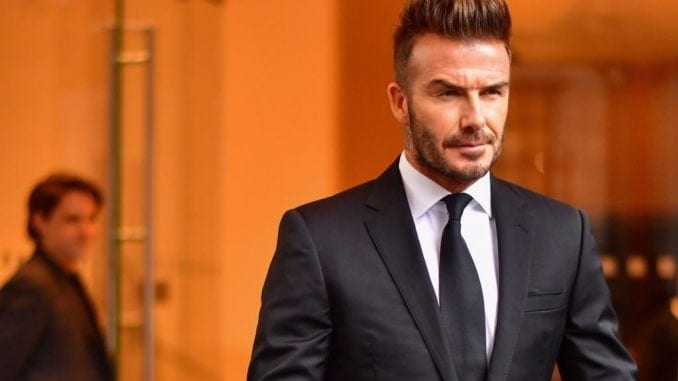 David Beckham Suits and Formalwear
In most all photo of the model/athlete, you will see the man dressed in a slim-fit suit.
Obviously, the guy can afford to spend big bucks on designer labels. If you can do this, more power to you. But if you can't or you just don't want to blow a bunch of dough, there are other options.
Kenneth Cole has a slim fit suit that is very similar to what Beckham wears. Head on over to Amazon to check their price. Whatever you decide to buy, make sure you get a good tailor to make adjustments according to your body type.
[amazon box="B074PDGJCX"]
Tie
David Beckham has worn more neckwear than you can shake a stick at. Sometimes they are solid colored and sometimes he'll wear a pattern. Much depends on the occasion.
He's even worn bowties.
If you want to adopt his basic look, your best bet is to go with something basic, like a solid blue tie against a white, button- down shirt. Make sense?
Dress Shoes
I am not going to spend a lot of time talking about the various dress shoes he wears. That said, he's a man that prefers classic attire. Think wingtips and laced shoes – sometimes black and other times brown.
Here are some footwear ideas on this paged dedicated to the topic: how men can look more handsome.
The important point I want to stress here is that he's not a flashy guy. Think down to earth and chill when making your choices.
Watch
There are stories online about the expensive nature of David Beckham's watches. The same holds true for other celebs like Nick Jonas.
Here's the hard truth. Unless you have thousands of dollars to blow on a Rolex, you are better off picking up a standard timepiece.
Beckham often wears gold and silver wristwear. For some ideas that won't make you go broke, see this extensive post on gold watches for more insight.
Cologne
Yep – David Beckham also has his own fragrance line. There are several different types to choose from. Instinct for men is one of the more popular ones (See Amazon).
That said, some people think his colognes are a bit too sweet and want something woody. Check out this top men's colognes list to get some ideas. Hint: Million Pure – Paco Rabanne is an awesome choice.
Wrap Up
If you are hoping to achieve the David Beckham look, this style guide hopefully gave you some good ideas. Let's face it, much of the marketing around this sports star turned model is focused on masculinity.
By going with the basics, you will likely achieve this style without much effort.