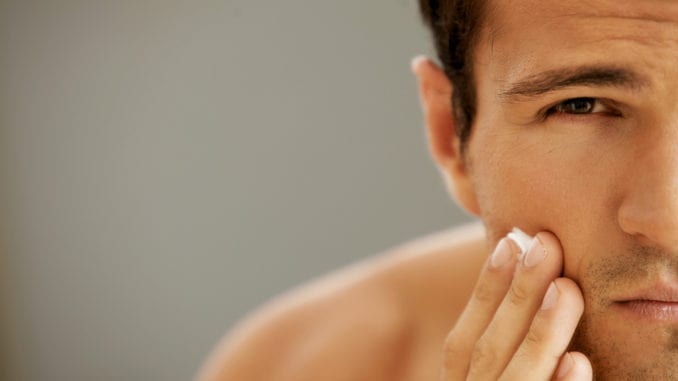 Review of MenScience Advanced Face Lotion
MenScience – they are a huge player in the men's personal care market. One of the company's top-selling products is their advanced face lotion, billed as "ultralight" and oil free.
But does the cream live up to its claims? Moreover, is MenScience Advanced Face Lotion worth the money? In this post, I'll share my impressions and thoughts.
But first a little background.
Switching to MenScience
Six months ago, I switched from my normal face lotion (CeraVe) to MenScience. You may be wondering why? It's simple. From time to time, I like to change things up with grooming products.
If you are a man who invests in self-care items, you probably know it's easy to get stuck in a rut. Over the course of time, this can mean you miss out on new products that could benefit your complexion.
Make sense?
In addition to wanting change, I also decided to switch because several friends of mine had been using this product and sang its praises. There's nothing like the power of recommendations, right?
Now to keep it real, I need to disclose to you that I've used this product before. That said, it was only for a short period of time (like a few days).
In order to write up a meaningful review, I figured it was best to make this face lotion part of my regular skincare routine for at least three months. As it turns out, I've now used it for six.
My Skin Type – Oily
This review won't do you any good unless you know my skin type. Long story short, I fall on the oily side of things. I wish that I didn't but I do.
This means that when I choose a face lotion, I'm very careful not to buy anything that leaves a shine or clogs skin. I take the same approach with scrubs. See this post on best men's exfoliators to learn more.
OK, now that I've gotten all of that out of the way, let's get into the nuts and bolts of my review. I'll start out with what I like and then move on to what I don't.
MenScience Face Lotion Pros
If truth be told, there were many more advantages to using this product than disadvantageous. To simplify, I've used bullet points below:
Cream is lightweight
A little bit goes a long way
Scent free
Softens lines over time
No oily residue
Leaves no shine
Seems to have renewing qualities
Contains vitamins A, C, and E
Infused with antioxidants and green tea
MenScience Face Lotion Cons
As mentioned above, the pros for this guy outnumbered the cons. That said, this doesn't mean the lotion is perfect. See points below.
Small amount in bottle (3.4 fluid ounces per)
Takes time to absorb (not fast acting)
Price point is more expensive than many brands
Not easily purchased at stores
General Impressions
So, you are probably wondering the verdict? Does MenScience Androceuticals Advanced Face Lotion live up to the hype? Is it worth the money?
All I can tell you is that since using this product, I've been very pleased. At a national retail price of $39.00, I am the first to admit this lotion is (somewhat) expensive.
In my case, I bought it online via Amazon and took advantage of free shipping with my Prime account. Two days after placing my order, it arrived at my home in a small box.
Generally speaking, I've applied the lotion to my face twice a day. Once in the morning after showering and then again at night before bed (obviously, I rinse my mug first).
In the six months I've been using, I've noticed a gradual improvement in the elasticity of my skin. There's no other way to say it except to just blurt it out – the cream helps with suppleness.
Perhaps it has something to do with the vitamin infusions? Maybe it's because of the antioxidants? I honestly don't know. In the final analysis, I guess all that really matters is if it works.
The other thing that I dig about this cream is that it doesn't irritate my face. That's kind of a big deal because many lotions marketed to men contain harsh chemicals that can inflame and redden.
So, ultimately, I really think this is an amazing men's skincare product. Yes, it costs more than other creams but if you are looking for something that goes on light, moisturizes well and doesn't leave a shine, this could be a good fit.
I recognize there are other reviews online that suggest the lotion costs way too much and isn't worth the money. While I respect the opinions of others, I can only share my personal experiences.
Well, there you have it. My review of MenScience Androceuticals Advanced Face Lotion. Have you used this product? If so, what were your impressions?
Leave your comments below in the comments area.