Zac Efron Style from head to toe

Trying to copy the style of Zac Efron? Hoping to replicate his look in your own life? Do you like his hairstyle and clothes? If the answer is yes, you've come to the right place.
I'm a huge fan of Zac Efron and have followed him ever since he was in the hit television movie, High School Musical (2006). If you've watched him over the years, there's a good chance you've noticed he's gone through several transformations.
Specifically, he went from being kind of a clean-cut guy to a bodybuilder. If you saw him in the movie Baywatch (2017), you know exactly what I mean.
In public, we see Efron wearing different types of clothing, often sporting a hipster style. But upon closer inspection, we can see this chill actor is a lot more basic with his wardrobe than some might think.
In this post, I'm going to walk you through the essentials of Zac Efron's style. To help you acclimate, I'll give you some basic demographic information to help create a mental picture.
Afterward, I'll offer you a head to toe analysis of his entire look, including his hair, clothing and footwear choices. I've even thrown in some grooming tips that you can use in your own life.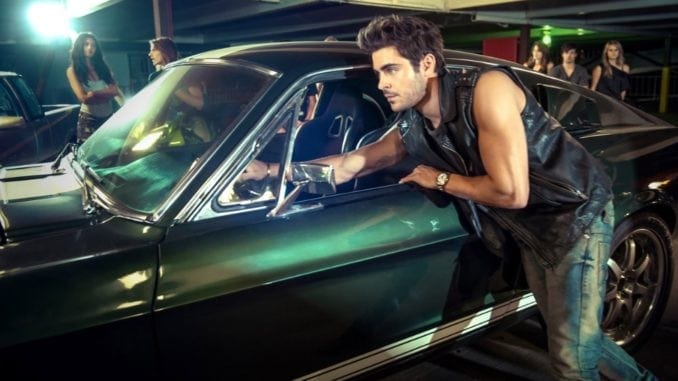 Guy File: Zac Efron
Birthday: October 18, 1987, San Luis Obispo, California
Height: 5'8
Eye Color: Deep sea blue
Body Type: Athletic Endomorph
https://www.instagram.com/p/BUK-S3dh1UJ/?hl=en&taken-by=zacefron
Body and Style for Zac Efron
Right off the bat, it's important to recognize that Zac Efron is on the shorter side of height. His official biographies online show him standing at 5'8 but I have a feeling that when he's not wearing boots, he's closer to 5'7.
Knowing this is critical because it means his clothing choices are somewhat limited when you compare his physique to other actors like Chris Evans (Visit this Chris Evans Style Guide to see what I mean).
That said, Efron's athletic build affords him plenty of choices for looking sharp. If you notice, the bulk of his wardrobe includes shirts, jeans, and jackets that snugly fit his frame.
Are you interested in learning more about how he got his body all jacked up? Then check out this YouTube video that offers excellent insight.
https://www.instagram.com/p/BciENg_HbZ2/?hl=en&taken-by=zacefron
Zac Efron Hair
You are going to read all sorts of information on the web about Efron's hair, including how he styles it. What's often missing from the information is this simple fact: Zac Efron's hair is naturally wavy.
You need to know this because if you are trying to style your locks like this actor, it's important to take into account this reality.
So, let's talk about how he styles it. Well, in the general sense, the guy keeps it (mostly) short. Obviously, much depends on the movie he is doing and the role he is playing.
Almost always, his hair has a shine to it. While I can't be sure, I'm guessing he uses some type of product like the Aria Star Oil Hair Mask to smooth out his locks and capture moisture (see Amazon).
To give his hair the height and thickness you often see, I'm thinking he uses some type of conditioner that brings fullness to his scalp.
You can read more about thickening products for hair in this post on David Beckham's style.
https://www.instagram.com/p/BO427Aoj4NX/?hl=en&taken-by=zacefron
Efron Hair Style Specifics
To achieve the short hairstyle that you see in many of his pictures, I betcha he instructs his barber or stylist to do the following:
Use a set of clippers, set to the "number 1" setting around the lower perimeter of his head (nape, ear area).
Halfway up, I bet the barber switches to 1.5 or 2 settings.
At the top, the stylist is likely using a full on 3 setting.
Because Efron's hair is wavy, I am thinking the barber does a "crop cut" but makes sure that everything is boxed. This gives him the symmetrical look that compliments his face. It also helps to bring out his bright blue eyes.
It's worth noting here that occasionally, Efron will sport facial hair. Almost always, it's a short-beard style that is designed to frame his mug.
Read this page on short beard styles to learn more.
https://www.instagram.com/p/BUuXZVvHS4R/?hl=en&taken-by=zacefron
Efron's Face
To begin with, it's important to recognize that Zac Efron has a youthful appearance. Part of this is a function of age but not entirely.
Specifically, I'm talking about the actor having oily skin. This is not a bad thing. In fact, when properly managed, oily skin can help a person to look much younger than their true age.
That said, many of his photos show him with a bit of a shine. In order to deal with this problem, I strongly suspect that he uses a men's face exfoliating scrub.
By removing the excess moisture from his face, he does a lot to prevent acne, diminish shine, and promote a glowing look. If I had to guess, he likely exfoliates 2-3 times a week.
So, what else does he use on his face? I don't know this for a fact, but I can't imagine he doesn't use some type of daily cleanser, capped off with a moisturizing cream.
In looking at the tone of his face and it's youthful appearance, it's very possible he uses nutritional supplements, like a vitamin and fish oil combo, to promote collagen growth.
Given that he works outdoors a lot during filming scenes, he probably uses something with SPF in it to protect his skin from sun damage.
Let's be real. When you are a big time celeb like Efron, your face is a major trademark. This is why I believe he engages in a daily men's skincare routine with an eye towards simplicity.
https://www.instagram.com/p/BGDBb7fm846/?hl=en&taken-by=zacefron
Efron's Clothing – Casual
The easiest way to think of Zac Efron's clothing choices is basic. Yes, he can get all hipster but when you peel back the onion, what you are really looking at are simple choices with solid colors.
Here's the thing. When you are short, you want to go with the primaries (blues, whites, reds) that are devoid of horizontal stripes. Yep, that's right – certain patterns can actually make you look heavy, even though you aren't.
In Efron's case, he likes to wear clothes that are darker in tone that vibe out masculine. Specifically, I'm talking about things like cotton t-shirts, flannels, and jeans.
In many ways, he mirrors the lumbersexual look of rugged type guys.
To recap, here's what you will often see him in:
T-shirts (sometimes with a V-Neck)
Plaid shirts
Blue jeans that lean towards skinny
Denim jackets (aka jean jackets)
Construction boots or solid color sneakers
Board shorts or khaki shorts
https://www.instagram.com/p/Bce9j8rnPbZ/?hl=en&taken-by=zacefron
Zac Efron Formal
It's not often you see Efron is formal attire. Given his laid- back, California persona, it's just not his style. But when he does have to get all snazzy for an award show or charity event, he usually chooses:
Dark, custom fit suits
Traditional wingtip dress shoes
Usually no belt
A dark tie (blue, grey or black)
White or blue dress shirt
Given we are talking formal, people wonder what kind of watch he wears. The honest answer to that question is: It depends. Just looking at his pictures over the years, it seems like this actor gravitates towards gold watches.
This makes sense because getting all blinged out just isn't the man's style. Maybe something like a reasonably priced Bulova men's gold watch?
Colognes
We already know that Efron likes to wear certain men's fragrances. Based on a 2017 interview appearing on Refinery 29, he is all about Hugo Boss.
In simple speak, this men's fragrance vibes out a woody, citrus scent. You can read more about the best colognes for men, including Hugo Boss, in the hyperlinked post.
https://www.instagram.com/p/BgSZ_UGH74k/?hl=en&taken-by=zacefron
Classic Hipster/Surfer look
To sum it all up, Zac Efron has a basic but eye-catching style. If I had to describe it, his wardrobe is a cross between hipster and surfer dude.
A big reason for this is because of his physique. It's that simple. Obviously, the guy takes care of himself and it shows.
In this way, he applies many of the concepts handsome men do in order to achieve and maintain his look. This is a big deal for Efron because, in his life, he's worked through several hurdles, including addiction.
I hope you found this style guide to be useful in getting your Zac on. Thanks for stopping by!
Related Posts:
Thor's beard (Chris Hemsworth) style guide