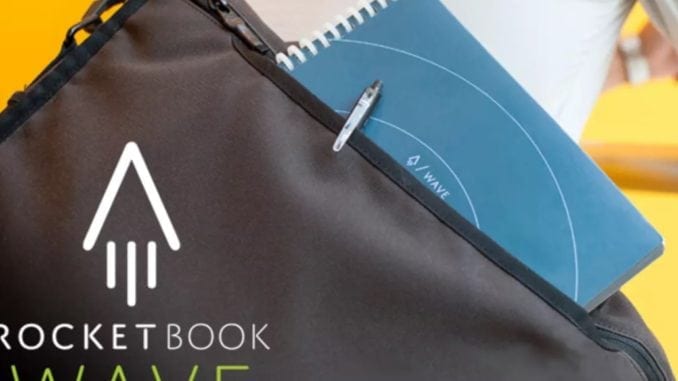 Review of the Rocketbook Wave Smart Notebook
This notebook from Rocketbook doesn't look much like a tech. gadget. It could easily be mistaken for a regular spiralbound notebook that you can get at any stationary store – except that it's not.
Instead, the Rocketbook Wave is actually a remarkable device that allows you to scribble, write and draw anything you like.
Then, you can scan the pages with your smart phone or internet-enabled device to upload those pages to the web in seconds. Then, you can pop the entire notebook in your microwave (if you can believe it) and wipe all the pages clean to be reused up to five times.
Backstory
I got a parking ticket a few months back as I ran inside a convenience store to get some milk. When I got back outside, there was a parking attendant there (who magically appeared) and he was handwriting me a ticket.
I noticed that he was using an actual notebook and ink pen. Instead of freaking out about the costly ticket, I was transfixed by seeing someone handwriting a document these days. I couldn't remember the last time I put pen to paper. In this tablet and smart phone age, it's quite a rarity.
Then, I thought back to all the journaling I did in college and how it helped me to coalesce my creative ideas, deal with past breakups and keep track of minor tasks like remembering to buy milk.
That's when I ran across the Rocketbook Wave Smart Notebook. I found it online from the manufacturer and after watching a quick demo, I was keenly interested in picking up one of these devices.
The Specs
The Rocketbook Wave comes in two sizes – standard (24.6 cm x 24.1 cm) and executive (15.2 cm x 22.6 cm). Both sizes have an attractive blue hard cover with a circular design on the front and back.
There are 80 acid-free pages in the notebook with grid-lines on the paper. The paper itself can be written on with regular pens and pencils but only the FriXion pen is erasable with a quick blast in the microwave.
One Pilot FriXion pen is included in the package. The notebook is bound with polypropylene which makes it durable and easy to flip through.
How Does it Work?
Now, you can find the Rocketbook app in the Google Play Store or the Apple Store for iOS devices. There's no cost to download the app and it weighs in at just 48.75 MB. When you log in for the first time you'll be prompted to create a profile and then you can start using the Rocketbook functions.
There are seven symbols on the bottom of each page inside the Wave notebook such as a diamond or a star.
This is part of the Rocketbook Seven Symbol System. Using the app and this system, you can tell Rocketbook where to send your pages after they are digitized. Tap "Destinations" followed by any symbol and you'll be directed to the "Change Destinations" menu.
For example, you can configure the app to send all diamond-marked pages directly to your email or upload all square-marked pages to Google Drive. The Rocketbook Wave works with Evernote, Slack, Google Drive, iCloud, Dropbox, Box, OneNote, or e-mail.
You might find yourself spending the better part of an hour just trying to decide which symbol is right for each Cloud destination. It can be a bit distracting at first, especially if you just want to start writing.
Luckily, the files you create won't get lost easily because you can get rather specific as to which folders and sub-destinations you want to have access to your Rocketbook pages. You can choose between sending files in a bundle, sending them as PDF, or auto-sending without any further confirmation.
So, now that you've set up your Rocketbook app and you've written your daily to-do list on a Rocketbook Wave page. Just point your camera at the page in a well-lit environment and it will automatically get picked up.
You don't even have to press the shutter button as if you were taking a photo. Four little guide dots on the corners of the page will help you align the image and the entire screen will flash green when you've got it right.
The Benefits of Journaling
Presidents, famous inventors and businessmen have kept journals. In fact, journaling goes way back to at least the 10th century in Japan. It's a way of having an informal conversation with yourself. It's also good for your mental, emotional and physical well-being.
A study conducted in 2013 found that 76% of adults who spent at least 20 minutes a day journaling for three days in a row before a scheduled medical biopsy were fully healed 11 days later.
"We think writing about distressing events helped participants make sense of the events and reduce distress," says Elizabeth Broadbent, professor of medicine at the University of Auckland in New Zealand and co-author of the study, published in Psychosomatic Medicine.
Some people even keep dream journals to better understand what may be going on subconsciously. For example, jotting down thoughts after dreaming about rats.
Dr James Pennebaker, author of Opening Up by Writing It Down, found that journaling lowers depression, anxiety, and strengthens immune cells called T-lymphocytes.
The Takeaway
The Rocketbook Wave Smart Notebook comes in two different sizes and looks just like a regular paper notebook. The technology that enables you to upload your pages is easy to access by downloading the Rocketbook app and it can even clean up some of your images through the app's own editor.
Using it can help you reduce stress and stay organized. The Wave is also a benefit to the environment because you're not using the paper and discarding it after a single use.
Unfortunately, it can only be safely erased and reused five times. That means you should fill up the 80 pages completely before attempting to erase the Rocketbook Wave in your microwave oven. Also, it's only compatible with the FriXion pen that it comes with, so you better not lose that pen.
This device in its standard size sells for around $38 USD.  Sure, picking up a pen and pad from the stationary store is less expensive, but when you factor in the fact that you can upload and save everything you write so easily, this device may be well worth the cost.
All I can tell you is that I've been happy with this product.
Do you own a Rocketbook Wave Smart Notebook? If so, what's been your experience? Share your comments below.