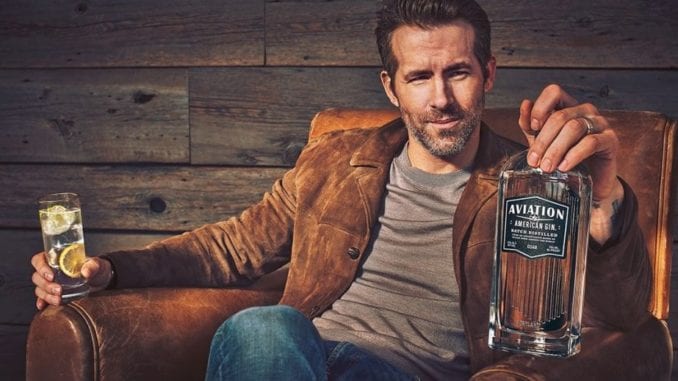 STYLE LIKE RYAN REYNOLDS
Hoping to copy the style of Ryan Reynolds? Trying to replicate his look? Do you dig his hairstyle and clothes? If the answer is yes, you've come to the right place.
I'm a big Ryan Reynolds fan and have followed him ever since 1993 when he was in the film, Ordinary Magic. If you have watched him over the years, you've probably noticed he hasn't changed much.
Sure, he's gotten greyer on top, but when you step back and look at the big picture, the man has managed to skip past most of the visible signs of aging.
Don't believe me? I encourage you to compare what he looked like in the 2007 film, The Nines to more recent work, such as his superhero role in the 2016 flick, Deadpool.
On camera, we see the actor wearing different kinds of clothing, which can range from very formal – like a suite – to super casual.
But is what we see on film and what he wears in real life in sync? The answer to that question is a qualified yes. The truth is Ryan Reynolds is a lot more basic than you might think. In fact, the Canadian born actor vibes out rugged.
I'm going to walk you through Ryan Reynolds style and give you some background information in the process.
Afterward, we'll move from head to toe so that you have a good idea of how he dresses. As part of this style guide, I've included product tips that you might consider in your own life.
Let's jump right in!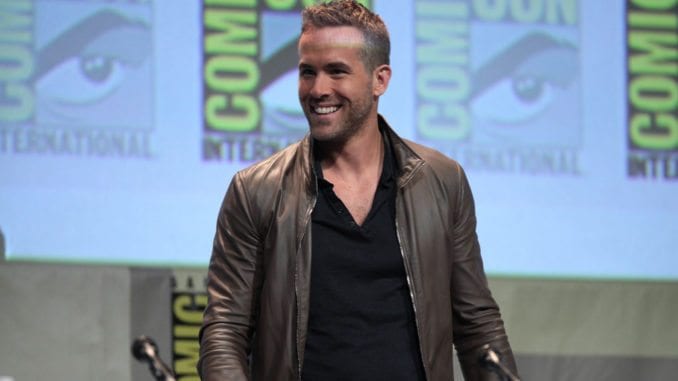 GUY FILE: RYAN REYNOLDS
Birthday: October 23, 1976, Vancouver, BC
Height: 6'2
Zodiac Sign: Scorpio Male
Eye Color: Brown
Spouse: Blake Lively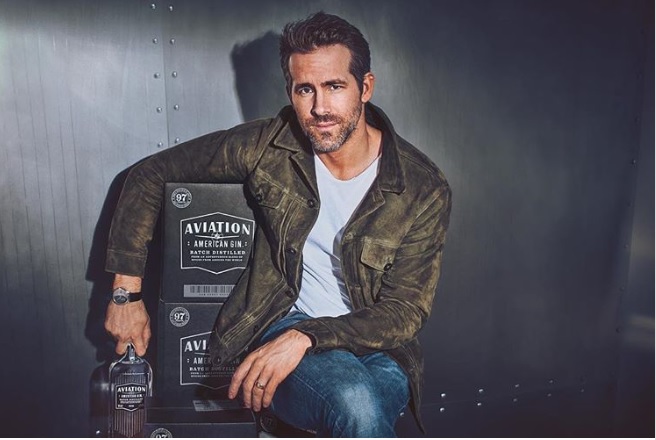 RYAN REYNOLDS BODY SNAPSHOT
Right out of the gate, we've got to acknowledge that Reynolds doesn't have your average build. To play the part of a superhero and a variety of other roles, he's had to regularly train his body.
There's plenty of articles online about his routine, including his cardio workout. But you aren't here to learn about his gym routine, right? Instead, you want to know about the man's style.
Here's what you need to know: Reynolds's physique largely influences his clothing choices; items that uniquely compliment his frame.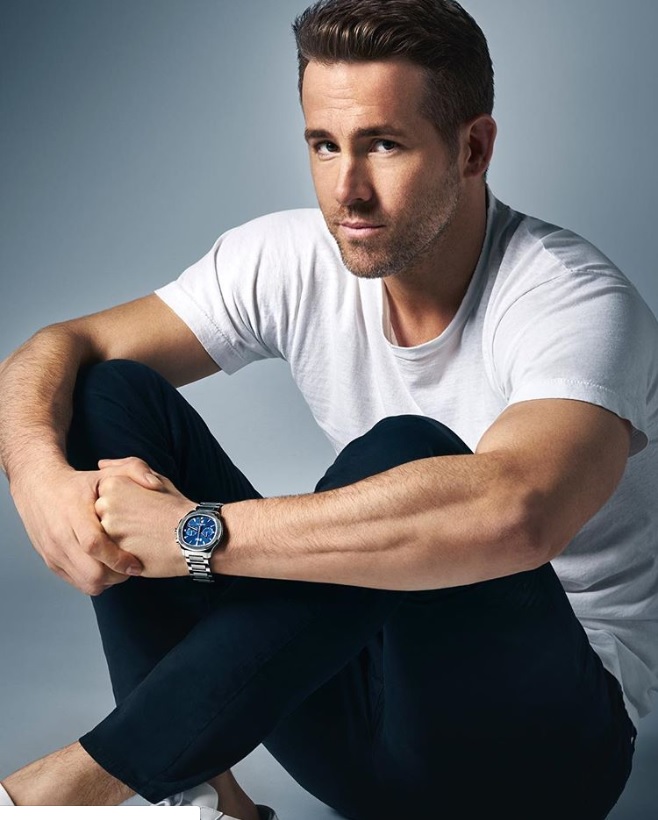 BASIC LOOK WITH SOLID COLORS
When you examine the actor's wardrobe, you'll quickly notice the guy prefers a more down to earth style. In this way, he is similar to actor Chris Evans.
In looking at Ryan's color choices, it appears he gravitates towards solid colors – mostly on the darker side of the house. Here, we are talking about dark blues, browns, and occasional reds.
Generally speaking, the actor likes wearing loose fitting clothes. This isn't to say he doesn't sometimes go with tight shirts and jeans; he most certainly does. But when you look at the totality of his wardrobe, it seems like he's not fond of clingy attire.
His approach to style is similar to many athletic guys who don't want to be trapped in fabric. And here is the truth – it's important to let your skin breath. That's the advantage to wearing "not too tight" clothing.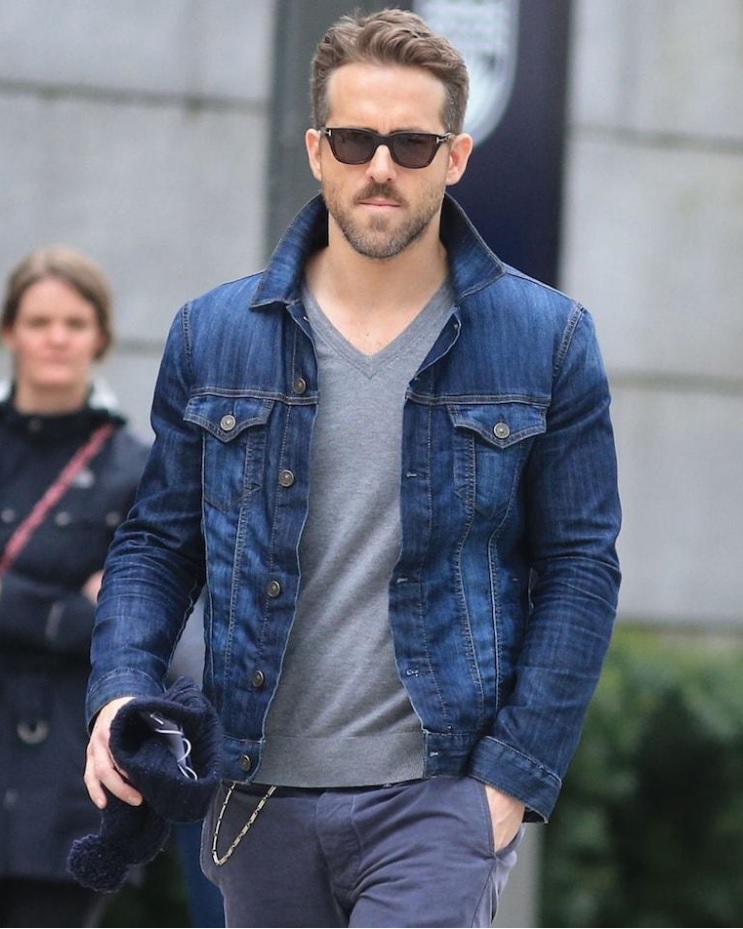 RUGGED STYLE
One of the first things you will notice when assessing photos of Ryan Reynolds (off camera) is that he prefers a rugged style. So, what are we talking about:
It's simple:
Short facial hair, similar to what we see in the beard style of Chris Hemsworth (aka Thor)
Basic t-shirts that are blue, white, or maroon
Flannels during cold weather
Blue jeans and sometimes cargo pants
Work boots or gym shoes
Grey sweats for working out
On the blue jeans front, it looks like Ryan prefers denim that's not skin-tight. In other words, something like Levi's brand 527 Slim Bootcut Jean (see Amazon).
The t-shirts he wears tend to be simple; meaning little advertising on front and athletic fitting. The fabric? Likely cotton. You can find these at most all department stores, such as Target. Amazon also carries several reasonably priced brands.
RYAN REYNOLDS HAIR
A lot of people are interested in Ryan Reynolds hair. This makes sense because it looks like as the man has aged, his hairline hasn't receded (well, not much).
Earlier, I mentioned that he greyed a bit. This is only natural. After all, the guy is in his forties. But how does the actor style it?
Well, it looks like he keeps things simple. Here are some observations:
Shorter in the back and longer going towards the front
Brushed to the side
Sometimes he'll get a buzz cut (mostly on sides)
You may be wondering if he dyes his hair? Honestly, this is difficult to know but if I had to guess, I am thinking he uses some type of glazing gel to help bring out his natural color.
There are lots of products on the market. Because Ryan's hair is light brownish, I suspect he may reach for something like John Frieda's Luminous glaze for brunettes. Difficult to find in department stores but Amazon does carry.
And since we are talking about hair, what about his beard. Does he do anything special? An honest assessment of his recent pictures suggests the answer is – no.
Well, he certainly trims and shapes it. But I've not seen any evidence that the guy uses a coloring product. If that is something you are interested in, you can check out our review of Just for Men Beard Coloring.
FACIAL CARE PRODUCTS
I have a sneaking suspicion Ryan is very mindful of his face. The man would have to be when you think about it – he's a major Hollywood celebrity.
Chances are he engages in a simple but basic ritual. Here, I am talking about scrubs, masks, and moisturizers. If you are looking for some ideas, see our men's skincare routine guide.
FORMAL LOOK
There are times when Ryan Reynolds needs to dress up. Examples include Hollywood gatherings, award ceremonies, or charity events.
So, the question is what does he like? Obviously, I can't say for sure but when I go through various pictures, it appears the man prefers:
Dark colored suits like navy blue
Grey suits, depending on the season
Brown tones, which lend to his masculine vibe
Black dress shoes and sometimes brown
In many ways, the actor pulls from a classic wardrobe to get his handsome on. Not too flashy and absolutely no bling.
RUGGED AND MANLY
In closing, it's safe to say that Ryan vibes out a rugged and traditional look when making clothing choices. He's not one for the spotlight and his clothing reflects this.
And when you think about him – doesn't this ring true? When is the last time you heard Ryan Reynolds grabbing for attention? It's just not who he is.