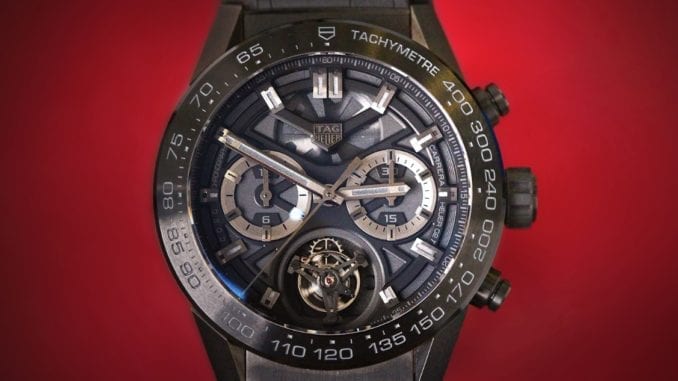 New watch is unique in design
Occasionally, we like to write about men's watches because we know some of our readers dig reading about style and fashion. That's why when we heard about a new watch by Tag Heuer, we had to check it out.
Billed as one of the company's "most affordable" tourbillon chronograph on the market, the Tag Heuer Carrera Heuer-02T will only set you back between $15,000-$23,000 (depending on type).
You may be wondering what makes this particular watch so special? Well, here is a quick rundown that highlights this timepiece's unique features.
45 mm case, made from a combo of grade-5 titanium, stainless steel, and good old fashioned rubber.
Semi-skeletonized dials that highlight the minute and hour counters at 3 and 9 o'clock.
A flying tourbillon at 6 o'clock
Has an advanced CH-80 Chronograph, beating at 28,000 vph
Apparently, there will be two variations of this Carrera. One is a non-limited model with a price point of $15,900.00. The other is the "Black Phantom" (just 250 editions) at a cost of $23,100.
The watch is water resistant at 100 meters/328 feet, if that makes any difference to you.
Now I am the first to admit that the watch (both versions of it) carries a hefty price tag. That said, in looking at this Swiss made timepiece, it's hard not to admire its physical appearance.
The hexagonal nanoscopic structure just kind of grabs you. Apart from this, Tag Heuer watches do make a fashion statement.
I'm not sure I would wear it to the gym or casual events because scratching this bad boy might cost a pretty penny in repairs.
But would I consider wearing something like this for a job interview or some type of semi-formal event, like a memorial or funeral? Sure, why not.
So, what do you think? Would you spend nearly $16,000 for the watch? How about $23,000 for the Black Phantom? Do you own a Tag Heuer? If so, how do you like your timepiece?