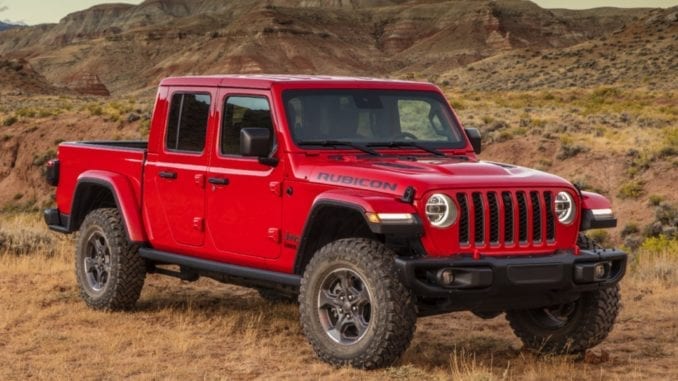 Jeep Gladiator 2020 Review
The 2020 Jeep Gladiator is a mid-sized pick-up truck that has best-in-class towing and payload. It's also the only truck where you can take off all four doors.
The Gladiator isn't just a Wrangler with a truck bed. It's the real deal and then some.
Introduction to the Gladiator
On November 29th, 2018, Jeep debuted its all-new pickup truck – the Jeep Gladiator at the Los Angeles Auto Show. It's slated for commercial release late in 2019.
At first glance, the Gladiator looks a bit like the Mercedes-Benz G Wagon. Both have that rugged, polished metal exterior look, boxy frame, exposed door hinges and legitimate claims to the off-road crown. That's about where the similarities end though.
Check Out: What's New in the The Mercedes-Benz G Class SUV
Gladiator isn't a new name. It was first used back in the mid-60s. The new 2020 Jeep Gladiator will be available in four different model trims.
There's the base model Sport, the Sport S, the Overland and Rubicon. The base model comes handsomely equipped with a durable steel truck bed, 7-inch touchscreen display, and a towing capacity of up to 7,650 pounds.
The Sport S comes with 17-inch wheels, Apple CarPlay and Android Auto connectivity, as well as a weatherproof 115-volt power outlet in the bed of the truck. The Overland trim upgrades the Gladiator with leather seating, an 8.4-inch touchscreen display and advanced safety features.
It has adaptive cruise control and forward collision warnings. The Rubicon model is an off-roader's dream come true.
It comes with a front-facing trail camera, 33-inch all-terrain tires, and an electronically-disconnecting front sway bar.
Exterior Style of the Jeep Gladiator
The Gladiator is available in 10 different color palettes. You can find a Gladiator in exterior paint choices with names like Gator, Firecracker Red, and Hydro Blue.
One of the standout exterior colors is called Punk'n. It's an orange metallic paint with clear coat finish that is sure to turn heads on the trail.
The 2020 Jeep Gladiator has a distinctive feature that won't be found on any other mid-sized truck. You can choose between a hardtop or a soft top, both of which can be retracted for an open-air drive. That's not all.
You can fold the front windshield forward and remove all four of the doors for a riding experience that only a Jeep could provide.
The 5-foot, steel truck bed can be accessed through a three-position tail gate and can be completely covered with an available roll-up top.
It has never-before-seen low side sills so you can easily reach in and out. The front end of the Gladiator is all Wrangler though. It has the same signature round head lamps and seven-slatted grille of its smaller cousin. There's also a striking resemblance from the profile view.
Performance Capabilities of the Gladiator
The 2020 Jeep Gladiator has a 3.6 Liter, Pentastar V6 engine under the hood. It's capable of achieving 285 horsepower and 260 lb. ft. of torque.
That powertrain is the same one that's in the base model Rubicon and it's managed by a six-speed manual transmission. An eight-speed automatic transmission is available on the Gladiator and so is a 3.0 Liter, turbo-charged EcoDiesel V6 engine. You'll lose significant horsepower with this set-up, but the torque rating lifts to a whopping 442 lb. ft.
You can't talk about a Jeep without mentioning its off-road capabilities. The 2020 Gladiator will have two 4×4 systems to choose from. Most will come with a Command Trac system that has a two-speed transfer case.
Every Gladiator will come with heavy duty front and rear axles, a class 4 hitch in the back and a winch up front.  The Rubicon model is decked out with the best equipment.
It has electronically-locking differentials for both axles and trail-crafted shocks. The electronically-disconnecting sway bars help with off-road control, but the Gladiator is too big for sport climbing.
It's gonna be great at hauling cargo, but the Gladiator's frame style, length and width won't make it much of a rock-crawler.
The Jeep Gladiator's Interior Features
The interior layout is uncluttered and comfortable. You've got rounded aircon vents and gauges, polished details, and a function-first design strategy at play here.
The leather, 3-spoke steering wheel has controls for audio and Bluetooth. The center stack has plenty of storage space for small items.
The Overland model looks divine in black leather, but the Rubicon can be outfitted with brown leather or a black leather interior with red accents and stitching throughout.
The back seat looks comfortable enough but might seem a bit cramped when compared to other mid-sized trucks.
Luckily, the back seats fold up for added storage space underneath and fold down to access the storage space in the rear.
The 2020 Jeep Gladiator has a Bluetooth-enabled speaker system. That's not so remarkable, but no other vehicle has ever had a removable Bluetooth speaker.
Final Analysis of the 2020 Jeep Gladiator
Best-in-class seems to be the overall strategy behind the 2020 Jeep Gladiator. It's got the best towing and payload of any mid-sized truck and the largest touchscreen display. The Gladiator is 218 inches long and has a wide truck bed.
It's not going to be the ideal choice for bouldering, but it will be more than capable of hauling and towing massive loads to the campsite.
The Gladiator has beefy, masculine style elements. Its design is daring, and Jeep Gladiator owners will be rewarded by having a truly unique vehicle in their garage.
Do you own a Jeep vehicle? If so, share your experiences below in the comments section.