The Guy Counseling editorial team regularly researches & reviews the top gear, products and staples for life. Guy Counseling may receive a portion of revenue if you click a link in this article and buy a product or service. Guy Counseling is an Amazon Associate.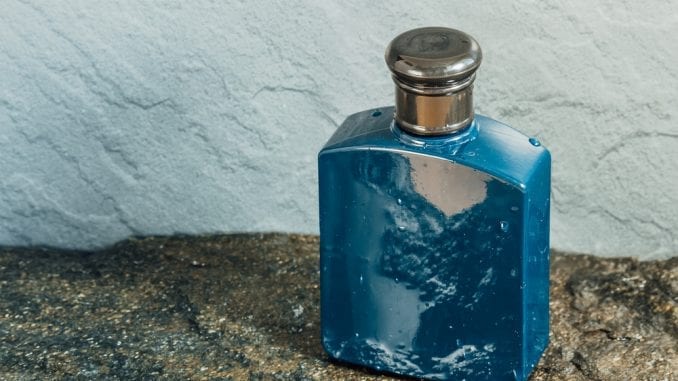 Best Smelling Aftershaves Revealed
The Best Men's Aftershave Fragrances. Are you searching for the best smelling aftershave for men? Are the sheer volume of choices making your head spin? Well, we wanted to take some of the guesswork out of selecting the right aftershave.
You see, the scent of an aftershave can either compliment your body's natural aroma or totally distort whatever fragrance combination you were going for.  The truth is – most men don't know how to choose the best smelling aftershave.
Do we splash it on heavy or dab it on lightly like perfume? Do we choose a splash, or a lotion, or a balm? Does it need to smell fruity and fresh or more masculine and traditional?
Selecting the right aftershave can be more difficult than you think. You might find a product that is perfectly designed for your skin type and has natural ingredients, but the scent is all wrong for your body. It could also be the other way around – the fragrance is top-notch but it only comes in an oily lotion.
Luckily, you have this guide to help you make a smart decision on which aftershave is best for you. We'll break it down for you and after reading this guide you'll have all the tools you need to make the right choice.
What You'll Find in this Guide
Why Should You Use an Aftershave
Aftershave or Cologne?
How to Choose the Right Aftershave
Amazon's Top Aftershaves for Men
Best Smelling Budget Aftershave Choices
Best Smelling Aftershave Choices for Young Guys
Best Smelling Aftershaves for Traditional, Masculine Men

Why Should You Use an Aftershave?
Notice: The Guy Counseling editorial team regularly researches & reviews the top gear, products and staples for life. Men's Variety may receive a portion of revenue if you click a link in this article and buy a product or service. The links are independently placed by our writers and do not influence editorial content. We are affiliated with Amazon Associates. 
It's important to note that the main purpose for using an aftershave is not to smell good. You should use an aftershave under a very specific circumstance – mainly, after shaving. Your aftershave is applied after shaving for two reasons:
Firstly, to clean and close your pores so that you experience less irritation and ingrown hairs. Secondly, aftershave is used to cool and moisturize your skin. Choosing the best smelling aftershave is an added benefit, but sometimes guys place scent as the number one factor for choosing an aftershave.
It's not our fault; that's how aftershaves are marketed to us. Retailers don't have much confidence in our ability to discern whether or not an aftershave contains the right blend of astringents and moisturizers. So, they try to just sell us on a few taglines about how masculine it is or how fresh it smells.
Ultimately, you should choose one that fits within your budget, caters to your skin type, and has a scent palette that fits your personality.
What is men's aftershave – see post to learn more
Aftershave or Cologne?
It's important to mention that aftershave and cologne are not the same thing. They don't serve the same purpose. An aftershave serves a utilitarian purpose in the skincare bracket. Colognes exist within a wider range of perfumes. Their sole purpose is fragrance.
You should never use a perfume or cologne in place of an aftershave. An alcohol-based cologne or spray can rob your skin of moisture. Also, placing cologne on your face isn't the best region to apply cologne. Stick with your pulse points – behind the ears, your neck, and wrists.
Aftershave can however replace your cologne in certain circumstances. We'll get into that in more detail later. Aftershaves have different intensities of fragrance. If you only want a scent to last for a couple of hours, then an aftershave might be all you need.
How to Choose the Right Aftershave?
Well, you've decided to pick up an aftershave. That's great, but now you're scratching your head because there's sprays, lotions, balms, and all sorts of products to choose from. How do you choose the right aftershave, by opening the cap and smelling them?
Well, that's part of it. The first type of aftershave is a liquid splash. The main purpose of this aftershave is to apply some sort of astringent to your skin. This will help clean out any nicks or cuts from shaving. You might notice that these aftershaves tend to burn a bit. That's because they usually contain alcohol.
Then, there are aftershave balms. Most aftershave balms don't contain alcohol. Where an aftershave spray focused on cleaning your face. An aftershave balm focuses on moisturizing your skin. It can contain essential oils or creams.
Aftershave lotion is a step in-between the splashes and balms. Aftershave lotions might contain some alcohol, but the ingredients are completely up to the designer. You need to pay close attention to an aftershave lotion because it can leave your skin feeling oily.
Some aftershaves have long-lasting scents that can conflict with any other cologne that you wear. It can totally distort your aroma palette if you're not careful. One thing you can do is to pair up your aftershave and your perfume. Sometimes, they come together in a convenient set. This way, your aftershave and cologne are complimentary.
Amazon's Top Aftershaves for Men
On Amazon, the top 3 best-selling products in men's aftershave aren't even specifically for men. They're for women. That's right, women's aftershave is a top seller. That makes sense when you factor in how many women shave their legs and other body parts on a regular basis.
The marketing slant for these products are the prevention of irritation, razor bumps, and ingrown hairs. When you look at the ingredients of these products, they don't contain anything especially fragrant. If you're not particular on how an aftershave smells, then check out these top-rated aftershaves.
This product is aimed at preventing and easing irritation in sensitive areas or for people with sensitive skin. Although it can be used by men and women, it is specifically marketed toward women. So, keep this in mind when it comes to fragrance.
Women tend to rely less on their aftershave for a fragrance. So, this product has a clean, chemical aroma. This product is an alcohol-based splash. So, imagine opening a bottle of rubbing alcohol and taking a whiff. Now, you know how the Tend Skin Women's Aftershave smells.
The second highest-rated aftershave for men is the Evagloss Razor Bumps Solution. Again, here is a splash-type product that is aimed at preventing and soothing irritated skin. It has a roll-on applicator that implies that this product is meant for sensitive areas such as the bikini line and underarm.
This is another alcohol-based product that can dry out your skin. However, there are some interesting ingredients such as cinnamomum camphora, camphor leaf oil, salix alba, and willow bark extract.  The result is a mild, old school barbershop aroma that does not leave you smelling like a hospital bay.
The highest-rated aftershave on Amazon specifically for men is this aftershave balm from NIVEA MEN. It's the ideal choice for men who don't rely on their aftershave balm as their sole source of fragrance. If you use a cologne that has a distinct aroma, then this product won't conflict with your existing aroma palette.
This isn't an expensive aftershave, but it ticks all the right boxes for most men. It's non-alcohol based and contains Vitamin E, chamomile and witch hazel extracts. The aroma is creamy (if that makes any sense), floral and mild.
Best Smelling Budget Aftershaves
You don't have to spend lots of money on expensive aftershaves. The price tag is not an indicator of how good an aftershave smells or how well it protects your skin. In fact, every man should have two to three different aftershaves.
There's an aftershave for important events and then there are aftershaves for everyday usage. You don't need Christian Dior for your Monday morning workday. What you need is an aftershave that carries a mild, fresh scent and some extra perks to protect your skin from irritation and dryness.
L'Oreal Paris Skincare Men Expert Hydra Energetic Aftershave Balm for Men.
One of the great things about this aftershave balm is that you can find it in just about any corner shop pharmacy in the country. It also comes with a sweet price tag, SPF 15 sunscreen, vitamin E and 3.3 fl. oz. of volume. It's a bona fide skincare product, fellas. So, if you're new to men's skincare, this could be the place to start.
Now, let's talk about the fragrance. This aftershave balm has a light, sporty scent. It contains peppermint leaf extract and other fragrances that produce a minty, fresh vibe. It kind of smells like toothpaste. That's not a bad thing when you consider all the other beneficial elements to this product.
Proraso Aftershave Lotion, Refreshing and Toning
After you shave, your skin needs to be disinfected and rehydrated. It's a simple procedure that barber shops have been doing for a hundred years. The Proraso Aftershave Lotion, Refreshing and Toning keeps that tradition alive by putting forth such a quality product at a low price.
This aftershave lotion is made in Italy with almost 100% natural ingredients. It has eucalyptus, witch hazel and menthol. The aroma is fresh, clean and minty. If you're a daily shaver, then you'll never get tired of this refreshing fragrance.
Old Spice Aftershave
This is a brand that is easy to recognize as one of the top choices in men's fragrance. It's truly a classic. The aftershave that Old Spice has available is based on their classic fragrance that was first created back in the 1940s.
The base notes of Old Spice aftershave are spicy. You get this smell of whiskey and leather right away when you rub it into your skin. Then, something interesting happens. A second wave of fragrance splashes onto the scene. There's hints of lemon, orange, and nutmeg, too. This is a nuanced fragrance that can easily become your signature.
See our Old Spice Body Wash product review.
Best Smelling Aftershaves for Young Guys
Lots of young guys stay away from aftershaves because they don't want to smell like an old man. Their concept of an aftershave might be skewed by what's presented on the market. Let's face it – some aftershaves don't have a scent palette that caters to men between the ages of 18 and 30.
For these young guys, there are a few excellent aftershaves that blow away old conventions. These designer fragrances bend gender norms, introduce new ingredient combinations, and often exchange heavy spices for light and fruity notes.
L'eau De Issey
L'eau De Issey is a popular fragrance for young men. It works well in the spring and summer months when you can get out in the sun. L'eau De Issey challenges the idea of what a man's supposed to smell like because it comes off a bit floral.
That's just the beginning. There's so much going on with this aroma. It's really complex and that's why it makes this list of the best smelling aftershaves. There's verbena, tangerine, yuzu zest, coriander, blue water lily and more. It's got such an intense blend of spicy, floral, woodsy, and aquatic notes.
Dior Sauvage Aftershave Balm
Dior perfumer François Demachy really paid attention to the traditions of aftershave aromas but made the Sauvage version a bit more youthful. The cologne is quite popular, especially since Johnny Depp is the face of the brand.
Sauvage lends itself well to an aftershave because it hits you full on with a touch of mint in the base note. You get this peppery, spicy undercurrent that magically transitions to something more citrusy. It's a well-blended fragrance that doesn't have a dominant note.
Hugo Boss Aftershave Balm
This aftershave balm comes in a small 75 mL bottle and lacks many of the essential functions of other aftershaves. There's no added vitamins, antiseptic ingredients, or sunscreen. It just smells incredible. If the scent is all important for you then this is worth the money.
The Boss aftershave balm carries a very masculine fragrance. It's fruity and fresh with hints of apple and citrus. Yet, it's also deep and woodsy with notes of cinnamon and cloves. You can layer this aftershave with other Hugo Boss colognes.
This is a parfum that is meant to invoke feelings of victory and glory. Can you feel victorious about an aftershave? Well, Paco Rabanne is betting that you will. Invictus isn't like other aftershaves in that it doesn't borrow heavily from tradition. It sets new precedent.
Invictus aftershave starts off very citrusy and fruity. You smell it in your mouth (if that makes sense). Then, the aroma evolves into something blue and aquatic. It's a fun, youthful, fresh scent that lasts quite a long time for an aftershave. So, don't layer it on too thick if you're already using a cologne or perfume.
Best Smelling Aftershaves for Traditional, Masculine Men
Some men associate aftershave with the old school barber shop experience or their Dad's signature scent. It's a memory that you never forget. Traditional aftershaves are masculine and mildly scented with a tried-and-true formula of popular ingredients.
If you're looking for an aftershave that calls to mind the aromas of leather, whiskey, wood, and menthol, then you've come to the right place. Traditional aftershaves usually aren't over-powering, but men tend to apply them generously. That's one of the reasons why their scents are so familiar.
Le Male Aftershave Lotion Splash By Jean Paul Gaultier
Is it a lotion or a splash? Well, it's something in-between; it's Le Male. Seriously, if the element of mild-mannered masculine energy could be bottled, then you'd have this fragrance. It is the quintessential, masculine fragrance. Period.
That's because it carries all the same ingredients that aftershaves have carried for generations. It's got notes of lavender, vanilla, and mint. The end result is something that smells soapy fresh and easy on the palette.
The Art of Shaving Oud After Shave Balm
You should know you're in pretty good hands when you select an aftershave balm from a brand named The Art of Shaving. Well, this one is special because it contains oud. It's an oil or resin from argarwood. Oud is one of those unique and rare ingredients that you find in some of the most exclusive fragrance products.
In this aftershave balm, the woodsy, aromatic oud is combined with citrus and shea butter to create something that is truly unique. Traditional men will feel a twinge of memories that are just beyond the mind's eye as they search to nail down which fragrance note is most sublime.
Midnight and Two "The Study" After Shave Balm
Apply this aftershave balm and close your eyes. Instantly, you're transported to an old library where someone in a tweed jacket is wasting the day away smoking pipe tobacco. That someone is you and yes, "The Study" aftershave balm is that potent.
It contains sandalwood, vetiver root, petitgrain, and lavender. If you love this flavor palette then you'll be delighted to know that you can get a preshave oil and shaving soap to go along with the aftershave balm.
Ogallala Bay Rum Aftershave
Back in the day, after a close shave you'd get a splash of rum across your face and neck. That burn let you know that all the wounds from your barber's rusty razor would heal up nice. Well, you shouldn't have to worry about rusty shavers, but that same scent of an old, Midwestern barbershop can be found in the Ogallala Bay Rum Aftershave (see Amazon).
It has simple ingredients – bay rum fragrance oil, witch hazel, purified water, and alcohol. This type of scent is ideal for men who aren't looking for anything exotic – just a clean, fresh feeling. That being said, the scent of the bay rum aftershave is a bit on the strong side. So, use it sparingly for best results.
Summary
Aftershave is an essential part of a man's skincare ritual, even if you're not that big on shaving. The best aftershaves double as moisturizers which keep your skin looking youthful, clean, and hydrated. As you can see from this guide, there are a lot of different choices out there.
You shouldn't just choose an aftershave based on scent alone. However, getting the right combination of scent and ingredients makes for manly mastery. There's aftershaves that have a clean, soapy finish. Some are traditional barbershop throwbacks while others reframe the whole concept of what a man should smell like.
You might want to consider having two or three of these best smelling aftershaves in your arsenal. Get one that is mild enough for daily use and keep one on deck for special occasions.
Thanks for stopping by Men's Variety. Be sure to follow us on social media for extra content and share this post with your friends.