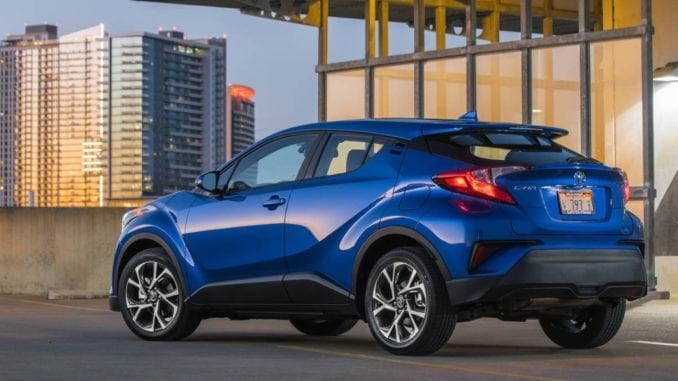 What's new with the 2019 Toyota C-HR?
Subcompact crossovers are one of the fastest-growing vehicle categories on the market. All the automakers are pushing out new vehicles with over-the-top style elements to grab your attention. The 2019 Toyota C-HR is a perfect 10 in looks but might lack the substance to keep you interested over time. The C-HR comes in three different model trims: LE, XLE, and Limited.
Last year's vehicle only had two. MSRP starts at $20,945 and ranges upward to $26,000. The Toyota C-HR has a wealth of standard tech and safety equipment, so there's plenty of overall value in every vehicle that leaves the lot.
Exterior Style
The lead punch of the C-HR is an expressive body design. It mimics a Mercedes-Benz GLC coupe, but with half the price tag. The 2019 C-HR has an endless array of curves, swoops, and cuts along the frame. Either you'll love it or you'll hate it. Up front, the C-HR has a jutting lower lip, a unique cluster of daytime running lights, and fog lights for the Limited model.
Related: What's new with the 2019 Chevy Blazer?
The profile captivates with the available vortex pattern 18-inch wheels and rear door handles found high in the C-pillar. The side mirrors fold automatically with a touch of a button. The rear of the C-HR is its most attractive side with a rear spoiler, bracket-like clusters of taillights that jut out from the sides, and a high-backed rear hatch.  There are essentially seven body colors available, five of which can be paired with a second roof color to create a two-toned look.
Performance and Capabilities
If the exterior style is the C-HR's lead punch, then performance is its glass chin. There is a 2.0-liter, four-cylinder engine under the hood that underwhelms with just 144 horsepower and 139 pound-feet of torque. It's mated to a continuously variable transmission (CVT) and only comes with front-wheel drive.
New car buyers might still be swayed by 28 combined mpg, but that's if they don't venture onto the Mazda lot for a closer look at the 2019 Mazda CX-3. Unfortunately, it trumps the Toyota C-HR with a lower starting cost, 34 highway mpg, more horsepower, and available all-wheel drive.
The 2019 Toyota C-HR does have a drive-select feature with settings for sport, normal, and econ. There's also a simulated manual shifting feature that lets you play around with seven different virtual gear settings. However, nothing will make this little jet go faster.
Interior Amenities
Thanks to the high-riding stance of the 2019 Toyota C-HR, occupants on both rows will have plenty of headroom. Four will sit more comfortably than five, but the C-HR has 83.8 cubic feet of interior passenger volume. Although the rear seats fold down for added cargo space, don't expect to pull a mountain bike inside this thing. The electric e-brake switch in the center console also saves valuable inside space.
The XLE model has an attractive interior that matches the eye-popping exterior. Light-grey fabric and blue accents along the dashboard and door panels are rather impressive for the mid-level trim. The Limited C-HR doesn't disappoint with near-luxury amenities that fit with the MSRP. It comes with leather-trimmed seats, leather steering wheel and satin-plated shift knob, and heated front row seats.
User Interface
The base model LE comes reasonably equipped with an 8-inch touchscreen, a six-speaker audio system, Apple Car Play compatibility, a USB port, some limited voice recognition, and Bluetooth capabilities. The 4.2-inch monitor in the gauge cluster is neat and gives you useful information like average miles per gallon and the outside temperature.
You would expect the Limited model to have the best tech amenities on display, but that's not necessarily the case. You don't get a bigger touchscreen or even an improved sound system. The Limited gets Sirius XM satellite radio and a WiFi hotspot with options for navigation.  Some impressive style elements for the XLE and Limited are the keyless entry, push-button start, and puddle light projectors on the side mirrors which cast a "Toyota C-HR" logo onto the ground — to help you see at night, of course.
Safety Features
Toyota puts a check in the win column when it comes to onboard safety features. Ten airbags and a rearview camera come as standard equipment. Every 2019 Toyota C-HR comes with the Toyota Star Safety System which includes enhanced braking and electronic traction control functions.
The Toyota Safety Sense suite also comes standard on all models. This includes pedestrian detection, lane departure alerts, steering assist, dynamic cruise control, and automatic high beams. Blindspot monitoring and rear cross-traffic alerts are reserved for the XLE and Limited models.
Final Analysis
The 2019 Toyota C-HR has an inspired, bold design that helps it stand out in a crowded subcompact crossover category. Even the Toyota lineup of subcompacts is chocked full of winners like the Highlander, RAV4, and Prius c. Perhaps the C-HR should have been labeled a hatchback.
By under-promising and over-performing in that category, the 2019 Toyota C-HR might have made a more favorable impression on driving enthusiasts who expect more utility from a crossover vehicle.
When it comes to the amenities, the LE base model doesn't have much going for it, but the mid-level XLE has found a comfortable groove. It has a stylish interior, 18-inch vortex wheels, and a leather-trimmed steering wheel. The Limited is only good for leather-trimmed, heated front seats. You can get most of the tech features on the mid-level model for less money. Safety features abound with the C-HR, and most of them come standard on all models.
So, keep a tight grip on your wallet if you can do without the leather. The most glaring failure for the C-HR comes from its lackluster performance. It's not fast and doesn't have great fuel economy for a vehicle its size. However, if you can just focus on the sexy body, then this subcompact crossover will certainly put a smile on your face.
Do you own a Toyota C-HR? What are your impressions?