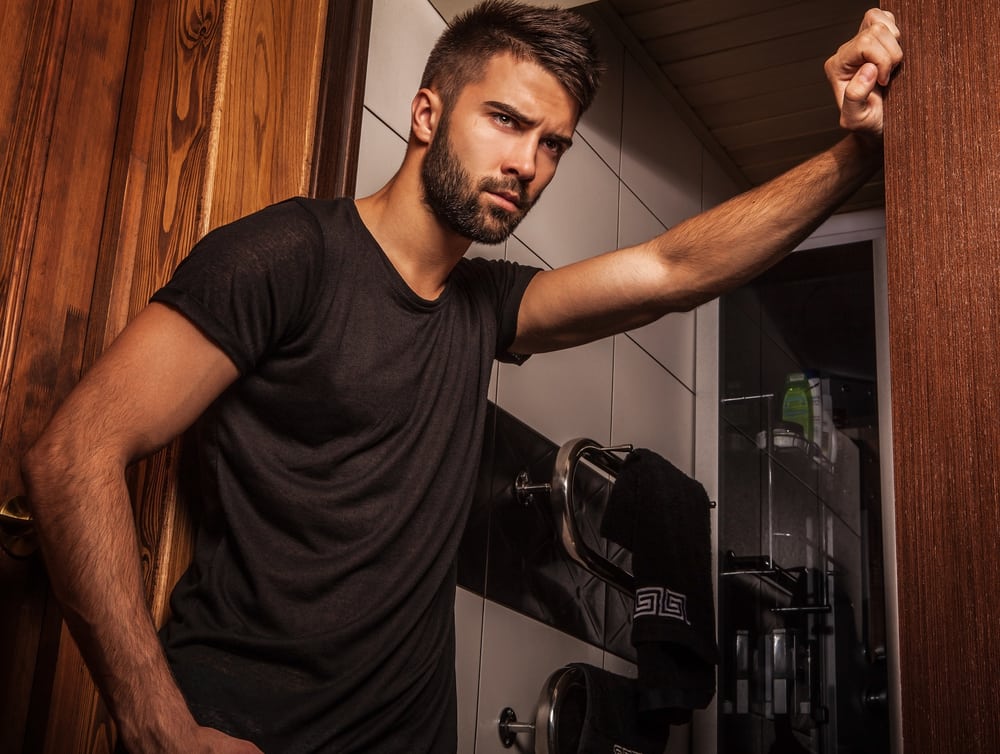 Best hairstyles for men
Are you looking for a fresh, sexy look to change things up a bit? Would you like to impress your lady with one of the best hairstyles for men this year?
Look no further. When you opt for one of these ten most popular hairstyles for 2019, you'll be well on the way to looking great, impressing your girl, and enjoying an exciting (and romantic) year ahead!
Just in case one of these most popular styles is not hitting home, check out the full list of all 32 of the coolest hairstyles of the year.
1) Textured Spiky Hair with Temp Fade
If you are into the crew cut look but still want to have an edgier style, sporting the textured spiky hair with temp fade will certainly do the trick. This hairstyle is super easy to maintain and will be sure to impress the ladies!
2) Taper Fade with Thick Comb Over
If you love looking dapper and want a style to reflect it, the taper with thick comb over is exactly what you're looking for. This is a classic style that's been revamped for the modern world. Look out… here comes a man with a plan!
3) Crew Cut with High Fade and Full Beard
The crew cut is always a safe, great looking style that suits most guys. Adding a bit of texture with some pomade, sporting a high fade, and growing out a great beard will take this cut to the next level. It's time to upgrade to the crew cut 2.0!
https://www.instagram.com/p/Bp-Ty1Zn9BR/
4) Textured Top with Taper Fade and Beard
Akin to the crew cut, the textured top with taper fade and beard is a nice in-between of the crew cut and the quiff. You can keep your hair a bit longer giving you room to give it the shape you prefer. You'll be sure to stand out with this cut!
5) Comb Over with Part and Taper Fade
Another one of the dapper styles, sporting a comb over with side part and taper fade will be your unfair advantage at work and at play. Put on a tailored collared shirt and sport jacket and your off to style town. Smile… you're probably on camera!
6) Man Bun with Beard
This is a style that you either love or hate. If you love this style, however, you will be a force to be reckoned with. It will require some patience to grow out the hair and beard, but it's worth it for the end result. Respect the bun, bro.
7) High Skin Fade with Quiff and Beard
The great thing about a quiff is that it does what you want it to do. It's a messier style, so if you like the 'just rolled out of bed' kind of look, you'll love this. Adding the high skin fade and beard makes this cut soar! Fly high, friend.
8) Undercut with Textured Top and Beard
For a bit of an edgy look that still says you mean business, look no further than the undercut with textured top and beard. You can have a lot of fun getting this style to look the way you want it to—fun reflected by your girls' smiling (blushing) face.
9) Textured Spiky Hair with Temp Fade
Not many styles communicate your inner rebel better than this one. Having textured spiky hair with a temp fade will be sure to impress both you and your other half. Let it all loose and enjoy the wind through your textured spikes!
10) Messy Side Swept Hair with Short Sides and Beard
If you are looking to really impress your boss, your girlfriend, and your peers, this puppy-eyed style is a home-run. This style only works if you have the hair for it though. It's time to impress everyone with your enviable hair!
Maintenance Tools & Tips – Be Sure To Impress!
So, now that you have a good idea about what style you are going for, make sure you have everything you need to keep it looking good once you leave the barber. With just a few tools and styling tips you'll be sure to impress!
Get the Right Tools
You're in for a treat if you have the right tools on hand. It only takes a small investment on your part to make sure you have everything you need to look great every day.
This is doubly true if you sport facial hair along with your chosen hairstyle. Make sure to have at least these basics in your kit:
Shaving kit bag
Natural shampoo & conditioner
Brush
Comb (various tooth widths depending on style)
A high-quality cordless trimmer
Beard scissors
Beard comb
Beard oil
Essential oil (for an additional natural non-toxic fragrance for hair)
Get the Right Style
When it comes to the styling of your new haircut, simple is best. Do not try to overwork your hair to get it looking the way you want it to.
This not only potentially damages your hair, but it doesn't let your hair reveal the full extent of the style by itself. The barber shapes everything for you.
All you have to do is a fresh wash, add a bit of product, and gently comb (or brush) in place. Let it dry naturally (or blow dry if you prefer) once it's all in place.
Related: Get rid of grey hair for men
If you do everything properly, you'll have a style that will last all day and still look great tonight!
If you want to add a couple drops of essential oil to your hair before the pomade you'll have great smelling, healthy looking hair that is sure to impress the ladies.
Remember, the right essential oils are good for all kinds of things (including libido). Choose the right ones for the right occasions and you'll be setting the stage for a great time!
Final Thoughts – Look Your Best
There you have it! You now have all the basic ingredients to make a stylistic impression!
You are now ready to sport one of the best hairstyles for men this year, and do so in confidence. Hold your head high and walk the road as a great looking guy this year—the girlfriend will surely be impressed!