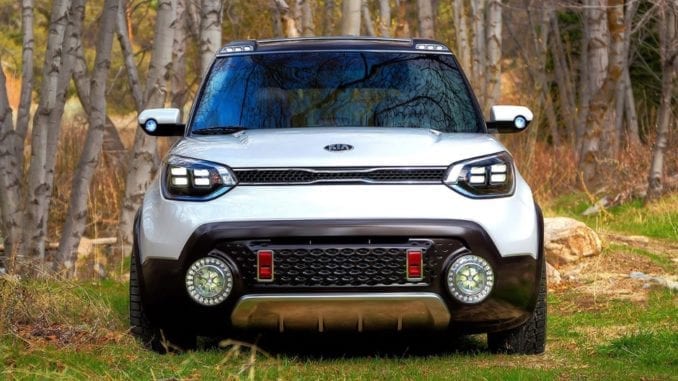 Review of the KIA Soul EV 2019
The 2019 Kia Soul EV is an all-electric compact crossover vehicle that banks heavily on its eccentric style and copious driving range. It's not exceptionally fast and the Soul doesn't come with all-wheel drive, but what it lacks in speed the Soul EV makes up for in technology.
It's truly a smart vehicle with built in systems like Apple Car Play and Android Auto to keep you connected while you enjoy a petrol-free lifestyle.
Intro to the Soul EV
The 2019 Kia Soul EV is sure to turn heads with its unique, upright dimensions. It's a compact crossover vehicle that exchanges the internal combustion engine for a fully electric drivetrain. New improvements over the previous year's Kia Soul include a larger touchscreen, rearview camera, and voice recognition as standard features.
The Soul EV comes in only two model trims: the EV+ and base model EV. The EV+ has fog lights, a cargo cover, power-folding mirrors, some interior leather and lighting accents and an available panoramic sunroof top.
How Does It Work?
The 2019 Kia Soul EV has an all-electric driving range of 111 miles. The miles per gallon equivalent is 124 in the city and 93 miles on the highway. There are two charging ports, one for standard AC and one for DC fast-charging the Soul's lithium ion polymer battery bank.
AC charging is convenient because it utilizes the same power outlets you use at home for an overnight fill-up. 240-volt charge stations can be easily located with the UVO eco app.
The DC fast-charging option can provide 80 percent power in just 30 minutes. The Soul's 360-volt electric motor only gets 109 horsepower. The electric propulsion of the 2019 Kia Soul might lack horsepower, but it delivers 210 lb. ft. of torque instantaneously to the drivetrain.
Related: 5 awesome muscle cars reviewed
You don't have to wait for the engine to rev-up and there's no lag between switching gears like you would find in an internal combustion engine. The Soul EV works on an automatic transmission that has a D for drive mode and a B for regenerative braking mode.
The Active Eco System sacrifices torque for regenerative braking when selected. This way you can convert more of your braking energy back into the electrical system to further extend your driving range. Driving an all-electric vehicle does have monetary perks, as well. There's nearly $10,000 in tax incentives on both the state and federal level.
Exterior Style
The 2019 Kia Soul has one of the most polarizing exterior designs that you're likely to see on the road today. Where most vehicles are curvaceous with flowing lines, the Soul is boxy and upright. The new Kia Soul comes in five main paint palettes, but they all range from white to black with various shades of grey in between. Some dealers will have two-tone options available though.
There's a black body with Inferno Red roof and accents. There's also a Caribbean Blue paint with a white top. Perhaps since the body shape is one that you either love or hate, automakers at Kia decided to tone it down on the color schemes.
Interestingly, the electric charge port is revealed by a slide-away compartment hidden in the front grille itself. That's just another example of the Kia Soul's out-of-the-box design language with the new 2019 model. The rear end has also banked on the missing internal combustion engine by axing the exhaust pipes and sculpting the bumper to look more aggressive.
Interior Comfort
Compact crossovers aren't expected to have loads of interior space, but the 2019 Kia Soul EV doesn't feel cramped inside. It's laid out in an intelligent, efficient way that makes good use of its body shape and the locations of its electrical power systems. The height of the vehicle gives 39 and a half inches of headroom.
The split folding rear bench gives way to 49 and a half cubic feet of cargo space. The materials and fabrics inside the Soul reveal the economy grade price tag. The Bio Fabric seats aren't the most comfortable in the class, but you'll have peace of mind knowing that 80 percent of the petroleum-based plastics used for polyester seating were replaced with sugarcane and corn extracts.
The EV+ model does have leather-trimmed seating that's also heated and ventilated. Yet, even in the EV+ you won't be able to totally get away from that so-called Bio Material which still comprises parts of the headliner, floormats and front dashboard.
Technology
The 2019 Kia Soul does an exceptional job of matching its quirky style with next level technology. Each Kia Soul comes with push button start/stop, power windows, and USB port. The electrical power systems are easily managed through a 3.5-inch OLED display in the instrument cluster. It tells you how much battery life you have left in the system and an estimate of your remaining driving range.
You can also use a free downloadable app to keep tabs on your energy consumption. Thankfully, the Kia Soul has Apple CarPlay and Android Auto compatibility. The center console has button controls and a generous 8-inch touchscreen to access radio, navigation and phone services.
Most of those controls are also echoed on the steering wheel. One interesting technological feature is the climate control. The electronics in a vehicle naturally give off some heat energy, but the 2019 Soul EV has a pump system that reclaims that thermal energy and redirects it back into the heating and cooling system.
You can program the climate controls to suit your needs and if you're driving alone you can disengage the passenger side ventilation to add more power to the driving system. Even the outside air is piped through the cabin to help maintain the interior climate without expending too much of the vehicle's own power supply.
Safety
Where this vehicle lacks a touch of soul is in the safety department. Nothing goes too far above and beyond standard, even on the Soul+ model. Each 2019 Kia Soul comes with a full complement of airbags, reinforced steel beams, and child safety locking doors.
There's also a suite of electronic safety assistance systems such as electronic brake force distribution, traction control and hill start assist. For 2019 that's barely par for the course.
Related: Check out the 2018 Toyota Prius
Onboard sensors help with parking, but the 2019 Soul is only 169 inches long and 70.9 inches wide – hardly a chore to pull into nearly any parking space. The Kia Soul does have a rearview camera and a pedestrian detection system, but that's where the buck stops when it comes to advanced level safety systems.
There are no lane departure warnings, blind spot monitoring and adaptive cruise control is missing on the Soul EV, as well. The Kia Soul lacks substance when it comes to safety features, even though the Soul received "Good" marks for crash safety by the Insurance Institute for Highway Safety (IIHS).
Final Verdict
The 2019 Kia Soul EV is one of the best named vehicles ever created because it certainly is eccentric and full of personality. It's got soul in spades. Standard safety equipment is bare bones, but onboard infotainment and technology are top knotch.
All electric is the wave of the future, and it's nice to know that the 2019 Kia Soul has already arrived. The 2019 Soul has a driving range of 111 miles and plenty of intelligent systems that can extend it's driving range even further than that under the right conditions.
It's reasonably priced against vehicles in its class and the 2019 Soul is sure to look attractive as it passes filling station after filling station.
Do you own a KIA Soul? Do you like this vehicle? What has been your experience?