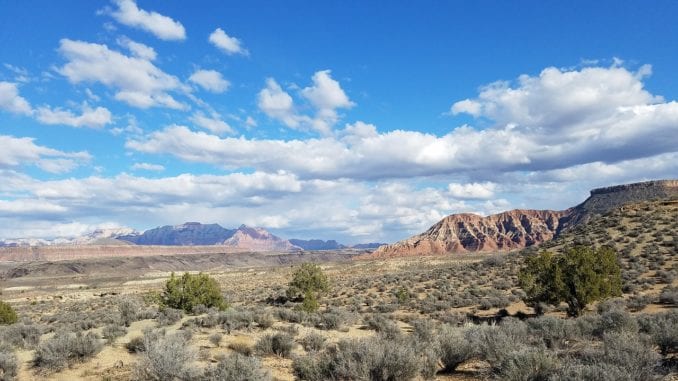 Public lands really matter
In the United States, over 640 million acres of land are owned by the public and managed by various government agencies at the federal and state levels. These lands hold some of the most wild, remote, and ecologically-significant destinations in the country — the peaks, streams, forests, deserts, and coastlines—  where hikers, hunters, equestrians, anglers, and white water enthusiasts go to do their thing.
But outdoorsman aren't the only ones who value and utilize public lands in the U.S., and these days, it seems everyone wants a piece of the public land cake. Every week, new stories break covering the many issues surrounding public lands including who gets them, how they can be used, and the measures taken to protect them.
Fortunately, although the struggle is real and far from pretty, thanks to efforts made by groups and organizations such as Backcountry Hunters and Anglers, the Wilderness Society, and Outdoor Alliance, our public lands are seeing the representation they deserve — a great benefit to us all.
Today, however, we'll be keeping things light by looking past the complex, contentious, and political side of public lands. Instead, we're celebrating our access to wild places by introducing you to the many flavors and shades of public land available for your enjoyment right now.
That way, the next time you look at a map, you'll have a good idea of the opportunities for exploration contained within every patch of ground.
Exploring Federally-Owned Lands
The U.S. federal government owns the vast majority of public land in the country and a huge percentage of it is located west of the Mississippi River. This massive portfolio of land is divided up and managed by four primary agencies — The Bureau of Land Management, the National Park Service (within the Department of the Interior), the Fish and Wildlife Service, and the U.S. Forest Service (within the Department of Agriculture).
National Parks
Perhaps the most well-known type of public land are National Parks, which contain some of the most iconic natural wonders in the world. Created in 1916 under President Woodrow Wilson, the National Park Service manages over 59 National Parks across the country, upholding the highest level of protection and oversight of any public lands.
The very first of its kind, Yellowstone National Park, is a great example of the caliber of natural beauty National Parks protect — intact ecosystems, an abundance of wildlife, and geological phenomenon found nowhere else. Other famous national parks worthy of any bucket list are Yosemite National Park in California, Grand Canyon National Park in Arizona, Zion National Park in Utah, Glacier National Park in Montana, and Everglades National Park in Florida among many others.
One of the most inviting aspects of National Parks is that most are highly accessible, making a visit a great option for those who want to get out and see nature but aren't up to the task of a strenuous hike — although you'll likely find plenty of those if you choose! However, due to National Park's higher levels of protection, opportunities for recreation are limited often restricting or prohibiting hunting, shooting, motorized off-road vehicles (atv's and jeeps) among other restrictions, though you will find amazing fishing, rock climbing, backpacking, and rafting opportunities in many National Parks throughout the country — check out this map of the national parks to see which ones are near you!National Forests
A total of nearly 190 million acres of public land is found within the boundaries of 155 National Forests. Unlike National Parks, National Forests are managed by the U.S. Forest Service following the "multiple use" concept which allows the land to be used in a variety of ways — most of which are conducted to generate revenue.
Timber harvesting, livestock grazing, and oil and mineral extraction are the main money-making activities occurring on National Forest ground, and for the most part, co-operate alongside recreational users of all stripes.
National forests often cover large expanses of the land, often times interlaced with hiking trails galore, some of which extend for hundreds or thousands of miles. If you're looking for a place to hunt or fish, checking out your nearby National Forest is a great place to start — just be sure to read all your local regulations and don't forget to obtain the proper licensing.
If you're looking for a place to camp, in most cases, as long as you're within a National Forest, you can pitch a tent just about anywhere you want. And next time you're at your favorite ski area, chances are you're sliding over National Forest ground leased by the ski resort.
Designated Wilderness
We generally use the term "wilderness" as a convenient way to describe a natural place. But when it comes to public land in the U.S., "wilderness" refers to a special land designation that protects places described as "untrammeled by man," according to the official definition wilderness declared by the Wilderness Act of 1964.
Upon President Lyndon Johnson's signing of the Wilderness Act on September 3, 1964, an original 9.1 million acres of public land were set aside as nationally designated wilderness areas. Since then, over 100 million acres of designated wilderness areas have been added to the map, protecting pristine landscapes where you'll find no roads, no infrastructure, and an abundance of peace and quiet.
Many wilderness areas are found either within or in close proximity to National Forests and some are within National Parks. There are many restrictions on what activities can be done in wilderness areas — no motorized vehicles, no mountain bikes, no grazing, no extraction, but everything else — hunting, fishing, hiking, horseback riding, photography, bird watching — is on the table.
National Wildlife Refuges
As you can see, each type of public land is managed with different objectives and uses in mind factoring in both the landscape and the way people interact with it. But for National Wildlife Refuges, the focus is on the animals and the U.S. Fish and Wildlife Department works to ensure ideal habitat for them exists.
Over 560 National Wildlife Refuge areas have been created since the program began in 1903 when President Theodore Roosevelt established Pelican Island National Wildlife Refuge in Florida. Every state in the nation currently has at least one NWR location, many of which are within an hour's drive of a major city. Accessibility is in most cases very easy and visitation is highly encouraged. Many NWR's are well-known for providing critical stopover or wintering habitat for certain species of migratory birds, so if you like witnessing nature's spectacles in person, look up what's happening at your local NWR.
You'd think that since that National Wildlife Refuges protect animals and their habitat that hunting or fishing wouldn't be allowed — but the exact opposite is true. Sustainable hunting is used as a management tool to ensure animal populations remain at optimal levels and some great close-to-home hunting opportunities can be had at NWRs.
National Monuments
National Monuments fall under the umbrella of the National Park Service, enjoying many of the same protections as parks. But instead of encompassing a broad land area or ecosystem, National Monuments are centered around specific features either natural, historical, or cultural. A great example of a National Monument — one that's received a lot of attention recently — is Bears Ears National Monument in Southeast Utah, with its namesake buttes and centuries of Native American history and ancient artifacts.
The Antiquities Act of 1906 granted the President — who at the time was Theodore Roosevelt — the ability to designate and protect areas of public land that held "…objects of historic and scientific interest," without having to go through Congress to establish a National Park. Nearly 120 National Monuments have been established over the last century, some of which have gone on to become National Parks.
Anyone with an interest in the history of North America and what was here before European contact, check out the complete list of National Monuments on Wikipedia to start planning your next trip.
BLM Land
If you've ever road-tripped through the West, say, through Nevada, you're familiar with the seemingly endless stretches of barren land. Ever wonder who owns all that land?
Technically, if you're a U.S. citizen, you own it — all 246 million acres of it. Well, you, along with your fellow countrymates. Managed by the Bureau of Land Management, this land that we now know as "BLM Land" was once called the "Land no one wanted," as it was what was leftover after pioneers claimed all the land they did want through the Homestead Act.
Unlike National Parks or Monuments, BLM lands don't have any particular draw to be established as any sort of destination.What they do offer, however, is massive swaths of open landscapes where wildlife of all varieties can live. And, with fewer restrictions and limitations about what you can and can't do, BLM lands offer some exceptional opportunities for those who like to hunt, shoot, mountain bike, ride dirtbikes and atvs, and test your off-road driving skills.
BLM lands are also where a large portion of the countries energy production is conducted, utilizing both oil and mineral resources as well as more eco-friendly modern alternatives like wind and solar power.
State-Owned Lands
Let's look at the two most common state-owned land designations: state parks and state forests.
State Parks
State parks can be any size, but many are smaller plots of land that offer convenient opportunities to hike, mountain bike, fish, and watch wildlife. Established campsites are often available at most state parks for a fee, making them popular among RVers and car-fulls of family campers. Be sure to check campsite availability before you go, especially during the peak season which generally runs from May through September.
State Forests
State Forests are very similar to National Forests, except are managed by local agencies rather than the National Forest Service. Every state manages their land differently, but for the most part, State Forests are used for both commerce — timber sale, oil and mineral extraction, cattle grazing, and leases — and recreation — fishing, hunting, hiking, camping, etc.
Where Will Your Next Public Lands Adventure Take You?
However you wish to spend your time outdoors, make sure you take a moment every once in a while to ponder what a wonderful resource our public lands are and all the opportunities they afford. Few other countries in the world have so much wild land for citizens to access, and with all the drama surrounding the transfer of public land ownership making headlines, it's important to appreciate what we have so much that we're willing to fight to keep it.
If you're interested in learning more about our country's public lands and the threats they face, there's plenty of information online regarding what's going on and what you can do to take action. Resources like Backcountry Hunters and Anglers and the Wilderness Society are great places to start.
But beyond signing up for memberships and cutting donations checks, one of the best ways to take a stand for our public lands is to go out and actually use them.
So where will your next public lands adventure take you?
Will you float the Colorado River on a multi-day rafting trip through Grand Canyon National Park? Or will you hike several miles back into National Forest land to reach an alpine lake for a weekend of backcountry fly fishing? Maybe you only have a few hours to get out on the weekend — chances are, there's a state park nearby with some hiking trails to stretch your legs and take in some much-needed fresh air.