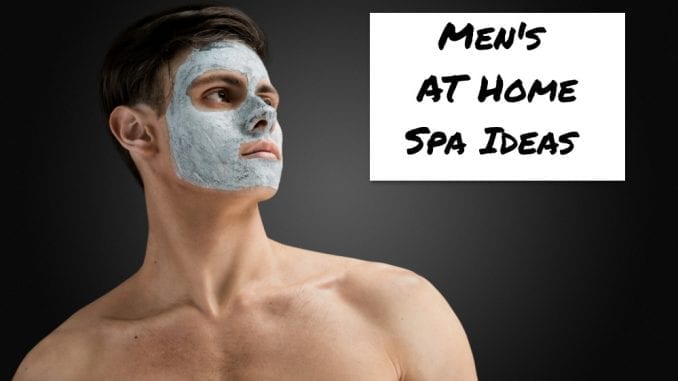 Best Home Spa Ideas For Men Made Simple
Searching for at-home spa ideas for men? Hoping to create an environment to unwind and relax? Not sure where to begin? If the answer is yes, you've come to the right place. That's because I've perfected the art of creating an at-home spa through lots of practice.
In recent years, spas have become all the rage. Upscale hotels and private clubs have made them the main attraction as part of their offerings.
But getting into one with all of the extras can cost a small fortune. For example, last year, I paid several hundred dollars for a Las Vegas spa "experience" that included admission to the facility, a deep tissue massage, and a facial. Three hundred twenty-five dollars to be exact.
While I don't regret spending the money, I also realize that I can't afford to make spa visits a regular thing. The truth is, I'm not wealthy.
Maybe you aren't either?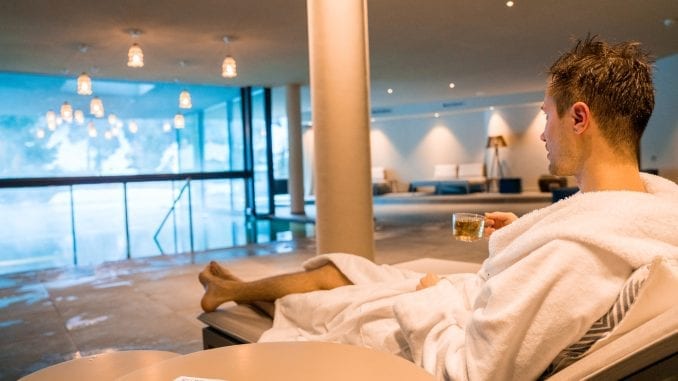 An Emotional Oasis
But here is what I've discovered. You don't have to be rich to experience the benefits of a spa. With a little imagination, you can recreate an enjoyable experience right in your own home.
In writing this piece, I consulted with licensed psychologist Gregory Harms about why men should consider making an at home day spa part of their regular routine.
"Anything that helps to promote relaxation and naturally reduces stress is a good thing. While exercise and physical activity are effective outlets for anxiety, an at-home spa is different. In many ways, they act as an emotional oasis away from a busy and hectic world," Harms said.
"It's something I encourage my clients to consider as part of their self-care routine," he adds.
So, there you have it – a mental health reason to create a spa at home that is firmly rooted in wellness.
Let's move on now to 10 at home spa ideas for men to get your chill on. Check it out.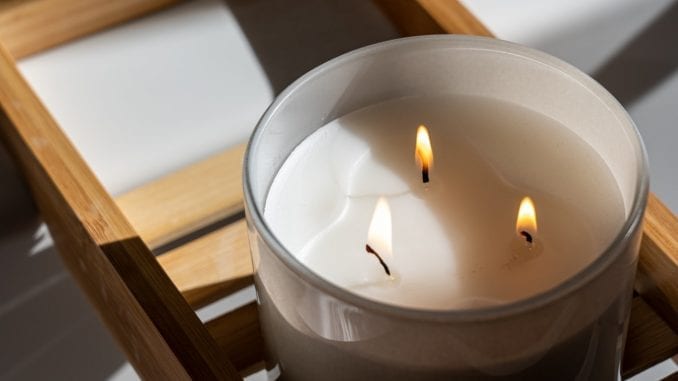 1. Scented Candles
Research suggests that men best respond to vanilla, pine, and chamomile as relaxing agents. Yankee Candles offers several excellent selections to consider. You can buy this brand at many retail outlets or online. Check Amazon for prices.
Once you have made your selection, place the candle in safe place. An example might be on the corner of a sink, away from towels. Light the candle five minutes before entering your home spa, allowing the room to become filled with its essence.
2. Relaxing Music
No spa experience would be complete unless relaxing music is part of the mix. Consider playing something instrumental, like the guitar or harp.
You can also try the calming sounds of nature, like a rain forest. Some men prefer ambient music. The goal of this step is to encourage tranquility and inner peace.
There are lots of places stream these kinds of tunes. Examples include Pandora, Spotify, and Amazon Music. Should you stream, do it on a pad and not your phone.
Here is why:
You don't want your home spa experience interrupted by intrusive noises from the outside world, like phone calls, texts, or social media chimes.
One way to make sure you aren't interrupted is to place your phone in another room, making it out of sight, out of mind.

3. Shower and Exfoliate
Taking a warm shower before running a hot bath is essential. Doing so allows you to prep your skin for the treatments to come.
Your goal here is to destress while removing dead skin from your body. A great way to do this is by applying a high-quality exfoliant.
My favorite is M3 Naturals Activated Charcoal Scrub. It's excellent for treating stretch marks, acne, scars, and wrinkles. What I like most about this product is how it gives my skin a smooth, polished look. You can get a great deal at Amazon.
Once you have exfoliated, be sure to rinse off with a moisturizing body wash. See this men's body wash guide for ideas.
After your shower, use a cotton towel to pat dry off and then slip into a comfortable robe. If you don't have one, wrap yourself up with something else – or nothing at all.
One of the benefits of an at-home spa is not having to remain clothed.
4. Apply a Face Mask
With your body exfoliated, it's time to apply a face mask. The goal is to cleanse your pores, remove dead skin, and tighten. Choosing the right type of facemask that is based on your skin type is vital. See this handy men's facemask guide for expert tips.
If you aren't sure what to use, consider MenScience Androceuticals Facial Cleansing Mask. It does a powerful job with debris removal, brightening, and tightening and is designed for hybrid skin types. See Amazon for price.
You are going to leave the mask on for 20-30 minutes. This will be easy because it can be combined into your next step.

5. Run A Hot Bath
Taking a bath has become a lost art. Let's be real – if you are like most guys, it's all about the shower. But if your goal is relaxation and calm, a hot bath is an absolute must.
Let the water flow at a temperature that feels warm to the skin. Not super-hot, but not cold either. Many experts believe 92 degrees is the ideal temperature.
Consider adding a few drops of essential oils to the water. You can find these at many stores, including Whole Foods. Online retailers also sell them. Personally, I like the scent and feel of Eden's Garden. Visit Amazon for price.
Allow yourself to soak in the tub for 20-30 minutes. Not too long, otherwise your skin will wrinkle. The idea is to chillax and calm – but not fall asleep.
6. Rinse Off
When your time in the tub is over, it's time to rinse off. This means letting the tub drain for a bit and then standing up to shower again.
There is no need to use a body wash again. Instead, let warm water stream from your showerhead all over. Because you used a facemask, it might be a good idea to have a clean washcloth nearby to remove excess clay.
7. Moisturize Your Body
Step out of the shower and pat dry down with a towel. Then, reach for your favorite body moisturizer. I'm a big fan of Eucerin skin calming lotion.
It does a fantastic job of locking in moisture and doesn't feel greasy. See Amazon for price.
Once accomplished, it's time to focus on your mug.

8. Moisturize Your Face
The product you put on your body will likely be different than what you apply to your face. Knowing about your facial skin type is super important.
I've made choosing the right cream easy for you. See this post on the 25 top face moisturizing creams for men for powerful tips.
If you aren't sure which product to pick or have combination skin, consider the Tiege Hanley Skin Care System. You can read my review here.
9. Clip Your Nails
While not the same as a manicure or pedicure, your hands and feet need some amount of attention. The easiest thing to do is to use clippers and trim down your nails.
Some men like to massage their feet as part of this step. I'll leave this up to you and simply say you might find it to be a pleasant experience.
10. Time To Meditate
Once you have completed the previous steps, it's time to meditate. You can do this anywhere that is most relaxing to you, like the living room couch or on your bed.
One approach to consider is a guided meditation in the form of autogenic training (AT). The ultimate mind and body experience, AT promotes harmony and inner peace.
I've created a recording that you can listen to with a simple pair of earbuds – no need to download anything. Simply click on the MP3 below.
At-Home Spa For Men Wrap Up
Your at-home spa should provide the opportunity to relax and restore. Think of it as an opportunity to rejuvenate your mind and body while repairing damaged skin.
The steps mentioned above should be considered flexible and not set in stone. Think of them as ideas that you can draw on for creating what feels right.
Consider using this guide as a gift if you are partnered and want to create something special for them. You can always throw in a massage as part of the experience.
Thank you for stopping by and I hope the suggestions made were helpful!
—
Related Articles:
Top 25 colognes for men made simple
A man's guide to facial care products
The best anti-aging products for men
References:
Jenny H. Panchal (2014) Perceived Benefits of Spa Experiences: Tourist Insights from the Blogosphere, International Journal of Tourism Sciences.