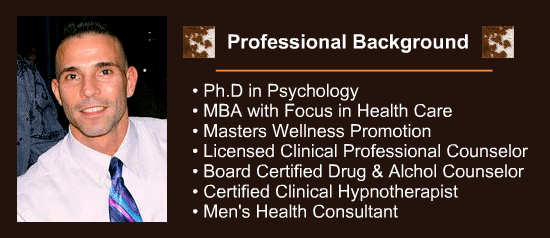 Dr. John D. Moore brings to bear over 15 years of skill developed in corporate, non-profit and educational environments with particular emphasis in problem resolution and change management.  
Training and Experience
Moore holds a Ph.D. in Psychology from the School of Behavioral Science at Northcentral University and a MBA with a concentration in Healthcare Management from the Indiana Institute of Technology. 
He is a Licensed Clinical Professional, a Certified Drug & Alcohol Counselor, National Board Certified Clinical Hypnotherapist (NBCCH) and Approved Clinical Supervisor through the Center for Credentialing & Education (CCE). He is a Certified Clinical Trauma Professional through the International Association of Trauma Professionals and has received training in EMDR.
Dr. Moore was trained in cognitive therapy approaches at the Beck Institute and is a full member of the Association for Behavioral & Cognitive Therapies (ABCT).  Additionally, he is an  associate member of the American Society of Clinical Hypnosis (ASCH).
He is a certified meditation teacher through Transformation Meditation Institute and holds a Specialist Certification in Anxiety and Fear from the HMI Institute. 
Moore is fully trained in the Emotional Freedom Technique (tapping), receiving his certificate from the American Institute of Health Care Professionals.  He is a member of the Association for Comprehensive Energy Psychology and a Certified HeartMath Practioner through the HeartMath Institute. 
As a helping professional, Dr. Moore worked at Chicago House & Social Services & Alexian Brothers Health Systems in case management & counseling roles, where he collaborated with interdisciplinary teams of social workers, counselors and psychologists to provide wellness services to individuals and groups. 

Corporate Experience

 
Prior to transitioning into the healthcare field, Moore worked in management, marketing and sales capacities for a variety of well known organizations, such American Airlines, the American Bar Association and  SPSS, a subsidiary of IBM.
He has provided consulting services to many in the corporate and non-profit sectors, including employees of JP Morgan Chase, Starbucks, Boeing & Goldman Sachs. Additionally, he has assisted members of  U.S. the Armed Forces, First Responders and their families. 
Teaching & Workshops
Apart from his counseling & corporate experience, Moore is a  Professor of Health Sciences at American Military University. Some of the courses he instructs include Interpersonal Communications, Stress Management & Organizational Leadership.
Dr. Moore has presented at national conferences with the Association of the U.S. Army & the Association of the U.S. Air Force on topics related to Long Term Deployments & Stress and has led workshops on PTSD at several educational Institutions, such as the Park University Warrior Center. He is twice recipient of the "Excellence in Teaching" Award at American Military University.
Articles & Books
In addition to his educational and counseling experience, Moore is an  author. His articles are related to emotional and physical health and appear in nationally syndicated magazines including
Men's Health

Cosmo

The Wall Street Journal

Advocate Magazine 
He is the sole author of the successful book, Confusing Love with Obsession: When Being in Love Means Being in Control. He created the Obsessive Love Wheel, a hypothetical sphere which illustrates Obsessive Relational Progression in Romantic Relationships. 
Moore is also a blogger on Psychcentral – authoring the popular Reaching Life Goals. 
Media 
Moore has been quoted in many of on a number of topics related to mental and physical health in nationally syndicated print media & electronic media, including the the LA Times, Billboard, Web MD, Men's Health, Cosmo and National Public Radio. 
Professional Memberships
American Counseling Association

National Career Development Association

Illinois Mental Health Counseling Association

Illinois Counseling Association

Association for Behavioral and Cognitive Therapies 

The Association for Counselor Education and Supervision 

National Board for Certified Clinical Hypnotherapists

American Society of Clinical Hypnosis